Music Beta by Google page now live, accepting invite requests [Update: Music app now in the Market]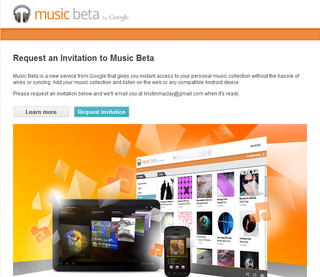 Google IO starts today and we're expecting a lot of exciting announcements at the keynote starting at 9am PST. (We're live blogging it!)
One rumor that has been going around for a while is a cloud-based music service by Google. It's being reported that we may hear something about that during the keynote this morning. To add more truth to that, the Music Beta by Google page just went live a few minutes ago and is currently accepting invite requests. You can't pull up the "about" page yet, but we expect it'll be up shortly (say within the next 2 hours).
Head on over to Music Beta if you're interested in the service.
Update: There appears to be a Music App in the Market now. We don't have any info on what the service will entail, but you can go grab it from the links after the break.
Source: Music Beta by Google
Android Central Newsletter
Get instant access to breaking news, the hottest reviews, great deals and helpful tips
Yay, 1st. Also, just signed up. We'll see how good it is if I get the invitation.

If anyone's looking for a Google Music Beta invite, I found a blog giving them out for free. I figured that the waiting list would be too long, so I tried the blog out, and got my invite about an hour later. Nice. I don't know if they have any remaining invites, but if you want to try your luck here's the site: http://freemusicbetainvites.com.nu

Signed up.. "free for a limited time" hrmmm

Yeah...I noticed that too. I'm hoping they are just meaning that the beta will only be open for a limited time, and not that its only free for a limited time. I don't think google is stupid enough to make people pay for google music when amazon is offering basically the same thing for free. Granted amazon's is free for only the first 8 gigs or something like that but still its free. Google will have to offer their service for free if they want to compete.

Amazon's is 5 gig, but when I bought a album I was upgraded to twenty. I have a Xoom and am just waiting for my invitation. I hope that the desktop client is available for Mac though. I'm sure it will be. This is awesome for me, as I have a lot of music and am never without a data connection, and when it comes to my TBolt, I have unlimited data.

Never-mind, I noticed the little stoplight pattern in the upper right of the window in the Learn More video. Will be checking my email today that is for sure.

US only, as always... -.-

signed up and downloaded the app now i just need to be able to upload my music

Signed up, but link to "Learn More" is broken...

I was in there 20minutes ago! . . .

Download the app for Music here - https://market.android.com/details?id=com.google.android.music&rdid=com....

https://market.android.com/details?id=com.google.android.music&rdid=com.... seems to have the new music app?

Love the guy's shirt in the "Learn More" video. It looks like the Beatles' Abby Road cover photo but instead of the Beatles, it shows various incarnations of Doctor Who coming out of a Tardis.

Scanned his t-shirt with Google Goggles. It identified the image as Galifrey (Doctor Who's home planet) but didn't find a link to that specific t-shirt. interesting.

Found it. It's called "Gallifrey Road" http://www.teefury.com/archive/1173/The_Gallifrey_Road/ Sadly, it was a limited time offer.

I also signed up for the beta! Come on Google send us our invites!!!

I don't even remember requesting an invite but it says I did LOL

When I click on the link to sign up it says you are already signed up. I was already logged into my gmail account so did it just sign me up with that account?

I put in my beta request. Question is how long until they let me in. Google Voice took a little time but I did get the email at some point.

The new music app still lacks lock screen controls! Why Google? Why?

and it crashes before it even opens! boo!!

Figures, the new music app is half-baked as is usual of a Google app. There aren't any user configurable options, no equalizer, no gapless playback, no podcast bookmarking, no lyric display. If only Android had the polish of an iPhone but retained its openness...

Dear Google, I would like to inform you of a potentially startling discovery: The world does -not- revolve around America. Thank you. >_<

Well Google is an American-based company, and better to start on a small scale. I don't think releasing beta software to the country the company is based in is "anti-World." Also, do you know how many Android-based things are available everywhere BESIDES the US? There are tons of awesome phones that have never been released to US markets/have no dates of when releases will happen. Most hardware companies are not US-based. So I'm not really following your logic of Android being too US-based. Didn't they just say it's in over 120 countries currently?

does anyone else get an installation error saying "Package file was not signed correctly." when they try to install it on their phone? I've tried from the market on the phone as well as the web market. Atrix 4g.

Installed ok on my Atrix.

I'm having this same problem and I'm on an HTC Evo running CM 7.0.3.1. Not sure how to get around this as I've tried multiple times with the same error "Package file was not signed correctly". Phil or Jerry - any words of wisdom? Thanks!

I think this app beta update on the Xoom was the reason why "my apps" in the market were crashing on the Xoom and the phone for the last 30 hours. As soon as it was announced at IO I could view "my apps" again in the market. Odd.

So did Google mention anything about allowing access to the cloud library from other apps? Hopefully we won't be locked into the default Android Music app. Haven't actually used that app in a few months.

cool app.
zero Settings.
oh wait, i found one. "Show options" (shuffle, repeat) glad this is in Beta, i just hope this gets massively revamped.
Android Central Newsletter
Get instant access to breaking news, the hottest reviews, great deals and helpful tips
Thank you for signing up to Android Central. You will receive a verification email shortly.
There was a problem. Please refresh the page and try again.