MrMobile's Razer Phone 2 Hands-On: Glowing with potential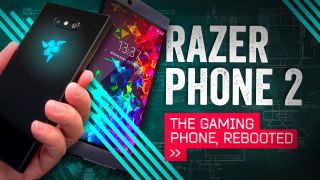 A blocky build chock full of right angles; a slick and smooth 120hz display; a big battery between even bigger speakers. Yep, the Razer Phone 2 sure is familiar! But in building a sequel to its gaming-focused flagship from last year, Razer has taken the opportunity to fix nearly every single flaw I called out in my review of that older model. From water and dust resistance to a glowing Chroma logo to a brighter display to a wholly reworked camera, the Razer Phone 2 seems poised to finally deliver on last year's lofty promises – as long as you're willing to shell out the asking price of $799.
Check out the MrMobile hands-on in the video above, and be sure you're subscribed to the channel so you don't miss the full Razer Phone 2 review coming soon! Then be sure to check out the Razer Phone 2 hands-on posts from Android Central and Windows Central for their platform-focused takes on this monster.
Stay social, my friends
Get the Android Central Newsletter
Instant access to breaking news, the hottest reviews, great deals and helpful tips.
I would be tempted if it has a great camera.

That phone is not visually appealing. Plus, it's larger than a note 9, and has a smaller screen. I'm sure the speakers are great, but that boxy look, small screen for its size, and there's no reason to choose this over a pixel.

The cameras are not going to be as good as the Pixel, but the question is if the Pixel can handle two hours of gaming without thermal throttling or killing the battery.

You don't get this phone huh?

He don't get this phone for sure.

It wasn't intended to the general public and don't underestimate how loyal to a brand gamers are. Oh and look is a personal taste as I'm more inclined to this boxy design than the overly reflective jewelry that is so popular this days.

I'm unlikely to buy those phone but I definitely love the look of it. Reminds of Nokia/Microsoft Lumia or Sony Z's. Wish there were more phones in this form factor actually

A couple of people at my work are ordering this phone and I'm very interested in getting it as well.

After being disappointed with the Pixel 3 I am looking forward to this powerhouse of a device. At least there's a company out there still willing to try something different!