Razer Phone 2 review: Chromagnon, man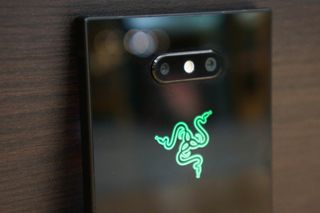 Last year, Razer burst into the mobile market with the Razer Phone, a smartphone made for gamers that offered a distinct departure from the trending smartphone designs we wee from the major players in the industry.
Razer kept things squared off along the edges and sides with a flat panel display that delivered up to 120Hz refresh rate for gaming and streaming media. They also embraced big bezels on the top and bottom that allow for amazing front-facing speakers boosted by Dolby Atmos audio software. It was bold and most successful as a gaming device playing high-performance games, but its camera shortcomings alone made it a tough a phone to consider as your daily use smartphone.
Fortunately, Razer has doubled down for round two with the somewhat predictably named Razer Phone 2.
(Brief aside, but I wish they could come up with some other branding for their smartphones, because every time I've told someone I like the latest Razer Phone, they always reply "Oh, I had one of those! They're still making Razr phones?")
Pros:
Top specs provide best gaming experience
120Hz display is brighter this time
Battery life is still great
Water resistance and wireless charging
Best-in-class front-facing speakers
Cons:
Camera is better but still unimpressive
Magnet for dust and fingerprints
Still miss the headphone jack
Might not be reliable in colder climates
Razer Phone Tech specs
Swipe to scroll horizontally
Category
Specification
Operating System
Android 9 Pie
Display
5.72-inches Sharp IGZO
2560 x 1440 resolution
120Hz refresh rate with UltraMotion sync
Wide Color Gamut (WCG)
Corning Gorilla Glass 5
Processor
Qualcomm Snapdragon 845
RAM
8GB LPDDR4X
Storage
64GB internal
microSD card (class 10), 2TB max
Ports
USB Type-C
Headphone adapter included
Audio
24-bit THX certified DAC (headphone adapter only)
Dual front facing speakers with individual amplifiers
Dolby Atmos
Dual rear camera
12MP AF f/1.75 Wide
12MP AF f/2.6 Zoom
Dual PDAF
Dual tone, dual LED flash
Front camera
8MP f/2.0
Battery
4,000 mAh
Qualcomm Quickcharge 4.0+
Wireless Charging
Yes
Wireless
802.11 a/b/g/n/ac
Bluetooth 4.2
NFC
Biometric
Fingerprint scanner (side power button)
Bootloader unlockable
Yes, directly through phone
Price
$500 / £500
Razer Phone 2 Hardware and Design
At first glance, the Razer Phone and Razer Phone 2 look nearly identical laying screen-side up on a table. Besides swapping the locations for the front-facing camera and sensors, both phones share the same shape and user-facing features.
When comparing the display brightness side by side, we see the Razer Phone 2's first marked improvement over its predecessor. The novelty of the Razer Phone's higher refresh rate was greatly disadvantaged by how dimly lit the display was even at max brightness, so this was one area that absolutely needed to be addressed.
You'll appreciate how comfortable the phone is to hold in landscape orientation while gaming, with the speakers giving you a nice little buffer for your palms. The Razer Phone 2 also features IP67 water resistance, which means that water won't get in through the speaker grills, but prepare yourself with some canned air because the speakers are once again absolute magnets for dust and little flecks of pocket crud.
Moving onto the internal specs, the Razer Phone 2 goes all out with a Snapdragon 845 processor, a 4,000mAh battery and a whopping 8GB of RAM. You only get one option for internal storage, and 64GB might seem a bit low for a phone designed for gaming and media consumption. Fortunately, these days as long as the phone supports microSD storage expansion you can alleviate any storage anxiety for just $20. Razer borrowed the vapor cooling tech from its gaming laptops to keep things cool, but in my experience, the Razer Phone 2 is still a very warm phone after lengthy gaming sessions, but never uncomfortably so.
On the opposite end of the spectrum, I've found that the Razer Phone 2 was a poor performer in colder temperatures. I live in Winnipeg, Canada which is known for being a pretty cold place. On a particularly balmy November evening (I think it was only -10ºC outside) I decided to test the noise-canceling abilities of the Razer Hammerhead USB-C ANC ear buds with a quick bus ride downtown. After 10 minutes exposed to the elements, the Razer Phone 2 became entirely unresponsive and required a hard reboot. This would happened three more times that night.
I'm mentioning it here because I'm unsure if it was a software issue or the phone's hardware reacting to the cold, but it's something to keep in mind if you live in a colder climate as I've never seen a phone released in the past five years react so poorly to colder temperatures quite like the Razer Phone 2.
Speaking of USB-C headphones, once again there's no headphone jack to be found here. I'm still disappointed with phones that lack the 3.5mm headphone jack, although Razer does make up for it somewhat with a very nice 24-bit THX certified DAC USB-C adapter included with the phone. It's just a shame because you're going to have those moments when you might not have Bluetooth headphones with you and must choose between charging your phone for private listening. The outstanding performance of the speakers is a saving grace in those situations.
Saving the most eye-catching design feature for last, on the back just under the glass surface is super stylish Chroma RGB Razer logo, which you can customize and set as a fancy notification alert via the included Chroma app. The Chroma stuff looks really cool but it'll also slowly drain your battery life if you leave it set on high. The inclusion of a glass back also allows for wireless charging, but the wireless charging coils are positioned much lower on the device than you might expect, likely to accommodate the Chroma logo, so it does take some time to find the sweet spot when using a third-party charging pad.
All in all, the Razer Phone 2 doubles down on Razer's smartphone vision by building on the stuff that worked really well the first time around, while adding in some of the premium features that were lacking the first time around for a phone marketed and priced against top-tier flagships.
Razer Phone 2 Software and Gaming Performance
The Razer Phone 2 has shipped with a mostly stock version of Android 8.1, with Nova Launcher included for all your theming desires. If you've already grown accustomed to using Android Pie on a Pixel phone, you'll be somewhat disappointed to revert back to Oreo's app switching interface. The good news is that Razer hasn't added much to the core UI too much outside the included Cortex, a theme store, and Chroma apps that are definitively more useful than the typical bloatware included on many other phones.
Cortex is the new gaming hub that functions as a game launcher and also includes the Game Booster app that helps you fine tune your phone's performance when playing specific games. That means you can set the phone to prioritize performance with a game like PUBG Mobile while opting to preserve battery life when playing a less graphics-heavy game like Brawl Stars. You'll also find a section for features games designed to play real nice with the Razer Phone's 120Hz refresh rate so you can see just what this phone is capable of at its best settings.
When it comes to gaming performance, the Razer Phone 2 is tough to beat. I probably spend more time playing mobile games than any rational being probably ought to, and I've come to learn that outstanding hardware will never overcome bad game design, but getting a game to play at its highest settings will give you an advantage in online multiplayer.
Playing a game like PUBG Mobile at the max graphical settings with the Razer Phone 2's Game Booster optimizing the phone for high gaming performance is pretty amazing, and will let you spot enemies way off in the distance which might be harder to spot on lesser phones. The buttery smooth frame rate means you'll also be able to react quickly in intense moments and that alone can give you the edge where your opponent's lesser device might be lagging behind by a few fractions of a second.
With titles like Fortnite, PUBG Mobile and Vainglory showing off the very best of what's possible on mobile gaming these days, I'd expect to see a growing demand for gaming phones like the Razer Phone 2 that can handle these premium gaming experience with ease. With the major phone makers basically retreading the same general look and feel year after year, a device like the Razer Phone 2 can finally fill the gap for those who aren't enticed by Samsung's curved screens and value high-end gaming performance.
Razer Phone 2 Battery life and Camera
To handle all the great features that the Razer Phone 2 brings to the table — that brighter display, fancy Chroma logo, and all the other high-end specs — Razer needed to back it up with some serious battery power. Not only do you get a 4,000mAh battery, but you're also able to use Game Booster to prioritize battery life. All combined, that means you should expect over 24 hours of battery life for regular daily usage.
When it comes to gaming, setting the Game Booster to prioritize game performance typically gave me about six to nine hours of the best gaming action I've experienced on Android before I got the low battery life warning. The lower end of that spectrum includes the Chroma logo running its highest setting and the use of USB-C headphones which both put a mild drain on the battery life, too. Essentially you're able to get the most out of the Razer Phone 2 for both the times when you want the absolute best gaming experience or when you want to maximize your phone's battery life.
The first Razer Phone shipped with a dual-sensor camera set up that can be summed up succinctly as utter trash. Razer managed to improve the experience via software updates, but it still left the Razer Phone as a premium priced flagship with camera performance you'd expect from a budget handset. Knowing that history, the Razer Phone 2's camera is a clear and vast improvement over last year's attempt — but it still underwhelms me more often than it impresses.
Image 1 of 13
To start, having spent the majority of the past two years reveling in Google's outstanding achievements in mobile photography , I'm just not a huge fan of Razer's camera software. It's nice that they've included useful features including portrait and panorama modes, but the included beauty mode to me is a bit useless. We've seen it before with other phones and It works here by slimming your jawline, enlarging your eyes, and smoothing out your skin. I just don't find it to be exactly flattering to me and I'm not sure how well it targets the demographics Razer ought to be focused on, but others might like it and it at least shows that Razer is putting in the effort to improve the camera software right out of the box this go around.
Other than that, the camera operates better than the first Razer Phone, but still pales in comparison to the hardware and software from Google. Case in point, I'd still reach for my Google Pixel XL (not the 2 or 3) over the Razer Phone 2 if I was heading out for a weekend and wanted to capture the best photos and video. I find that the Razer Phone 2 doesn't do too well capturing the vividness of the colors, which is a bit of a shame since otherwise, it takes pretty nice pictures. At the very least, it's not an absolute deal-breaker like it was this time last year with the first Razer Phone.
The bottom line: Should you buy the Razer Phone 2?
Last year, the Razer Phone was not easy to recommend because of its abysmal camera that couldn't compete with similarly priced phones. Chalk most of those missteps up Razer maybe being a bit blind to the true value users attach to a phone's camera and screen brightness rather than the device's overall performance and enhanced audio-visual experience. Those unique features that made the Razer Phone such a joy to use just don't matter if the phone falls flat in other areas.
With the Razer Phone 2, those major shortcomings have been largely addressed. Razer has stayed the course in terms of overall design and done well to enhance the overall flashiness of the phone. The first Razer Phone looked great if you could show to someone how smooth the display performed, but the Razer Phone 2 now shines brightly from front to back. A device like this is clearly marketed towards those gamers out there who can't help themselves from buying all things RGB, and if that's you the Razer Phone 2 should not disappoint.
4 out of 5
I'm still not a fan of companies removing the headphone jack and I generally prefer the matte finish of the first over the new glass back found on the Razer Phone 2. Beyond that, I can genuinely say that Razer is on to something really good here with its second-generation smartphone. I'd recommend the Razer Phone 2 to anyone who's fully onboard to invest in mobile gaming and appreciates the ability to play the latest and greatest games as they were meant to be experienced.
Be an expert in 5 minutes
Get the latest news from Android Central, your trusted companion in the world of Android
Marc Lagace was an Apps and Games Editor at Android Central between 2016 and 2020. You can reach out to him on Twitter [@spacelagace.