MrMobile's DJI Osmo Action hands-on has me dying to get my hands on one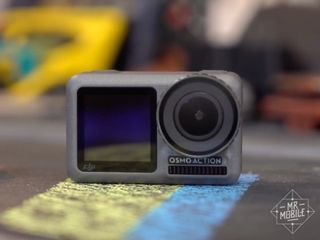 There's always been something uniquely appealing about action cameras, even if the image quality isn't quite up to par with DSLRs and mirrorless cameras. Maybe it's the compact size, or the ease of use. Or how you can mount them to just about anything and get shots that are virtually impossible with other cameras.
No matter the specific appeal, I know that after watching MrMobile's first impressions video of DJI's breakthrough new action camera, the Osmo Action, I absolutely want one.
The last time I used a GoPro, unquestionably the most ubiquitous action camera, I had rented a few Hero5 Blacks for a freelance live band shoot. While there were definitely some things I wasn't crazy about (battery life was unremarkable, and the Wi-Fi connection for monitoring my video feeds was finicky at best), I loved being able to mount two cameras over the drummer and one above the crowd for some interesting perspectives I wasn't able to capture handheld.
The Osmo Action looks to be a perfect way to regain those capabilities, and the stabilization DJI is known for would be a huge help for less stationary shots. More importantly, the front-facing screen is a fantastic addition for vloggers — something I'm surprised no GoPro has offered. Of course, being an action camera, it's also rated for the elements, with dust, water, and shock protection, and it's able to withstand the cold down to 14°F — about 50° more than me!
There are other niceties like a touch screen, slow-motion 4K video, and USB-C for data transfer and charging, but what excites me the most is that not only is the Osmo Action an immediate heavy hitter against the GoPro Hero7 Black, it's $50 cheaper at just $349. That's a great deal for a camera with this many features, and it gives GoPro some much-needed competition.
Without much need for an action camera at the moment, it's hard for me to justify buying the Osmo Action just yet … but it's just one of those products you want to come up with reasons to buy, no matter how superfluous. Who knows, I'll be at B&H next week anyway.
Hayato was a product reviewer and video editor for Android Central.
Android Central Newsletter
Get the best of Android Central in in your inbox, every day!
Thank you for signing up to Android Central. You will receive a verification email shortly.
There was a problem. Please refresh the page and try again.