Common Movies Anywhere problems and how to fix them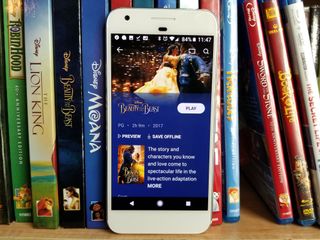 (Image credit: Ara Wagoner / Android Central)
Movies Anywhere is a service that allows you to get all your digital movies from participating studios on the major platforms. This allows us Android users to free our digital movies from iTunes purgatory and allows multi-platform users to get their movies on all their devices. It's a great idea, but it's a new service, and as with all new services, Movies Anywhere has bugs and issues that it's trying to work out. Here are the current issues facing Movies Anywhere.
My movies aren't showing up
Movies Anywhere was originally Disney Movies Anywhere, just for Disney, Marvel, and Star Wars movies. Now, Disney has managed to talk other major studios to joining them on this venture, but it's a long way away from getting every studio onboard. These are the studios currently supported on Disney Movies Anywhere:
Disney
Sony Pictures
20th Century Fox
Universal
Warner Brothers
Hopefully, more studios will see the benefits of Movies Anywhere as these five studios have, but until then, our digital libraries on Movies Anywhere are going to be ever so slightly incomplete. If you're preparing to buy a movie in Google Play and want to ensure it's Movies Anywhere-eligible, look for the Movies Anywhere logo on the listing alongside the badges for closed captions and Family Library.
Eligible movies not syncing
When you're first connecting accounts, it can take a while for your movies to sync, especially if you've got an extensive library. Movies Anywhere has some syncing issues between supported retailers, and while unlinking and re-linking accounts has helped some users get things syncing quickly, we do not recommend it.
If you need to move your Movies Anywhere connection from one Google Play account to another, you'll have to wait six months between disconnecting from the old account and connecting to the new one, as Movies Anywhere only allows you to connect with one account each participating digital retailer for 180 days.
If you just bought a movie, give it half an hour to sync. If you're still having issues, contact Movies Anywhere support for help.
Android TV app
Movies Anywhere is available for Android TV right now, and it will allow you to browse your library. Unfortunately, it is not streaming any movies or bonus content, which makes it pretty useless. Hopefully, the app will be fixed soon, but until then, Movies Anywhere supports Chromecast, so you'll have to use that instead.
Special Features and missing/mislabeled
Some movies, especially movies from Disney Movies Anywhere, seem to be missing many of their special features, and many special features are unlabeled, leaving you just a screenshot to guess by. The database will hopefully be cleaned up and properly labeled as time goes on, but if you notice anything amiss with your special features, make sure to contact Movies Anywhere support so that they know what they need to fix.
Your experience
How was your experience with Movies Anywhere been? Let us know your comments and concerns in the comments!
Ara Wagoner was a staff writer at Android Central. She themes phones and pokes YouTube Music with a stick. When she's not writing about cases, Chromebooks, or customization, she's wandering around Walt Disney World. If you see her without headphones, RUN. You can follow her on Twitter at @arawagco.
What really sucks is I've purchased most of the digital movies I watched through Xbox. It's convenient, 4k and already to go easily. Now, new "Disney" movies purchased through Xbox will not be avaliable to stream to this app from what I've read.

I had some trouble with Vudu at first and my Play Movies we're excluded from family library at some point, but both those problems were easily resolved and now I have almost 150 movies synced across accounts. I just use Play Movies to stream and it seems to works well.

To me anyways, it doesn't seem like all my movies from studios that are supported by Movies Anywhere are appearing in there. For instance, not all my MCU movies (Disney/Marvel) can be seen on Play Movies. They're still scattered between iTunes, VUDU, Disney Anywhere, and Play Movies.

I had trouble with Vudu but I disconnected and reconnected and they showed up immediately. The one problem I have is that I can't find the app on my FireTV. The only one that shows up when I search is the original Disney Movies Anywhere which only handles Disney movies. Has anyone else been able to find the new app on their FireTV?

Why do you need the app on your fire tv? I connected my amazon account using the Movies Anywhere app on my phone and all those movies were added to my Amazon Video Library automatically.

You watch special features through the Movies Anywhere app. As for a Fire TV app, I haven't seen it yet, but it might have been delayed as the Android TV app is broken.

I've had no problem yet,but wasn't this the point of ultraviolet? A central point and you can link accounts for your movies to appear between services. Sure, not all services wanted to jump on the UV bandwagon. on the plus side.... my itunes digital copies from AGES ago (when digital copies only had itunes codes) can now be watched away from an apple device.

Also Vudu's apps sucked, and it wasn't meant to unite your library, it was just the digital copy/locker service like any digit retailer.

Exactly!! Ultraviolet is a much more complete way to store you videos. Disney is trying to move in with an inferior product with promises of free movies and linking all your platforms. HA! Only 2/3 of the movies on my Vudu account show up on Movies Anywhere. In addition, the Ultraviolet platform freely allows you to share your locker with 5 other people. My buddy just got a new movie and went to add it to OUR locker and made the mistake of redeeming it with Movies Anywhere. Yes, it did port over to Vudu...FOR HIM. It doesn't get added to your UV locker, so no one else can see it. If he had redeemed with Vudu, we all could be enjoying the movie right now. I say, stay away from Movies Anywhere at all costs. Disney is just a bully, trying to wring every dollar they can out of you.

I had problems getting Amazon to sync with MA initially, but, after waiting a few days, it eventually worked. Too bad my UltraViolet titles don't come over automatically -- I hate having to find & re-enter the keys for those titles. Also, none of the titles that I've purchased digitally through my cable supplier (Frontier) are eligible.

I just sent support an email asking if they could support Google Play Family Library. At times I purchased on my wife's account to get a discount and now I'm not seeing all the movies that are on my Google library in the family. When they had sales for 50% off I bought one movie on my account and another on my wives and it would be great to see them all in one place, but not sure if that would be something they'll support.

Transferred movies do support family library, but you have to individually enable access to each one. Once they transfer, they are preset to not to be shared on family library.

I have the family library on and all my movies are shared and they don't show up on my wifes account in my movies anywhere account that has google movies linked. I don't see a way to transfer individual movies from her account to mine on google?

very constructed feed back there

Does anyone know when the uk will be getting this please ??

Vudu, Amazon, Google all worked fine. I cannot get iTunes to connect at all. I've done tons of searches and tried everything - using every browser possible (Chrome, Edge, IE, Firefox). No dice.

I had this same issue, the only thing that worked for me was using the movies anywhere app on an iPad ( borrow a friends if you don't have one ) and then linking from within the app. It then asked me credentials for my iTunes and then linked. Now I can see movies anywhere listed under my account info via iTunes on the PC. One thing I love most about this, is I have a Apple TV 4K and it gives me 4K movies for so many of the ones in my library (all my potters, etc..) Good luck!

This whole launch has been negative for me. Some movies wont port between services, I have not been able to play any movies on google or you tube, amazon has 1/3 of my movies and nothing new will port in. Now there are redemption issues with MA. Some movies port in different qualities to different providers. For a service that was supposed to simplify my digital collecting it has made it far more confusing.
Android Central Newsletter
Get the best of Android Central in in your inbox, every day!
Thank you for signing up to Android Central. You will receive a verification email shortly.
There was a problem. Please refresh the page and try again.