Motorola MOTOROKR S305 Bluetooth headset review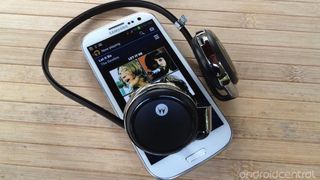 Bluetooth stereo was originally billed as stereo without compromise – a truly wireless way to experience your music. Unfortunately Bluetooth audio often sounds compressed and "low fidelity" compared to a good set of wired headphones.
Music capability is just one of the important features to look for, however. Today's headsets need to also field and control the phone functions of your Samsung Galaxy S III (S3) or other Android phone as well as the ability to control what you listen to.
Motorola MOTOROKR S305
What's in the box
The Motorola MOTOROKR S305 comes with the Bluetooth headset, a micro USB charger and an instruction manual.
Pairing the MOTOROKR S305
Just push and hold the Power button until you see the green light and put the MOTOROKR S305 around the back of your neck with the earhooks over your ears and the padded speakers on your ears. The first time you turn the Motorola MOTOROKR S305 on, it automatically enters into pairing mode. You can double-check this by looking at the indicator light and making sure it is flashing red and green alternatively.
On your Galaxy S3 , HTC EVO 4G LTE or HTC One X or other Android device, just:
Go to your Bluetooth settings
Choose Scan for devices
Select the Motorola MOTOROKR S305 from available devices
If your device needs a passcode (most don't anymore) just type in 0000
If you want to pair the Motorola MOTOROKR S305 in the future to another device, just hold down the Power button and Volume + button together until you see the alternative green/red flashing of the indicator light and it will go back into pairing mode.
To clear all paired devices in the system memory, press the Play/Pause button and the Volume – button together for about 8 seconds.
Functionality
The Motorola MOTOROKR S305 has built in A2DP for streaming Bluetooth stereo music. It also has built in AVRCP functionality for remotely controlling what you listen to.
On the right speaker there are controls for Volume up (+) and Volume down (-) on a rocker switch near the Power button. On a ring located on the back face of the right speaker, there is a Call button for initiating voice dialing, phone calls or answering a phone call.
Across the circle from the Call button is the Play/Pause button. Press it once to pause or play the music, hold the button to stop the music altogether.
Across from one another on that "ring" of controls are the FF and RW buttons. Press RW once to go to a previous track of music. Press FF once to advance to the next track of music. Press and hold each button to Fast Forward or Rewind within a particular track of music.
You can initiate voice controls on your phone by pressing the Call button. If your phone has commands to play music, you can use your voice accordingly.
If you are listening to a song and a call comes in, the music will pause, allowing you to take the call. Once the call has ended, the music starts back up.
To accept a call coming in, press the Call button, to reject it, press either one of the FF or RW buttons. You can also Mute a call by pressing the Play/Pause button while on a call. Press and hold the Call button to redial the last number you called.
Comfort
The Motorola MOTOROKR S305 are a very different design than the S10 HD unit I tested a few weeks ago. These go "on" the ears not "in" them and the hard headband is designed to "float" on the back of your neck.
For me, this design is much more comfortable than the in-ear design of the S10's. Soft ear cups on my ears feels much better than hard gel tips inside them.
The hard part of the headband that is sort of an earhook that goes behind the ear is not too uncomfortable, but it did push down a bit on my glasses.
I found I was able to wear the MOTOROKR S305's for extended periods of time. They were very comfortable and more comfortable than wearing something deep in my ear canals. The only real downside from a comfort perspective is that prolonged wear did make my ears sweat a bit underneath – which can be both gross and uncomfortable.
Call quality
The microphone for the Motorola MOTOROKR S305 is located at the bottom of the right hand earpiece. It is not exactly close to the mouth and I did have a few callers say it was tough to understand what I was saying.
However, since this is a good quality stereo headset, I could really hear calls well. They were loud and clear.
Music quality
The Motorola MOTOROKR S305 support A2DP audio streaming meaning that when the headset is connected, you can stream your music from your Galaxy S3 or other Android phone right to the headset. You can also Pause/Play, Skip and go back a song in a Playlist or album by using the Music controls.
I was pleasantly surprised with the music quality of the S305. I had not been too impressed with other Motorola Bluetooth headsets (or too many Bluetooth headsets in general) with regards to music quality.
The bass response was somewhat lacking and certainly did not have the "punch" of a real high quality headset. However, the mids and high frequencies were really pretty good. Vocals sounded clear and very "present" and cymbals and strings and wind instruments were very clear.
Often, when listening to music over Bluetooth stereo headphones I don't feel particularly inspired to really sit and listen to my music – it is more of a convenience than an enjoyable experience. The S303's were different and I really did enjoy just listening to my music through these.
The wrap up
The Motorola MOTOROKR S305 was a really nice surprise. I wasn't expecting much and I was pleasantly surprised. Music quality is pretty good and these are primarily for listening to music and only secondarily for handling phone calls.
Call quality sounded good on my end but was just fair for callers on the other end trying to make out what I was saying.
The good
No wires
Pretty good music quality
Comfortable
lightweight
The bad
Call quality was just OK
Headphones don't fold for travel
Prolonged use does make ears sweat
The verdict
I definitely prefer the S305's to other Bluetooth offerings from Motorola. It is more comfortable for me to have headphones on my ears than in them and the overall music quality of the MOTOROKR S305's was good.
Buy it now
Others like this one
Android Central Newsletter
Get instant access to breaking news, the hottest reviews, great deals and helpful tips
At least they don't cost upwards of $80 like most other places seem to want to charge for Bluetooth headphones. I grabbed a pair of kinivo Bluetooth headphones for $30 off Amazon. Great music and call quality.

+1 for the Kinivo BTH220. I picked up a pair to replace my 3 year old failing Sony DR-BT140Q. I have not regretted the purchase at all and would highly recommend them.

I would seriously try the Jaybird Freedom. They are the best sounding BT headset I've tried and I have tried all the popular ones from MOTO and several others over the years. Check them out here:
http://www.jaybirdgear.com/jf3/

I ordered me one of these and got it in the mail yesterday. I second your suggestion. The sound is amazing and definitely the most portable BT headphones I've ever owned. The biggest complaints about these are the range and call quality, but so far the range hasn't been an issue and for calls, since I can easily remove the earbud, I can put the microphone closer to my mouth to speak. But if you're looking for sound quality for music listening, you will not be disappointed with a pair of JB Freedom. I think they look pretty slick too, but that's just me. :-)

I've had a pair of these for several years now and they're ok. It's a bit difficult finding the volume and on off button with my fingers. They also don't get quite loud enough for my taste when working out. I actually prefer my Rocketfish RFMAB2 headphones for sound quality and comfort, hardware wise i've burned through 3 pair in 2 years, which is quite frustrating to say the least. They either stop charging or the buttons quit working altogether :( Have you found any headphones that support Bluetooth 4.0 yet?

I would suggest for anyone in the market to have a look at the LG HBS-700 BT headphones if you want a comfortable pair of headphones. They are my favorite of the multiple styles of "wrap around the head" headphones I've tried. -Suntan

+1 Most surprising bluetooth headphones I have ever used. Anyone looking into some new headphones should not hesitate looking for a pair of these. Amazon - http://www.amazon.com/LG-Tone-Wireless-Bluetooth-Packaging/dp/B0052YFYFK...

I have one and the sound quality is terrible. I wouldn't recommend it

I have these, and they kick ass. Battery life in a huge plus, I use them at the gym every day and only have to charge about once a week. They are water resistant, and most importantly they STAY PUT which is important for running. The sound quality is good for an inner ear style, but only if you make sure the cone fits right. If you don't wear them right they won't sound right. Of course the quality won't compare to an over the ear with good noise cancellation, but if you can wear an over the ear to work out in, IMO you're hanging out not working out.

Completely disagree with you there. Muddy sound, thin all around, lack of bass, etc are were all subpar. I've gone through quite a few IEMs in the last years and none were this bad Vibration feature is cool and the design is pretty unique with magnetic slot for holding the earpiece but can't make up for the crappy sound

thats why they go over the ear and cling tightly while ur working out and they never fall off. hanging out, hardly...

I 2nd that. These are great and I would definitely recommend to anyone.

I use a pair of the S305 at work to listen to podcasts and music and I really like them. They are relatively comfortable and have great battery life. The pair I used before the S305 would only last of about 4 - 5 hours before needing to be recharged. I can go all day with the S305 on a single charge and a few hours the next day as well. I'm very pleased with them.

The S305 are a good alternative for people, like ME, who dont like in ear style ear buds. I prefer headsets that rest over my ears. This also allows me to hear some ambient noise as well when the headset is turned down. At times i need to hear if someone at work is talking to me or knocking on my office door. Most in ear headsets block that type of noise. I've had my S305 for several years now and still use them several times a week.
I also agree with tahras, i can listen to music and podcast all day with out having to worry about them going dead. I use them all day at work and put them on the charger when i leave the office.

I have been using this headset for about a year now and these things are great. As a device (in general) the sound quality is great. As a phone, the call quality is just as great. The buttons are very easy to locate and press. I disagree with Gary Mazo when it comes to the comfort-ability of the headset when it hooks behind the ear. For me, the earhook is un-noticeable, therefore it is comfortable. I think Gary Mazo has "sensitive" ear problem and needs to *cough-cough* "man up" a bit. All in all, it's a great all-around headset with one tiny little problem. I guess, because the set was designed to be feel lite on the head, the wrap around plastic is not exactly sturdy and firm like the SD-9 & SD-10 HDs, therefore it can easily be bent out of shape. Though, mine has been bent out of shape a few times, I have always been able to bend it back. Not a big deal. Again, I have been using this headset for about a year and I love it and I highly recommend it to anyone looking to buy bluetooth headset in STEREO.

I have them, meh, sound quality is ok, comfort is good, distance from your device seems pretty short compared to other older bluetooth headsets I have owned. My biggest pet peeve is that the headset sometimes have trouble connecting to previously paired devices. I often find myself trying to re-pair my s305 back to already paired devices.

I wish Aliph would come out with a Jawbone BT stereo headset. I'd love to have what appears to be a regular Jawbone earpiece in one ear, and then there is a another ear piece that plugs into the first earpiece with a short cable that's just long enough to wrap around the head. The second earpiece would have additional battery space in it as well. It seams to me that if a micro-usb plug on a phone can have multiple uses(charge, data, MLH), then maybe Aliph could use the existing micro-usb plug for plugging in another earpiece to turn into a stereo BT headset.

I've had a pair of these for nearly 2 years now, and they're still the best damn Bluetooth headphones I've ever used. I got them back when I worked at a truck wash, and I'd wear them over my in-ear earplugs, hiding them under my work hoodie so I could listen to music while I worked. Not only were they loud enough to clearly hear the music despite the earplugs and loud background noise, they are moisture-resistant enough that even after a year of wearing them in the extremely humid wash bay almost every day, and often getting hit with overspray from the other bay attendants, they still work as well as the day I bought them. Even though I no longer work there, I still wear these along with earplugs whenever I mow the lawn.

Any decent bluetooth headsets with APT-X support onboard?

Hey, have you tested the NOKIA BH-505?
I have one, and its great.
Try it.

I never understood the bluetooth headset market. I bought these exact headphones almost two and a half years ago to use with my droid OG when I was a freshman for around $32 and expected prices to go down but instead they"ve gone up. They lasted me until a month ago in which the plastic part that goes around your neck snapped in the spot where it meets with the controls but they techically still work perfectly. More people should buy bluetooth headphones!!

I have a pair of these I use at work almost daily.
Pros:
- Good sound quality (great for bluetooth standards)
- Reliable connection to two different devices (laptop/cell phone, I alternate regularly).
- Very comfortable AFTER a couple of days of break-in. They fit comfortably over glasses, just make sure they hang over the arms of the glasses.
- Battery lasts all day. However will not last two work days of heavy usage.
- Over-the-ear is best for comfort and if you don't want to completely block out exterior sound. I work in an environment where I need to be able to hear emergency situations.
- Stylish
- I disagree with the author about the "sweatiness". I have no issues. Cons:
- Range is limited. Quality begins to suffer after ~10ft.
- Will probably not stay on ears if you jog.

You can check out a comparison review of the motorola s305 vs nokia bh-503 here: http://www.trentrecommends.com/motorola-s305-vs-nokia-bh-503-bluetooth-s... or the video here: http://www.youtube.com/watch?v=s5h4gDQo7pA

I bought my S305 headset with OG Droid. Lasted until a month ago when my wife blew one of the speakers. Poweramp has equalizer which gives you impressive bass response with these. I have green looking for a replacement, but i can't find anything i like better. Not a fan of in ear design for many reasons. OTE are bulky and fragile, or expensive. The S10 design is decent, until you jog or get on the trails with a mountain bike. Then they bounce off your neck and rub your ears raw. No such issues with S305, because the weight distribution is designed better for active sports. Ease of use also goes to the S305. Buttons are intuitive, and battery life is enough to get me through a 12 hour shift. I also need to be able to hear ambient noise when working or riding. Nothing else in this price point comes close. Nothing in higher price points meets as many of my needs. Looks like I'll be replacing my S305 with a duplicate. Sucks that the price doubled since the last time I purchased them, but they're worth it.
Android Central Newsletter
Get instant access to breaking news, the hottest reviews, great deals and helpful tips
Thank you for signing up to Android Central. You will receive a verification email shortly.
There was a problem. Please refresh the page and try again.