Motorola MOTOROKR S305 Bluetooth headset review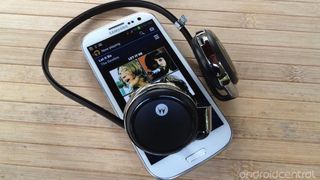 Bluetooth stereo was originally billed as stereo without compromise – a truly wireless way to experience your music. Unfortunately Bluetooth audio often sounds compressed and "low fidelity" compared to a good set of wired headphones.
Music capability is just one of the important features to look for, however. Today's headsets need to also field and control the phone functions of your Samsung Galaxy S III (S3) or other Android phone as well as the ability to control what you listen to.
Motorola MOTOROKR S305
What's in the box
The Motorola MOTOROKR S305 comes with the Bluetooth headset, a micro USB charger and an instruction manual.
Pairing the MOTOROKR S305
Just push and hold the Power button until you see the green light and put the MOTOROKR S305 around the back of your neck with the earhooks over your ears and the padded speakers on your ears. The first time you turn the Motorola MOTOROKR S305 on, it automatically enters into pairing mode. You can double-check this by looking at the indicator light and making sure it is flashing red and green alternatively.
On your Galaxy S3 , HTC EVO 4G LTE or HTC One X or other Android device, just:
Go to your Bluetooth settings
Choose Scan for devices
Select the Motorola MOTOROKR S305 from available devices
If your device needs a passcode (most don't anymore) just type in 0000
If you want to pair the Motorola MOTOROKR S305 in the future to another device, just hold down the Power button and Volume + button together until you see the alternative green/red flashing of the indicator light and it will go back into pairing mode.
To clear all paired devices in the system memory, press the Play/Pause button and the Volume – button together for about 8 seconds.
Functionality
The Motorola MOTOROKR S305 has built in A2DP for streaming Bluetooth stereo music. It also has built in AVRCP functionality for remotely controlling what you listen to.
On the right speaker there are controls for Volume up (+) and Volume down (-) on a rocker switch near the Power button. On a ring located on the back face of the right speaker, there is a Call button for initiating voice dialing, phone calls or answering a phone call.
Across the circle from the Call button is the Play/Pause button. Press it once to pause or play the music, hold the button to stop the music altogether.
Across from one another on that "ring" of controls are the FF and RW buttons. Press RW once to go to a previous track of music. Press FF once to advance to the next track of music. Press and hold each button to Fast Forward or Rewind within a particular track of music.
You can initiate voice controls on your phone by pressing the Call button. If your phone has commands to play music, you can use your voice accordingly.
If you are listening to a song and a call comes in, the music will pause, allowing you to take the call. Once the call has ended, the music starts back up.
To accept a call coming in, press the Call button, to reject it, press either one of the FF or RW buttons. You can also Mute a call by pressing the Play/Pause button while on a call. Press and hold the Call button to redial the last number you called.
Comfort
The Motorola MOTOROKR S305 are a very different design than the S10 HD unit I tested a few weeks ago. These go "on" the ears not "in" them and the hard headband is designed to "float" on the back of your neck.
For me, this design is much more comfortable than the in-ear design of the S10's. Soft ear cups on my ears feels much better than hard gel tips inside them.
The hard part of the headband that is sort of an earhook that goes behind the ear is not too uncomfortable, but it did push down a bit on my glasses.
I found I was able to wear the MOTOROKR S305's for extended periods of time. They were very comfortable and more comfortable than wearing something deep in my ear canals. The only real downside from a comfort perspective is that prolonged wear did make my ears sweat a bit underneath – which can be both gross and uncomfortable.
Call quality
The microphone for the Motorola MOTOROKR S305 is located at the bottom of the right hand earpiece. It is not exactly close to the mouth and I did have a few callers say it was tough to understand what I was saying.
However, since this is a good quality stereo headset, I could really hear calls well. They were loud and clear.
Music quality
The Motorola MOTOROKR S305 support A2DP audio streaming meaning that when the headset is connected, you can stream your music from your Galaxy S3 or other Android phone right to the headset. You can also Pause/Play, Skip and go back a song in a Playlist or album by using the Music controls.
I was pleasantly surprised with the music quality of the S305. I had not been too impressed with other Motorola Bluetooth headsets (or too many Bluetooth headsets in general) with regards to music quality.
The bass response was somewhat lacking and certainly did not have the "punch" of a real high quality headset. However, the mids and high frequencies were really pretty good. Vocals sounded clear and very "present" and cymbals and strings and wind instruments were very clear.
Often, when listening to music over Bluetooth stereo headphones I don't feel particularly inspired to really sit and listen to my music – it is more of a convenience than an enjoyable experience. The S303's were different and I really did enjoy just listening to my music through these.
The wrap up
The Motorola MOTOROKR S305 was a really nice surprise. I wasn't expecting much and I was pleasantly surprised. Music quality is pretty good and these are primarily for listening to music and only secondarily for handling phone calls.
Call quality sounded good on my end but was just fair for callers on the other end trying to make out what I was saying.
The good
No wires
Pretty good music quality
Comfortable
lightweight
The bad
Call quality was just OK
Headphones don't fold for travel
Prolonged use does make ears sweat
The verdict
I definitely prefer the S305's to other Bluetooth offerings from Motorola. It is more comfortable for me to have headphones on my ears than in them and the overall music quality of the MOTOROKR S305's was good.
Buy it now
Others like this one
Get the Android Central Newsletter
Instant access to breaking news, the hottest reviews, great deals and helpful tips.