Motorola Droid Turbo specs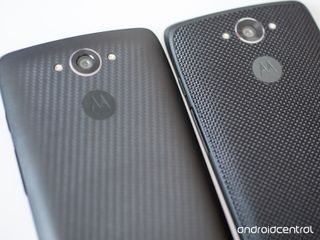 Following are the official Verizon Motorola Droid Turbo specs. The phone will be available in stores and online starting Oct. 30, beginning at $199 on a two-year contract.
Category
Features
Display
5.2-inch Quad HD (2560 x 1440) for 565 ppi, Gorilla Glass 3
Processor
Snapdragon 805 quad-core at 2.7 GHz (APQ8084), Adreno 420 GPU
Natural language processor, contextual computing processor
Software
Android 4.4.4 KitKat (Android 5.0 update to come)
Storage
32GB/64GB internal
RAM
3GB LPDDR3
Dimensions
Ballistic nylon model: 73.3 x 143.5mm, curve is 8.3 to 11.2mm
Metalized fiber model: 73.3 x 143.5mm, curve is 7.8 to 10.6 mm
Weight
Ballistic nylon: 176 grams
Metalized fiber: 169 grams
Network
4G LTE (Cat 4), CDMA/EVDO Rev A; UMTS/HSPA+; GSM/EDGE, World mode
Body
Metallized Glass Fiber, Kevlar on rear
Colors
Metallic red, metallic black
Battery
3,900 mAh, rated up to 48 hours;
15 minutes of charging gets 8 hours of use (requires Turbo Charger, included in box)
Wireless charging capable
Camera
21MP rear in 4:3, 15.5MP in 16:9; f/2.0, with 4k video and dual LED flash
Software
Moto Voice, Moto Actions, Moto Assist, Moto Display, Motorola Migrate,
Droid Zap, Highlight Reel, EAC, Quick Office, Zap Zone, Zap to TV, Zap with Voice
Like new Moto X 2014 going on Swappa for this phone. I've been trying to decide between this, the Note 4 or the Z3v. I think the Turbo is going to win out for me, mainly because of the battery life, and the near stock Android.

If I pop in a AT&T or Tmobile SIM, will they work? Posted via my "G3 Modded" Sprint LG G2 with permanent SIM Unlock on T-Mobile $30 2nd line family plan.

If you have the GSM model, I guess. Posted via the Android Central App

I think droid phones are Verizon exclusive. So no GSM model Posted via Android Central App

Verizon phones have 2G and 3G GSM functionality for sure. That's how they roam internationally.

That's only if you get one of their "World" phones. No evidence the Droid Turbo is one of them. Posted via Android Central App

Wrong. Go look at the specs for a few Verizon phones, they are all GSM/UMTS-enabled. Verizon's LTE phones are also unlocked by default. Hell, read the specs on this page. See the GSM?

Yes they will work. I have the Droid Maxx with a Straight Talk At&T sim inside and I get lte

It's sad because this is what the Moto X 2014 should have been in the first place. The games they playing with phone releases is BS. Posted via the Android Central App

Maybe not quite this, but at least it should have had a 3,000mah battery. Then I would have considered it. Posted via the Android Central App

+1 Posted via the Android Central App

I agree. The moto X should have qHD at least. AC App via Nexus 5

Any word on when the GSM variant Moto X Play is rumored to be released? I'm interested in seeing a side shot of this phone too to see what exactly is happening on that phone's chin. Also, is there any word on which version of Android this will launch with? Hopefully L?

What in the world is that Zap nonsense? Is that more bloatware?

Hmmm... Interesting. The image for the article was replaced to not show the front of the phone, but then a different article on this site pops up using the front image: http://www.androidcentral.com/droid-turbo-marketing-leak-reveals-hardwar...

Kitkat, guaranteed (and fairly speedy) update to lollipop

It's 4.4.4...right there in the spec list.

Clearly states in the article: Software Android 4.4.4 KitKat (Android 5.0 update to come)

Motorola stuff. Their software is great. Not everything non-Google is "bloatware". Posted via the Android Central App

A device this new is not going to ship with a version of Android that is so new.

I am interested in this as well. It is either the Nexus 6 or the Moto X Play for me, but I would prefer the Play to the Nexus (if it even exists)

Ummm why don't they put this on other carriers!? Ohhh the battery! I would buy it for sure

Or why is not the Moto X :)

we assuming LCD on this one? or amoled?

It has to be amoled. Moto display only works with amoled because only the pixels that are in use turn on. LCD is backlit, so the entire screen lights up even if only a small portion of the display is being used.

Amoled. Check motorola.com via AC App on VZW Moto X/N7

Anyone seen the physical size specs on this? HxWxL ? Weight?

Ummm... Yeah. It's in the column about specs. Which is this column that you just commented on. Posted from the Avengers: Age of Droid Ultra

His comment is from two weeks ago when this article was originally posted.

It's just slightly larger than the Moto X 2014. You can use H x W x L from the Moto X to estimate I guess. They are almost the same size.

Snapdragon 805? Check
3gb RAM? Check
More than 16gb of storage? Check
Big battery? Check
Decent camera? Check
Wireless charging? Check
Can actually fit in my pocket? Check
GSM variant? Ch ..... FUUUUUUUUUUUUUUUUUUUUUUUUUUUUUUUUUUU!!!!!!!

+1 Posted via Android Central App

I think is coming. I when to my carrier during the weekend (I live in PR) and ask if they where going to have the Moto X 2014. The woman that was helping me, told me that they where going to have it by middle of next month before black friday and that there where two different motorola phones coming. The moto X and some moto maxx. She didn't gave me details on that maxx models but told me that it shall be an upgrade for the Rarz Maxx they use to sell. My carrier is GSM and I think this phone fits perfectly into the Maxx category because of the battery.

+1 Posted via the Android Central App

Verizon phones support GSM, though they do not necessarily support LTE... you can get 3G though. Edit: Motorola.com shows that this device supports LTE Bands 2, 3, 4, 7, and 13. Band 13 is a Verizon-only band, BUT AT&T and T-Mobile use bands 2 and 4 for LTE. These are the 1700/2100 AWS and 1900 PCS bands, meaning they have poor building penetration. The lower bands 12 and 17 (700MHz) that T-Mobile and AT&T use, respectively, are not supported, meaning there will be gaps in coverage. Band 17 is AT&T's primary LTE band. Band 4 is T-Mobile's primary LTE band, so this will work better on T-Mobile, in a sense.

I wish that the Nexus 6 is modeled after this. I love the Screen size, the Camera and the Battery capacity.
And yes,m a GSM variant thats sold in India will definitely be sweet

once again, no external storage...le sigh...

i guess you have to get the G3, S5, Note 4, or M8 if you want external storage. No Moto for you! ha!

With the 64 GB model coming in at $249/$649 it's probably plenty for almost anything. Would you rather have the S5 with 16GB and micro SD?

I agree. I was waiting to see if there would be a 64GB version like the Nexus 6. Hopefully this trend (64GB & larger) continues and becomes standard for devices that don't have external storage.

So the camera is the one from the xperia z1,z2,z3 then?? Posted via Galaxy ace plus running Speedmod 2.5 with Xposed

Those are not the same camera, even though they're the same resolution.

No? Which sensor do they all use? I know the Z3 has a slight upgrade, but I was pretty sure that the previous Z-series phones had the same camera module.

Wish these were the Nexus 6 specs Posted via Android Central App

I feel like $600 is very well priced for this phone Posted via Android Central App

What type of camera is on the front? Is it confirmed that there is no microsd slot?

Two Gripes, one minor the other Major. 1. VZW Only, 2. All those Megapixels and still no OIS

Whew these specs.... Are amazing... Posted via the Android Central App

And it's still cheaper than the Nexus 6! Posted via the Android Central App

Damn monster phone Posted via the Android Central App

It doesn't have a 4000 mAh battery. Deal breaker.

Can't tell if you're trolling or not. 3900 is basically 4000. 100 less mAh would be a deal breaker for you?

Seriously?? Get your head out of your ass... he was joking. Posted via the Android Central App

AC staff forgot to add to the spec list the fact that it is ugly as hell The panda has spoken

Wish it was IPS or 1080p at this size - SOT 12hrs :) also, we don't know if the screen is equal or close to Note 4 (most likely not)
lack of OIS is kinda disappointing (knowing Moto's software) but fingers crossed.
Oh well , it will do - too many Pros on this one to pass. Will replace wife's Note 3 for now. via AC App on VZW Moto X/N7

Where are these specs listed? I don't see a source.

Why couldn't this be the Moto X???

That's what should have been the nexus 6 Fail to GOOGLE.

I agree, I wonder if Google colluded with phone manufacturers so as to not make a better phone than them and backed off making the Nexus 6 the flagship phone we all expected so more S5, G3, Note4, and HTC phones would be sold. Posted via the Android Central App

Hahahahah Nexus 6 all ay baby!

Dam its to small Posted via Android Central App

Great to see that there is also a 64gb int storage available. Maybe other Manufacturers will follow this. All top of the line Smartphones must have this kind of int storage, the more the better. The new iPhone has a 128gb option, that is fantastic. I've always went with devices with sd-card support, with large int storage phones I don't care about sd-card support. Just give these great devices the storage that modern Smartphones need if you are going to use them for business.

So I noticed the specs listed the extra processing cores for language and such a la Moto X 2013. Interesting. I don't think the Moto X 2014 even got that

The Moto X doesn't need that. The Snapdragon 800 and 801 have a core dedicated to language processing, too. The original Moto X used an S4 processor, which did not have the built-in language processor, so Motorola slapped one in there and then used a Texas Instruments chip to integrate and process the sensor data so that the phone could tell when you were picking it up, pulling it out of your pocket, etc. The Snapdragon 80X series has some of this built-in to the SoC already.

Look out for that moto maxx November 5th!!! Looking at the dimensions, the droid turbo matches my nexus 5 (with bumper case) perfectly. I won't need to rock a case with the ballistic nylon version. Just a screen protector... Posted via the Android Central App
Android Central Newsletter
Get the best of Android Central in in your inbox, every day!
Thank you for signing up to Android Central. You will receive a verification email shortly.
There was a problem. Please refresh the page and try again.