Moto Z3 Play vs. Moto Z2 Play: Should you upgrade?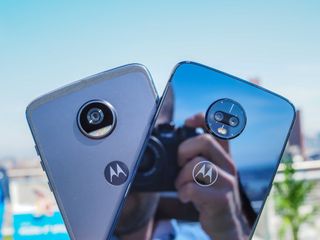 Earlier this month, Motorola refreshed its endurance-focused Z Play series with the Moto Z3 Play. While it's more a mid-range device than a true flagship for the company (that title is likely reserved for the Moto Z3 or Moto Z3 Force), the Z3 Play brings some much-needed modernization to the design language we've seen for the last three years.
Last year's Moto Z2 Play is still a great option, though. It still offers full Moto Mod support, a razor-thin design, and a cheaper price tag. So which phone is right for you?
Image 1 of 4
What the Moto Z3 Play does better
Motorola's commitment to its Moto Mod ecosystem, while certainly commendable, creates a bit of an issue with regards to the company's general design language for its Z series phones. In order to support new devices as well as the old, Motorola can't do much to change the physical dimensions of its phones, aside from thickness. The Moto Z3 Play is actually a bit thicker than last year's model, but it still comes in incredibly thin at just 6.75mm.
But just because Motorola can't change the shape of its phones, doesn't mean it can't change anything. Around the front, the Z3 Play features a 6-inch 18:9 display, up half an inch from last year. To make room for that larger display, the fingerprint sensor has been moved from the front to the righthand side, along the phone's aluminum frame. This is a much cleaner, more modern look than last year, but not everyone will be crazy about the side-mounted fingerprint sensor — or the power button's repositioning on the lefthand side.
Image 1 of 2
Inside, the Moto Z3 Play actually has the same 3000mAh battery as last year's model, though the newer Snapdragon 636 processor is more power-efficient and should lead to as much as 30% better performance. You also gain an extra gigabyte of RAM over the Z2 Play — up now to 4GB. The Z3 Play runs Android 8.1 Oreo, and features the popular Moto Actions that allow you to quickly launch the camera or flashlight through gestures, as well as Moto Display for ambient notifications. There's also a new (optional) way to navigate the phone, similar to Android Pie's navigation pill.
The cameras have gotten a bit of an upgrade as well, with the Moto Z3 Play being the first phone of the series with dual cameras. The secondary camera is used for measuring depth to aid in portrait mode shots, and Motorola's camera app comes with a bevy of new features including built-in Google Lens support and cinemagraph capture.
See at Motorola (opens in new tab)
Where the Moto Z2 Play still holds up
A tall display isn't everything. The Moto Z2 Play still looks great, with almost exactly the same design around back as the newer Z3 Play — though it still has an aluminum back, rather than the Z3 Play's more fragile glass. It also has arguably a more accessible layout; the fingerprint sensor is easy to reach up front beneath the display, and the power button is in line with the volume controls along the righthand side. The Moto Z2 Play also retains a headphone jack — something the Z3 Play eliminated, despite being thicker.
The Moto Z2 Play also still works with any Moto Mod, new or old. This has been Motorola's promise from day one, and it's great to see them actually follow through. If you want better battery life, better speakers, or even new features like a pico projector, wireless charging, or Amazon Alexa, all you need to do is snap on a Mod accessory — no fussing with Bluetooth or wires.
Image 1 of 2
There's not much to be jealous of internally, either. The Z3 Play's Snapdragon 636 is newer and more power-efficient, sure, but the Snapdragon 626 is no slouch, and it keeps the Z2 Play running smoothly and, more importantly, running all day. The 3000mAh battery inside is plenty, given the phone's 1080p display and clean software. You won't get Android 8.0 Oreo on the Z2 Play (at least not yet), but you still get Motorola's suite of Moto Display, Moto Actions, and more.
See at Amazon (opens in new tab)
Which is right for you?
If you already have the Moto Z2 Play, there's little reason to upgrade to the Z3 Play. Its dual cameras are still unproven, but in our early testing, portrait mode doesn't seem to benefit much from the additional camera. Furthermore, with continued Moto Mod support, most of the Moto Z3 Play's benefits like the more efficient processor can be offset by simply adding an extended battery.
The Moto Z2 Play is also significantly cheaper than the Z3 Play, available on Amazon (opens in new tab) for as little as $360. That $140 difference in price could go towards a Moto Mod or two, further augmenting your Z2 Play to be a better device. Unless you really want an 18:9 display or Android 8.1, you're better off keeping your Moto Z2 Play for the time being.
Have you been using a Moto Z2 Play? Are you looking to upgrade to the Z3 Play, or are you sticking with what you have? Let us know in the comments!
Android Central Newsletter
Get instant access to breaking news, the hottest reviews, great deals and helpful tips
Hayato was a product reviewer and video editor for Android Central.
My Z1 play recently received 8.0 Oreo. Z2 play should too

Oooo really where you from still waiting for this on my z2play uk

Z1 play bought retail in Australia XT1635-02 model

Cool well just checked on mine and nothing yet one thing I miss about my Sony was the updates it got were quick.

For Verizon users, the Moto Z2 Play is normally $408 vs. the unlocked Z3 Play's $499.99 price tag. BUT, it's frequently on sale for $10/mo at Best Buy on a non-bill credit deal bringing it to $240. Right now at Verizon, if you don't mind bill credits, you can get the Z2 Play for as little as $5/mo on a new line. Z2 Play owners probably don't need to upgrade right now.

Using a second camera just for portrait mode seems like such a waste. IMO, Motorola did it right with the X4's wide angle lens. It actually works well. Not LG well, but pretty good. Motorola is also to be commended for honoring their three year commitment to Moto Mods. Although, I maintain that the Z series will probably be done after this year, at least as a modular phone. Just too expensive to be a part of it.

I kind of hope they are not but it has to be hard to keep making a phone each year to fit the mods plus if they make a year 4 phone will the 3 and 2 still work? This is questions Moto need to be asked and answer. I swapped with my other half for her z2 play and my xz premium now for me the xz premium is the better phone but also costs a lot more but she takes more pictures than me so the z2 play fits me well and made me think about out lower cost phones on the market looking at z3play or Nokia next me thinks.

Hey Hayato, what are your thoughts if you are still running the original Moto Z Play? I am going back and forth about upgrading. No headphone jack and a smaller battery with a bigger screen (more efficient chip, though) - not sure, maybe I'll wait for the Z3. IMHO if Motorola is smart they reduce the price tag on the Z3 Play to approx 349 - 399 and bring a Z3 with a Snapdragon 710 for 599 or so. I think this would be a good position building on their (G series) reputation of offering high value for a good price. mH

If you care about long battery life or the headphone jack, I wouldn't upgrade. Moto is claiming 40 hours of use WITH the bundled Power Pack Mod, which by itself is 2200mAh. The Mod is advertised as adding 16 hours of use to a phone, so if that number is close to what you can expect with the Z3 Play, then the phone only has 24 hours of battery life. Between my Z Play's battery and the Turbo Power Pack Mod in efficiency mode, I get a consistent four days of use with 6-7 hours of SOT. One time I even made it over five days of use with five hours of SOT. Needless to say I won't be upgrading, but the choice is ultimately yours. On a side note, I think Motorola reduced the battery capacity of the Z2 and Z3 series to help sell more battery Mods. They said it was due to customers wanting thinner phones, but there was no reasonable excuse for the Z2 Force having such a small battery other than to sell more Mods. The sad part is that customers like me aren't going to buy the Z2 or Z3 Play due to its reduced battery capacity. Unfortunately with the Z2 Play selling much better than the Z Play, Moto stuck with and will likely continue to stick with smaller batteries.

Exactly, it makes no sense at all. They hardly sell more mods if people leave the plattform. mH

The OG Z Play is still a great phone. The Z2 Play and Z3 Play lost its charm by shrinking the battery and taking away the headphone jack on the Z3 Play. It's like Motorola built a near perfect phone and ruined it by being greedy to sell you mods, instead of polishing of what was/is still a great phone (Z Play).

Neither is that dramatically better than the MZP1.

I actually have a couple corrections to submit. 1. There is no headphone jack on the Z2. Source: I'm typing this on the device.
2. Z2 already has 8.0 Oreo. T-Mobile update came at least a month ago, if not more.

Are you sure you're using the Z2 Play and not the Z2 Force?

You're talking about the Z2 Force.

1. You are typing on a phone different from which this article is about. My Z2 Play, my wife's Z2 Play and the Verizon Z2 Play, which I previously owned all had headphone jacks.

Z2 Play has a headphone jack.

I have Moto z2 play and i recieved oficial aandroid 8.0 update last month.

I will continue to use my Moto Z Play. I don't know why anybody obsesses over the thinnest phone. Thin phones are easier to drop. Plus, all mods make the phone thicker. Moto fans do not consider a substantial phone as a sacrifice. Battery life is the king of features. I hope the Z4 Play brings it back to a proper level. Until then, I'll stick with what I have.

I would not buy either product. I am currently surfing with a Lenovo Moto phone that shuts off when the camera is used, randomly when surfing news feeds and when the battery is between 20 and 60%. This occurred very shortly after the 7.1.1 update. While I have no proof it seems like Verizon and Lenovo are not motivated to fix this problem and they both stand to gain financially from the multitude of users who are experiencing the same issues random shutdown and severely reduced battery life. I wouldn't give Lenovo or Verizon another dime! I am searching for a class action remedy

Neither because there are better phones available like the Nokia 6.1

Not for Verizon customers.

I like my Z2 Play, very pleased with it! But I have to admit I haven't bought any mods! The problem is the only mod that interests me is that camera, but I just can't justify it!

@Hayato, my Z2 Play has 4GB of ram. It's the XT1710-01, North American Unlocked. I love this phone! Thin, light, compared to my last DD, the Moto X Pure Edition 2015, and doesn't heat up at all, let alone for no reason, like the X.
I didn't have the Z Play, so I can't compare battery life, but this one lasts WAY longer than the X Pure.
I don't see anything tempting me to the Z3 Play. I do actually use the headphone jack periodically and I have no use for Oreo, especially the light background Quick Settings drop down. YUCK! And as proven by owning a Nexus 6P and a Pixel XL, I MUCH prefer a front fingerprint scanner.
Android Central Newsletter
Get instant access to breaking news, the hottest reviews, great deals and helpful tips
Thank you for signing up to Android Central. You will receive a verification email shortly.
There was a problem. Please refresh the page and try again.