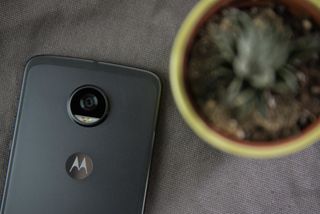 The Moto Z2 Play is Motorola's first Android flagship of the year, and while it bears a close resemblance to its predecessor, it has a few tricks up its sleeve. First and foremost, the Snapdragon 626 processor is 10% faster than the Snapdragon 625 in the original, and additional RAM and storage make for a more flagship-like experience. The rear camera is considerably improved — a 12MP sensor with an f/1.7 lens and 1.4 micron pixels — and the software has been given a bump up to Android 7.1.1 with a brand new Moto Display experience.
But the battery has taken a hit: the 3510mAh battery has been reduced 17% to 3,000mAh, reducing the thickness by a full millimeter.
Swipe to scroll horizontally
Category
Moto Z2 Play
Operating system
Android 7.1.1
Moto Display, Voice, Actions
Processor
Qualcomm Snapdragon 626 processor
Octa-core Cortex-A53 @ 2.2 GHz
14nm process
GPU
Adreno 506 GPU @ ~650 MHz
Screen
5.5-inch Full HD (1920x1080, 403 ppi) AMOLED
RAM
3GB
4GB (Moto Maker)
Storage
32GB
64GB (Moto Maker and international)
Expandability
microSD up to 2TB
Rear camera
12MP, Dual Autofocus Pixel
phase-detect, laser autofocus
1.4-micron pixels
f/1.7 lens
dual-LED flash
Video capture
720p (120fps), 1080p, 4K (30fps)
Front camera
5MP
1.4-micron pixels
f/2.2 wide-angle lens
front-facing flash
Connectivity
USB-C
3.5 mm headphone jack
Moto Mods support
Yes
Water resistance
Water-repellent coating
Security
One-touch fingerprint sensor
Battery
3000mAh
TurboPower charger (8 hrs battery in 15 min)
Colors
Lunar Gray, Fine Gold, Nimbus Blue, Super Black
Dimensions
156.2 x 76.2 x 5.99 mm
Weight
145g
LTE Bands
CDMA 850, 1900 MHz
GSM/EDGE 850, 900, 1800, 1900 MHz
HSPA+ 850, 900, 1700, 1900, 2100 MHz
LTE Band 1, 2, 3, 4, 5, 7, 8, 12, 13, 17, 20, 25, 26, 28, 29, 30, 38, 41, 66
Daniel Bader was a former Android Central Editor-in-Chief and Executive Editor for iMore and Windows Central.
Give the millimeter back and increase the battery.

Exactly! If it had the same size battery it'd be the perfect $500 phone.

Great specs for a 2016 smartphone.

Its crazy that people expect flagship specs from a phone thats half, maybe a third the price of a true flagship device. Its a great mid-range smartphone.

The Z2 costs $60 more than the (better) 2016 OnePlus 3T, so yes, I expect more. And re-read the first line on this page: "The Moto Z2 Play is Motorola's first Android flagship of the year". They think it's a flagship, so I expect flagship specs.

No matter what the reviewer said or meant to say in regards to this phone being a flagship, the fact is Motorola will be releasing a flagship Z later this year which will likely contain all the specs you want. And will be priced accordingly.

It's not the flagship. It's a mid-range version of the actual flagship.

I agree with you. But whose delusions of grandeur is it? The reviewers, or Motorola's?

Probably the reviewers. Because the Play was never meant to be an actual flagship. It's always a mid-range version of the flagship, usually with a bigger battery.

Well, they backed-off the battery. And the price is high for the specs (in my opinion). So I don't really see this as being that competitive. We've been buying Motorola phones since the very first analog MicroTAC flip phone. We won't be buying them going forward, as they simply don't seem that compelling in price for functionality anymore.

Well, one could argue that the Blackberry KEYone is expensive, but apparently, that phone is selling fast. I'm not sure if Motorola is able to sell this at a similar pace, since it has been dumbed down to just be another good midranger.

They sure have made it confusing with the G, M, X, and Z with Plus and Play variants mixed in. What they've done with the Z Play 2 was dabble in the mid-range category while attempting to keep moto mods relevant.

How about this then... I expect flagship specs on a flagship phone for twice that price.. Then I expect to wait 3-4 months to purchase said flagship device when it gets discounted to the same price or lower as this Z2Play is now.

It cost $499. What kind of $1500 flagships are "out there"? they sound incredible. This phone would be fine at 350-400. At 499 why would someone do this when oneplus exists? This phone costs 70% of a S8.

Only the millions of people on Verizon or Sprint or US Cellular.

Or the millions who don't understand and therefore don't give a rat's butt about "specs".

OnePlus is irrelevant to at least a third of the US market.

Odd that the first gen was $408 at Verizon and $449 unlocked.

it's not a flagship killer.

From monstrous battery life to just being pretty good. I never understood how 7mm is considered thick.....

Agreed, I want a bigger battery. The increase in size that wouldn't be noticeable to most is worth it. Thinner and lighter isn't always better.

Yes, it is a bit disappointing about the small change in battery... But its current mAh is still pretty good. But yes, I too would rather it be a mm thicker and have the extra battery power. Hopefully its next iteration will go the opposite route - thicker body, bigger battery.

Daniel, any information on whether the unlocked model will be 4 carrier compatible? It would appear that it is so judging by the compatible LTE bands above.

Very likely. All of Motorola's current-gen phone's work on all US carriers.

I agree it's very likely, but to be a bit pedantic, none of the current generation of Z phones are 4 carrier compatible.

That's not true. None of the current Moto Zs work on Sprint.

I doubt it will be. I'm thinking it'll just be the G5s (including the "s" models) and the not yet announced X4.

We shall see. The specs above certainly list all the requisite LTE bands for 4 carrier support.

The specs might be combined. There's probably at least two SKUs/model numbers for the US since there is a Verizon model (no Droid branding anymore?!) and an unlocked one.

But they include bands 25, 26, and 41 which are Sprint exclusive in CONUS. So one way or the other, if the above specs are to be believed, this phone will be able to be used on all 4 carriers.

Besides the battery, this feels like a nice upgrade from the original.

Good job lenovomoto, take the best thing about the phone and f*ck it up. LOL. 😂

Looking forward to more from that camera.

I'll jump on a battery mod for my original Z and call it a day. Better screen, better processor and better looking. Thank you very much.

yikes a downgrade called a upgrade, welcome to consumerism
Android Central Newsletter
Thank you for signing up to Android Central. You will receive a verification email shortly.
There was a problem. Please refresh the page and try again.