Android 7.0 Nougat coming to Moto Z Play Droid Edition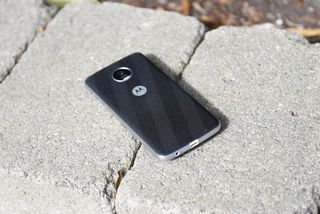 Faithful Moto Z Play Droid Edition users — say that in one breath! — your loyalty has been rewarded. Verizon has revealed that it's seeded the update for Android 7.0 Nougat to your modular devices.
The Moto Z Play Droid can now take advantage of features like multi-window multitasking in both portrait and landscape modes, direct reply in the notifications shade, customizable quick settings, and all of the emojis your heart desires. There's also a helpful Data Saver feature that comes built into the operating system, which you'll definitely want to use if you're not subscribed to Verizon's unlimited data plan.
Ready for the update? If your phone is waiting on an update, you should have a notification waiting for your approval. If not, check to see if there's an update available in the Settings panel. You can read more on the update at Verizon's page (opens in new tab).
Get the Android Central Newsletter
Instant access to breaking news, the hottest reviews, great deals and helpful tips.
Florence Ion was formerly an editor and columnist at Android Central. She writes about Android-powered devices of all types and explores their usefulness in her everyday life. You can follow her on Twitter or watch her Tuesday nights on All About Android.
I called this yesterday when they did the article that the Verizon S7 got nougat

Yes you did. I was guardedly hopeful that you were right.

I was hoping you were right. Good call! It's about damn time lol. So far, so good.

Not just Verizon. Rogers, Telus and Koodo in Canada pushed Nougat to their Z Plays last week

Even I using Moto z play got that nougot update maybe one and a half week ago

Also that Samsung Galaxy S7 Active got Nougat today!

As a bonus, Google Assistant was available when I finished upgrading.

I hope it doesn't **** my Z like it did my S7. S hag is banned but you have articles on porn?

So i just got like a phantom update? My Moto Z Play said i have an update for android 7.0 but it never started downloading. Very saddening.

Received 7.0 on my unlocked Moto z play today in USA, about time.

Upgraded last night. Haven't really poked around Nougat yet, but the multi-tasking and dual windows will really come in handy for work, where I run everything off an app and Evernote. What was nice was that the update didn't screw up any of my settings, it was really seamless. So far today, I have 10.5 hours sceen time, and 11 plus wifi and bluetooth, navigation on almost constantly. Love the Z Play.