The Moto GamePad Mod is finally here and it's awesome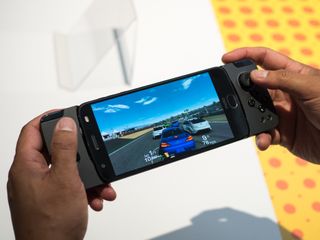 Motorola's stable of Mods for its Moto Z lineup of phones is constantly growing, and one of the coolest of the lot is the GamePad Mod (opens in new tab) that adds physical gaming controls to your phone. It was teased back in June with the launch of the Moto Z2 Play, but now we've actually used a production model and can tell you what this $79 accessory brings to the (gaming) table.
See at Verizon (opens in new tab)
While it may look a bit bulky at a glance, it's a totally understandable size once you see everything that's inside. At the base of it the GamePad has to be slightly thick to be stable while twisting and gripping during gameplay, but also that the control surfaces have something to grab on to. The controls are basic, but exactly what you need: joystick and d-pad on the left, joystick and standard buttons on the right, and a pair of bumpers on the top. There's also a 1033mAh battery inside to keep your phone topped up while playing.
Support for gamepad controls varies by game, but most of the types of games that you'd expect to work with a controller do, and it's handled at the OS level so you don't have to worry much about anything funky happening.
Image 1 of 5
Then there's the big unseen advantage: with a physical connection to the phone, there's no fiddling with pairing Bluetooth or messing with Wi-Fi to make it work. Just pop your phone on, and it instantly recognizes the controls — no latency, no disconnects, no problems. That, with all of the other things aside, is worth checking this thing out for.
Image 1 of 5
Even though Motorola is finally talking about the GamePad Mod again, it isn't yet ready to release it to the public. The product page still asks you to "register for updates" (opens in new tab) and doesn't provide any better timeline than a summer launch, which we were told back in June. Verizon, for its credit, is listing a shipping date for pre-orders of August 25 — plenty of time for that to change, though. The price is honestly a fantastic deal for such a functional accessory among plenty of other Mods that push over $200.
See at Verizon (opens in new tab)
Get the Android Central Newsletter
Instant access to breaking news, the hottest reviews, great deals and helpful tips.
Andrew was an Executive Editor, U.S. at Android Central between 2012 and 2020.
Would love to hear how this works with many games. I just started playing Knights of the Old Republic, and doing everything in the touch screen is really annoying.

This would be great for Asphalt 8 or Riptide GP. It would be nice if someone made one that plugged in to the USB port and was adjustable.

Even if I had the phone it's not a mod that I would buy. Who needs to carry extra stuff around just to play games.

This would be great to have if you commute by train, use during your break, use at home for emulators, use for playing games while traveling by plane, etc. Most people I know carry a bag with them to work (computer, phone charger, usb drives, etc.) - this could easily fit in there. As a former Xperia Play user - I am excited for this mod.

I have the g5 and I have to say I don't use the addons anymore they were fun at the start but you find your self not using them. Like this phone by Moto but the add-on bit I don't ever see taking off.

The G5 isn't really an apt comparison, though. Swapping between mods on the G5 required rebooting the phone, but attaching and detaching mods from the Moto Z series is quick and seamless. I would definitely use this mod if I had a Z2, but there's no way I'd use an equivalent one for the G5.

Agreed. Definitely not a good comparison. The Moto is leaps ahead of the G5 in the mod department.

Definitely. When it comes to mods, Moto gets a high five, LG gets a face-palm.

Primarily, people who enjoy playing games...

I don't love mobile gaming that much lol

Another issue is that Lenovo hasn't updated the original unlocked Moto Z Play to a version of Android that supports the new mods. Most people are still using the April 1st Android 7.0 rom. This could become a huge issue for Motorola fast if this isn't done in the next couple of weeks.

The Z is getting 7.1 in Brazil right now. US should follow shortly.

Wow, this is pretty badass :o

Not a gamer, but that is pretty sweet

Looks like someone is getting some inspiration from Nintendo...
Not that I care, looks pretty cool

Not exactly on the Switch level, but still pretty damn cool.

I have a feeling Nintendo's lawyers are sharpening their teeth at this moment...

Why? Smartphone controllers have been around as long as smartphones have.

Not to mention they had the Mod system since last year, probably had patents and designs from well before

So is there a headphone jack in this or how does that work? Bluetooth headset?

Did you watch the video? It has a headphone jack and a USB-C port built in.

Lenovo needs a deal with Sony to enable PS4 remote play with this.

Will this work on the Pixels?

Only Moto Zs. Mods attach/communicate with the phone via the pins on the back of the phone.

Will work fine with most basic games but it really needed 4 bottoms on the top not 2. Without 4 on the top most FPS games are a no go.

Moto literally pulled a Switcheroo

I just got really excited, then I realized that I am going to buy a new Z Series phone from SONY. If I'm that into gaming I might as well buy a phone that can remote-play my PS4 games.
I mean I already have the controller and seamlessly connecting to my PS4 is what I really want. And playing PS4 games on the go is exactly where my thinking is going.

Anyone know what game is shown in the video from 0:12 to 0:22?

Makes me wish Sony would follow up with a new version of it's old Xperia Play. With today's hardware and Sony's gaming software it would be amazing.