Moto E5 Play vs. Moto E4: Should you upgrade?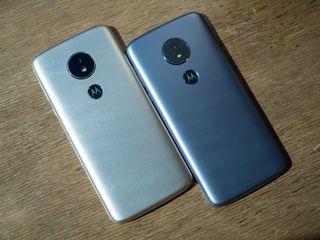 Last week, Motorola refreshed its wildly popular Moto G and Moto E series, among which is the new Moto E5 Play — an ultra-low-cost device targeted at prepaid customers who don't want to spend much more than $100.
Everyone's heard the old adage "you get what you pay for," and a few years ago that might've been true to some extent with inexpensive phones. These days, though, you can get a lot of bang for just a little buck; last year's Moto E4 impressed us with surprisingly nice design and performance, and the Moto E5 Play looks to continue that tradition. But if you already have the E4, is there any reason to upgrade to the newer model?
What's new with the Moto E5 Play?
The Moto E5 Play takes on a newer look and feel that closely emulates its more expensive counterparts. While the display is still 16:9 and 720p, it's been upsized from 5.0 to 5.2 inches, and the fingerprint sensor now rests on the back of the phone, hidden in the Motorola logo. The camera has also been upgraded, keeping the same 8MP resolution while seeing a bump in aperture from f/2.2 to f/2.0.
The Moto E5 Play is also running a newer version of Android — specifically, Android 8.0 Oreo —which could be a significant consideration for some shoppers given Motorola's poor track record with software updates. If you're on a Moto E4 right now, upgrading could be the only way you'll be able to move on from Nougat.
Why you might not need to upgrade
Save for the redesign and newer software, there's honestly not a whole lot that's changed since last year's model. The Moto E4 sports the same Snapdragon 425 chipset, the same 2GB of RAM, and the same 16GB of internal storage, expandable via micro SD. It has the same splash-proof coating, the same 2800mAh battery, and the same Micro-USB port.
So with all the specs almost identical across devices, what reason is there to upgrade? In all honesty, software might be the only factor — and for most people shopping in the sub-$200 range, that's likely not reason enough to justify the Moto E5 Play. The E4 is still an extremely capable device, all things considered.
None of this is to say that the Moto E5 Play is a bad buy. If you don't have either phone and you're simply in need of an upgrade from an older device, It's probably worth it to wait for the E5 Play to launch so you can enjoy the newer Oreo software. But if you're already rocking a Moto E4, you might be better off waiting for next year's model before upgrading.
Which is right for you?
Do you have a Moto E4 right now? Are you planning to upgrade to the Moto E5 Play? Let us know in the comments below!
Get the Android Central Newsletter
Instant access to breaking news, the hottest reviews, great deals and helpful tips.
Hayato was a product reviewer and video editor for Android Central.