Now more efficient, with less jank [#acpodcast]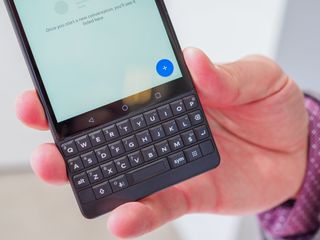 Daniel Bader, Andrew Martonik, Russell Holly, and Michael Fisher gather in New York City for a look at the BlackBerry KEY2 and its glorious hardware keyboard. It's a safe upgrade from the original, but features a faster processor, more RAM, dual cameras, a stronger frame, and larger keys.
As an aperitif to the main course, they chat about Moto's Z3 Play. It's a solid, mid-range phone that will be available unlocked in the U.S for $499, but through only two carriers — Sprint and US Cellular. Amazon will also be selling it as a Prime Exclusive Phone, likely at a discount.
Listen now
Show Notes and Links:
Sponsors:
Ziprecruiter

(opens in new tab)

: The smartest way to hire. Try ZipRecruiter for free. That's right FREE!
Yes! Been waiting for this, great stuff guys as ALWAYS Richard U.K

Richard stop talking to my wife Cindy

I'm gonna listen because I'm kinda curious about why a BB owner would care about a faster processor. I miss the videos, but I guess this will do.

Oh u are really Cindy cheating

Interesting to hear the capacity key debate for the KEY2. I can see it being an issue for long time Android users as it's new and different. Coming from BB6 and BB10 myself, I do not find it odd etc. Got me thinking though. Great cast, first time listener.

Thanks for listening, hope you'll come back next week!

Enjoyed all of the Key2 chat.

**** you and your key ******* im Cindy husband that cheating *****

Good podcast, one technical criticism.
I don't know if you had a directional microphone or what the situation was when you were all in the same room. Andrew-loud and clear
Daniel-not as loud, but clear for the most part
Mr. Mobile-almost inaudible
Russell Holly- not bad, similar to Daniel

I noticed that, too, and it's very annoying.

**** you johnny stay away from my wife dick head or else. Fairwarning

Mr mobile does sound off axis but I wouldn't at all say it's inaudible.

That won't happen again. Thanks for understanding!

Hey daniel **** off how do you know Cindy really thats my cheating ***** for a wife

Fairly certain I crossed paths with Andrew today at the Sounders game haha.

Thanks, guys. I enjoyed this podcast even though I have absolutely no interest in using either of the phones you were going on about. And I learned something: the proto-notch! Y'all need to do more podcasts when you're strung out on the mac n cheese.

U guys have got to stop trying to get @ my wife Cindy

Stop in now Cindy or im ******* u up
Android Central Newsletter
Thank you for signing up to Android Central. You will receive a verification email shortly.
There was a problem. Please refresh the page and try again.