Mobile Nations fitness month week 2: Nutrition!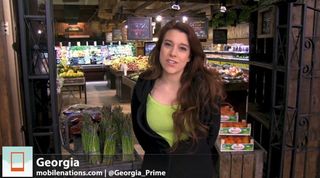 It's February and you know what that means? Mobile Nations Fitness Month! That's when we all get together to get in shape, share tips and tricks and recipes for success, review amazing apps and accessories, give away great prizes, and have a ton of fun! This year we're doing it a little differently, though. We're doing weekly themes, and that means every week you'll have new and exciting challenges, and new chances to win!
Week 2: Nutrition!
You know the old saying, you are what you eat? It's a cliche because it's true. Food is what gets us going and makes us run. Eating the right foods can improve the way we look and feel, how we handle stress and how we make it through the day. Food is our fuel, and we want to make sure we give our bodies and minds the best fuel possible.
As part of fitness month, we'll be reviewing a bunch of great apps and accessories that can help motivate, track, and train us to eat better and smarter.We'll also be doing THREE cool contests!
Eating Clean contest
First is our Eating Clean contest. Every day this week there'll be a thread in our health and fitness forums, and all you have to do to enter is tell us what you ate during the day. The idea is to get a little community pressure going so we all eat less junk food and more healthy, tasty meals and snacks. If you have a food tracker, a Withings scale, or any other device that helps you out, you can simply share your results each day!
This is a great way to keep us all motivated and accountable, and get a little healthy peer-pressure going! Plus, every day you enter is a chance to win a $20 gift certificate!
Nutrition MY Way contest
Second is our Nutrition MY Way contest. Just head on over to Nutrition MY Way thread in the forums and tell us how you use your mobile device, your phone or tablet, to eat healthier. What are your favorite apps? What are your go to accessories? We want to know! Tell it to us in the form of a story, like a blog post. We'll post the best entries on Friday, so get them in ASAP! Need more incentive? We'll pick one winner a week and send them a $100 gift certificate!
Comment to win contest
Last but certainly not least, leave a comment below telling us about your Mobile Nations Fitness Month goals and you'll be entered to win a Withings Wireless Scale! It's a great -- and super geeky! -- way to track your weight. You want to win this, so hurry up and leave a comment NOW!
Android Central Newsletter
Get instant access to breaking news, the hottest reviews, great deals and helpful tips
Rene Ritchie has been covering the personal technology industry for almost a decade. Editorial Director at Mobile Nations, analyst at iMore, video and podcast host, you can follow him @reneritchie on [Snapchat](https://www.snapchat.com/add/reneritchie), [Instagram](https://instagram.com/reneritchie), or [Twitter](https://twitter.com/reneritchie).
Calorie Counter by FatSecret is by far the best asset I've had to stay healthy. I lost over 120 lbs a few years ago using it, and still maintain my diet calendar to this day. Logging your food just makes you more responsible and aware of what is going in your body. I would recommend it for anyone looking to change their habits.

That is a good app to have. I used it a few years ago to lose some winter weight. It is suprising the calories in food that are called "healthy". (Example, compare 20 chicken nuggets to Baja Fresh.)

I started using Calorie Counter by MyFitnessPal in May of last year. So far I've lost 105 lbs. I have a specific weight goal for March 1. I've got 5 pounds to go to get there! MFP is really nice because there's a great web side of it that is good and social-rific. (PS - I really want that Withings scale. The gadget lust knows no bounds. Even bathroom scales!)

How about some exercise demonstrations? Georgia and Ashley in yoga pants....

I have been using MyFitnessPal for about two years now. After having heart surgery I used it to track my sodium, fat, sugar, overall caloric intake and calories burned through exercise. Now that there is support for the Withings Wireless scale within the app, it would be an excellent addition to my arsenal for total weight loss and overall fitness.

MyFitnessPal and Endomondo have been my favorite apps to help keep me on track and losing weight. The Withings Wireless Scale would be a nice addition! :)

I wear a size 40 pant and am looking to be down to a 36 by the end of the year.
I'm sure I can do better but want to keep it obtainable in-case unforeseen events pop up

I'm training for my first half marathon in March, so my goal this month is to stay on track with my short and long runs and drop some pounds in the process.

I'm training for a Spartan Race this summer, and just started using MyFitnessPal to track food and workouts. I noticed that it connects to the Withings Scale, so that's a bonus!

I have been working on my fitness goals for the past 10 months. I have not been as serious the whole time about it, and Feb. as Fitness Month may help kick it back in gear.
That said, the Withings Scale sounds very cool and useful!

I'd like to lose around 10lbs and this is a good kickstart. I want to enjoy the benefit of having more energy during the day that comes with getting in shape.

My Fitness Pal is very useful for keeping track of food intake. Their database has everything, and if I can't find it, I can scan the barcode.
Goal - lose 20 lbs.

my goal is to cultivate mass, eat everything in my path. leave no grease uneaten. but thats me... good luck to everyone else

and good luck to your heart, sir!

Big year with big goals. I started the new year just over 300 lbs and am targeting to be down to 200 lbs by year's end. That's 2 lbs per week with a little fudge. So far, I've lost 3 pounds per week on a not-very-restrictive low-carb diet (with NO CHEATING - the hard part). I've used my tablet/GNex mostly for reading diet/fitness eBooks and have been using the fitday.com web site for tracking exercise and weight. They don't have an app, but the site works well enough on Chrome in Android. I'd really appreciate the scale to help keep me honest on the weigh ins - it will be very important as the year goes on. My wife is with me on the program, although her needs/goals aren't as aggressive as mine, but it's nice to have company. Good luck to everyone who's posting their goals for they year - I hope you can all make it!

I look forward to this time of year on Mobile Nation every year...i love to see what advancements have been made in the fitness arena. Thanks MN!

My goal is to hit the gym and run 3 days a week each and hopefully continue to tack on a couple pounds.

If you're a naturally skinny person (ectomorph) have patience. It can take a year of regular intense workouts to naturally put on a pound or two of lean muscle. Mesomorphs are lucky. They build muscle just bringing in the groceries.

Using the living daylights out of fitness apps. Going to use the living daylights out of this site for the month to help me down the road.

On an unrelated note... I don't know who to choose for my fantasy girlfriend: Georgia or Veronica Belmont. I've been struggling with this quandary for some time now.

Although I would strongly recommend a real girlfriend, my vote would be Veronica Belmont. In my opinion Georgia is kinda meh. Doesn't do much for me.

Veronica Belmont for the win for me as well! Hot and brilliant. But what about keeping fit ?

I'm not allowed a real girlfriend as I have a wife. We're talking fantasy here. I'm leaning towards Georgia. Also hot and brilliant. I'll have to ponder some more. As far as fitness, I haven't found any apps particularly useful. I use a chest monitor while doing cardio which is useful. I don't eat any food ingredient that I don't understand. Low fats of all types especially trans and saturated, no beef or pork. Works for me as long as I don't indulge in simple carbs like sugar. Also eat lots of leafy greens (iceberg lettuce doesn't count) and fruit. Much of this is common sense. It just required discipline.

My goal is to lose 10 pounds this month, been working out on the trainer 5 days a week and using my fitness pal to watch her what I am eating.

That's realistic. The body can only burn about 2.5 lbs of fat a week max. After that it's water and muscle loss. No one gets fat overnight and no one gets thin overnight. Interesting trivia: After puberty the number of fat cells in our bodies is fixed. They expand or contract with weight gain or loss. People who go through puberty lean have fewer fat cells and have a lifelong advantage in weight loss.

I threw away all my junk food and have been running 3 times a week. Seems to have been working so far.

If I have all healthy food I will throw up, so my struggle is balance of mostly the bottom of the food pyramid, and less of the top (my favorite). There's gotta be sugar, but I just look for things that don't have a whole lot of ingredients. High Fructose Corn Syrup, Hydrogenated oils (same as trans fat even though it says 0% it is 0.5%), no whole grains, artificial coloring

Good article about the ingredients in our stuff nowadays. http://www.webmd.com/food-recipes/features/healthy-ingredients Oh ya I stopped drinking soda 12 years ago, and it is hard to resist yummy fast food, so I keep stuff in my car that have nutrition facts. As far as apps go, I can't be bothered with tracking that stuff

My goal is to be healthier and fitter, also able to run a 7 minute mile! Thanks so much mobile nations!

May I suggest a great app Fooducate?.. Allows you to understand better of what your buying and eating with a health grade and details just by scanning the barcode.

I have a half marathon in March and I'm training hard to beat my best time.

I want to loose 3 pounds in the next 4 weeks. This is the rest of my additional weight from Christmas. I care a lot about nutritions, so I wrote my own app:
https://www.androidcentral.com/e?link=https2F2F...

My favorite fitness apps are myfitness pal and fitbit. I love myfitness pal because it's an awesome way to track your calories and exercises. Almost every restaurant I go to the menu items are in my fitness pal and the barcode scanner is great for packaged items and quick input. You can have friends and encourage each other. Myfitnes pal also syncs with accounts from other apps and devices like the fitbit that I use. The good thing about that is that my daily calorie limit is adjusted based on how active I am throughout the day. With the help of this app and my fitbit, I've lost 11 pounds in the past month. The withings scale would be perfect to add to my collection

My goal is to lose another 10 pounds this month

I've been using Fitbit as my main app/device. I love how it gets all my activity and syncs it without really doing much. *They've been working on syncing with Android phones and the newest update is beta testing for syncing.* I also use several other online tools in conjunction with Fitbit to help me. I need lots of things to do in order to stay motivated and maintain my attention.

I am starting training to do a duathlon this year. I've bought a Garmin watch, sensor for my bike and a fluid trainer to train in the winter months here.

Just stopping eating before you are full is also a great tip and one I always try to do. Though its sometimes hard when there is something really tasty in front of me. Keep it up everyone !

I'm trying to get in better shape and improve my health. Between MN fitness month and Lent (Catholic) I'm setting some real goals and plan on achieving them.
Android Central Newsletter
Get instant access to breaking news, the hottest reviews, great deals and helpful tips
Thank you for signing up to Android Central. You will receive a verification email shortly.
There was a problem. Please refresh the page and try again.