Mobile Nations 7: Ain't we pretty?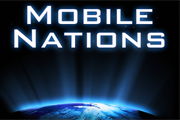 Phil, Kevin, and Rene beta test a new video rig, survive technical problems, and talk RIM results, BlackBerry striking back, next generation Android phones, Windows 8 tablets, and a tale of two iPhones. This is Mobile Nations!
Agenda
Samsung Galaxy S II Sprint Epic 4G Touch now available online from Sprint
Motorola Droid Bionic review
Two new iPhones to be announced this month, iPhone 5 may be in short supply
Feedback
Got something to say? Agree or disagree with something we said? Have something you want us to discuss on a future show? Don't just sit there yelling at the screen, dammit, let us know!
Hosts
Credits
Our music is pROgraM vs. Us3R by by morgantj. Introduction by Joseph Holder.
Thanks to the Smartphone Experts network of store for sponsoring this podcast, and to our fantastic live chat members for keeping us honest and making us smart!
The description of this podcast isinaccurate. Other than a couple jibes about RIM's doom and gloom it wasn't mentioned at all. Also I thought these things were supposedly going to last an hour. This one was a little over 35 minutes.

man maybe you should ask for your money back. no, wait this was free. stop complaining.

They talked about it in the live broadcast but I guess they left it out because of all the technical difficulties.

I thought Phil did a great job describing and showing some of the great and powerful Android machines. From what I understand this will be a biweekly podcast from these guys,, I like it. It would be great if the Android Central podcast could use that same technology, it just makes the podcast so much more interesting. I think it's just a basic Skype connection.
Android Central Newsletter
Get the best of Android Central in in your inbox, every day!
Thank you for signing up to Android Central. You will receive a verification email shortly.
There was a problem. Please refresh the page and try again.