Minecraft: Pocket Edition picks up cross-platform play with Windows 10 version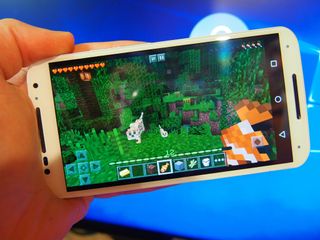 Mojang has released a pretty big update for Minecraft: Pocket Edition that brings some new features to the game, including cross-platform multiplayer with the Windows 10 Beta Edition and more. According to Mojang, here's what's new in Minecraft: Pocket Edition for Android:
While that "lots more" may seem a little vague, its likely that this update brings the Android version up to parity with a similar update released to the Windows Phone version earlier this week. Alongside cross-platform play with the Windows 10 version and revamped controls, that update also added a ton of new creatures, along with anvils, brewing, and enchantments.
If you're interested in checking out the latest update to Minecraft: Pocket Edition, you can snag the latest update on Google Play (opens in new tab) now.
I can't tell my Daughter about this update till after she gets home from school. If I told her in the morning she'd never be able to get ready for school. It would be update and play time. I think I'll do the updates on her phone and tablet today while she's at school and then see if she notices. *The boy you trained, gone he is. Consumed by Darth Vader.*

Hahaha! I woke both my boys up my showing them the lighting of the Nether Portal and telling them about the Enchanting and Potions! On My phone, not their tablets. They should get their homework done in record time today so they can play!

Interesting. So, Microsoft will allow cross platform play with Android/Google but not with Sony. I wonder if they'd allow it with Apple?

Of course they'll allow it with Apple as well. Who wouldn't. iOS is the most profitable OS so of course they would have that where they would make a good chunk of money. Posted via the Android Central App

So did amazon release the update first? I got it a few days ago on amazon app store.
Nether world! Yeah!
Well I've been busy so really havn't played with it that much. I'll be interested when they add worldwide multiplayer to mobile edition Posted via Android Central App on 1+1

Minecraft II Free! New game. version for developers. Full Beta. Push - https://drive.google.com/file/d/0B4Q3B8ydi8ggdlVJbjBUQk45WE0/view?usp=sh...

New Minecraft2 Free Beta Version! Download and play first. Beta version for developers.
Push -> https://drive.google.com/file/d/0B8sy1TfusN7bdHAyc2d1YkpGY1E/view?usp=dr...
Android Central Newsletter
Get the best of Android Central in in your inbox, every day!
Thank you for signing up to Android Central. You will receive a verification email shortly.
There was a problem. Please refresh the page and try again.