Minecraft mobile AR game teased, full reveal coming May 17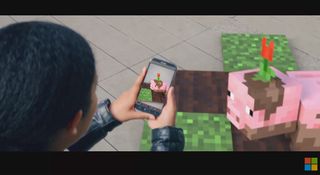 Minecraft is one of the biggest games out there with a presence on virtually every platform, so it was only a matter of time before we saw it get the Pokémon Go treatment. At least, that was strongly hinted at in the tail-end of Microsoft's Build 2019 keynote.
In a short video teaser, Microsoft showed a woman picking up a stranger's phone left on a park bench. But when she looks at the screen, she sees Minecraft characters and blocks projected on the real world. At the end of the teaser, we see the words, "Tune In May 17th" along with a link to the official Minecraft site.
Our sources indicate that the Minecraft game is codenamed Genoa, and is launching for Android and iOS, potentially this year.
So, while it's unclear what form the gameplay will take, we'll get an early peek at what Microsoft and Mojang are cooking up on May 17. For now, if you want to dive into the current Minecraft world, the game is now available with an Xbox Game Pass subscription. (opens in new tab)
Android Central Newsletter
Get the best of Android Central in in your inbox, every day!
Thank you for signing up to Android Central. You will receive a verification email shortly.
There was a problem. Please refresh the page and try again.