Microsoft's OneDrive adds Pokémon Go image detector as part of latest update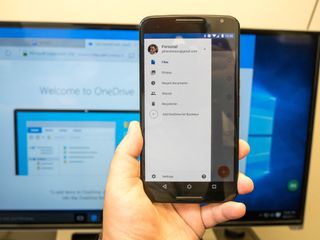 Microsoft is rolling out new updates to its OneDrive image and file storage service. It includes a way for people to quickly identify and find any images taken from the Pokémon Go game.
In a blog post (opens in new tab): Microsoft stated:
Microsoft is also adding a feature that automatically creates a photo album in a OneDrive account:
In addition, Microsoft has added search in OneDrive's "All photos" view, along with dedicated view for folders that contain many images. There's also a new "On this day" view in OneDrive accounts:
Android Central Newsletter
Get instant access to breaking news, the hottest reviews, great deals and helpful tips
Why the **** would i want OneDrive searching for Pokemon Go stuff? I mean seriously...Once the fad dies down are they going to patch that out?

It will just be. A feature that will stay lol. Posted via the Android Central App

Wow...so out of all the other actually useful features they add in this? On a dime and quick too... Micro$oft: We hope you fill your 5GB free quota we lowered it and then released this for infinite money... Every company hopping on Hype train now lol Posted via the awesome Nexus 6P 111GB on T-Mobile :3

It is BUSINESS after all... if they make or think they will make some money off of it would they choose not to? Only an idiot would choose to not make money if they are running a company. Do I think they will make money off of it... wait... actually I don't care, but they do. So, you can't get mad at them for that.

Too bad I got 30gb on OneDrive for life Posted from my Moto X 2nd gen and my Nexus 9 both on Android Marshmallow

I have a Windows Phone, which pits me at 20g free storage, but I currently have over a Terabyte. Pity Pokemon Go isn't on Windows Phone, maybe I could use of some of this cloud storage I have lol

I find this pretty ironic given that windows phone doesn't have Pokemon go .... Posted via the Android Central App

How exactly try is it ironic? OneDrive is on android and ios too Posted via the Android Central App

I don't like the camera roll (pictures by date) type thing nor do I want an app creating albums for me of what it thinks that I would like to see. I keep all of my pictures in folders/albums that I created then I back them up to my own computer. I do like the idea of saving things to the cloud, and in fact use OneDrive to back up the content on my laptop. But, I do not like the way that most of these cloud services handle photos. It is up to me to decide how to sort my pics, not them.
Android Central Newsletter
Get instant access to breaking news, the hottest reviews, great deals and helpful tips
Thank you for signing up to Android Central. You will receive a verification email shortly.
There was a problem. Please refresh the page and try again.