Microsoft working on Windows Dev Center app for Android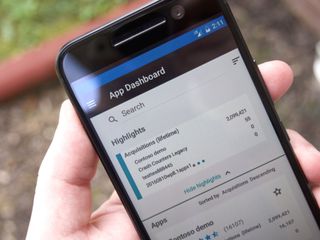 Microsoft is currently working on a dedicated Windows Dev Center app for Android. Spotted by Android Police (via MSPU), the app is currently available on the Google Play Store as an early alpha version marked with an (Unreleased) tag.
If you're a Windows developer, much of what you've come to expect from the Dev Center will be available here upon full release. Microsoft indicates you'll be able to dive into app performance data such as acquisition, revenue, and crash highlights. You can also investigate crashes and even respond to customer reviews. Here are the highlights:
Track app performance data: Use the dashboard to view acquisition, revenue, and crash highlights across all your apps. Then dig into specific app data to get a more detailed view, including customer demographics and OS version.
Investigate crashes: Use crash data to help identify and correct issues in your apps. View crashes over time by type, device, app version, and the exception type to help pinpoint issues in your code.
Respond to customer reviews: Check out the latest reviews and respond to your customers directly through the app.
While the app is available to download, it's designated as the first alpha version of the app, which means its in a very early state and likely quite unfinished. Still, if you want to check it out, you can find it on Google Play now (opens in new tab).
This app is pre-released but can be installed with its APK file. http://androidpicks.com/download-windows-dev-center-latest-apk/

Oh Goodie, everything Microsoft puts their slimy tentacles on turns to crap! Skype, Hotmail, SwiftKey...
I detest the company and they're just as bad as Facebook with their data harvesting (and selling to the highest bidder)!
Android Central Newsletter
Get the best of Android Central in in your inbox, every day!
Thank you for signing up to Android Central. You will receive a verification email shortly.
There was a problem. Please refresh the page and try again.