Microsoft to overhaul the MSN portal, plans to release Bing apps on iOS and Android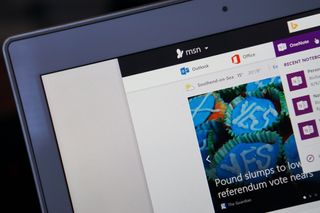 Microsoft is planning to revamp its MSN portal. The web service has been available for consumers to use for more than a decade, providing insights into the latest headlines, favorite sports, searching through highlighted content on the web and checking emails. The company has published a preview website, showing off what's to come. Microsoft will also be bringing across its Bing apps – which are currently available on Windows and Windows Phone – to Android and iOS, rebranding them all under the MSN umbrella.
The new website integrates into a connected Microsoft account to offer a more personalized experience too. Browsers will be able to quickly check their Outlook.com account, OneDrive and even OneNote scribbles. Then there's Facebook, Twitter, Office 365 and Skype to really expand on external connectivity. It's a neat layout, which will be complimented by MSN apps available across the board.
To make things slightly more confusing for the consumer, Microsoft will be rebranding its Bing suite of apps to MSN. These apps are currently available on Microsoft platforms (without the Bing branding), but will be launched on competitor platforms in the future. It's an interesting switch since the company has previously left its MSN branding behind while Windows Live and Bing took to the stage, but it seems we could well be looking at a slight mix up to have everything synced across the MSN portal from said Bing (soon to be MSN) apps on multiple platforms.
Mobile-first, cloud-first indeed. Microsoft will be rolling out the design overhaul in the coming months. Check out the new preview site over on MSN and let us know what you think in the comments. Unable to load the preview? Turn your ad blocker extensions off.
Source: Microsoft (opens in new tab); thanks to everyone who tipped us!
Get the Android Central Newsletter
Instant access to breaking news, the hottest reviews, great deals and helpful tips.
I like Microsoft services. I use Office, OneDrive, Bing and Outlook on daily basis. :) Posted via Android Central App using LG G2

Exactly the same here, much prefer outlook mail to Gmail especially on mobile. Really looking forward to checking out the MSN APPS Posted via the Android Central App using my samsung note 3

Hi Steve Posted via the Android Central App

I'm sure all 3 people will enjoy this.

Its actually two... Look above... ⬆⬆⬆ Posted with my Nexus 7 2012 or Moto X via the Android Central App

That's a big "PASS" MS. There'll be no Bing on any of my machines. From my Note 3 to thee

In the article, the wrong word is used; you meant "complemented", not "complimented". This should be interesting! Posted via Android Central App

The Bing Sports, News, and Weather apps on WP8 are great. Will definitely check em out when they get ported over.

Let see what they will be bringing.

Ewwww bing
Google is so much better Posted via Android Central App with my Samsung Galaxy S5

Tell that to the delusional ppl on wpcentral there stuck in the early 2000s Posted via Nexus 7 2013 or Galaxy S5

Tell that to all the iPhone users. Bing is the default search engine on iPhone. Posted via Android Central App

Kinda difficult to call us delusional, when Google's services aren't available on Windows Phone, lol. That being said, I like the News app, I use it everyday. But, I don't see many Android users using Bing apps, especially when you have Google's offerings or several excellent third-party alternatives.

I may not ever use these, but having another choice is never a bad thing.

Hasn't there been a Bing app in the Play Store for years? I'm pretty sure that's not new. Posted via the Android Central App

Came here to say the same thing. The Bing app that is currently in the App store does pretty much everything MSN offers.

If Microsoft can unite all their offerings correctly (like Office/Outlook/Bing/OneDrive/OneNote/etc) they just might have a real winner. I know folks feel the need to defend Google products because they use a Google product however... Personally MS Office will always be infinitely better than any free Google product and I love OneNote because for the past few years I have not had to buy ink, I always "print" to OneNote and know I can access it anywhere on any device.

When I had a Galaxy S4, my main issue with MS Office was that I couldn't save the file locally - it kept forcing me to save to OneDrive, which is less than ideal for sensitive documents. And now that I have a G3, MS Office isn't even an option unless I jump through some hoops.

I'm actually looking forward to having the News and Sports app on my Note 3, I use them daily on my Surface Pro and they're pretty damn good.

Ooh! Now I can use the second, or maybe third, best search engine on my phone. How exciting! I use office and outlook, too, but when I bother to compare, and do the same search on Google and Bing, Google almost always give me more relevant results.

Nice. Next step needs to be an official WP launcher on Android so I can get the UI I want and the dev support I need. ... Before you all lose your minds, I know it's a delusional fantasy, but a fella can dream.