Microsoft Launcher 5.0 for Android brings new Feed UI, Timeline support, and more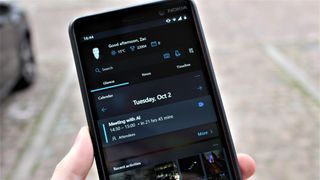 Microsoft has today announced its next big update to its Microsoft Launcher for Android, bringing with it a brand new Your Feed page, and support for Windows Timeline. I've been playing with it over the weekend, and so far it's looking pretty good. The new update introduces an updated Your Feed page that is now split into three tabs; Glance, News, and Timeline.
Microsoft has been promising Timeline support in the Microsoft Launcher since earlier this year, and it's now available for beta testing. When signed into the same Microsoft Account on your PC and phone, your Timeline activity will sync across devices, just as it does across PCs. If you browse with Edge on PC, all that activity will show up in your phones Timeline, and vice-versa. This even works with documents too; if you have the Office apps on your phone, you can jump directly into whatever documents you were working on with a single tap on your phone.
The News tab is essentially just the old news widget but extended out into its own area. You can customize it with your favorite topics too, meaning you can filter out any news items you don't really care about, such as politics, or technology, or lifestyle. This does mean the news widget that used to sit alongside your other widgets in the feed is no longer present, but I much prefer having News in its own tab anyway.
The new Glance tab is essentially the old Feed page, but with a much cleaner UI. You can still add custom widgets to it, and reorganise what shows up where. The top of the Feed page has also been refined, featuring a cleaner interface that makes good use of space, while still showing all the relevant information, including Microsoft Rewards point, weather, and calendar events.
Microsoft Launcher 5.0 is rolling out today for beta users, and will likely roll out to the public in the coming weeks. iPhone users can expect to see Timeline support show up within the Microsoft Edge app as beta in the next month or so. What are your thoughts on the latest Microsoft Launcher for Android? Let us know in the comments.
The best Android launcher by big margin now. Nova who?

I agree will be moving to it from on my note I think.

I've actually had various Widgets be more stable on Microsoft launcher than Nova... I cycle through Microsoft, Evie and Action Launcher... Microsoft launcher has been pumping out updates continuously through the months. They get an 'A' for effort.

nothing quite like mixing two fonts and UI systems together! I can see this being useful for people who refuse to use gmail and google products, but....you're on an android phone so i'm pretty sure you're using them anyways. dont see the point of this launcher. does it come with free Bing?

On a Samsung phone you just add outlook.com as an Exchange account and install Office and OneDrive Mobile apps. Shocked at the number of Google reloads on my Note9. Most apps are downloaded from Play Store during setup (not in the FW) and half the others can be disabled. It feels more like a Microsoft phone than a Google Phone. And I'm not even using the launcher, Cortana, or Edge
..just Samsung services with Microsoft supplementing.

Refuse to use Google services? How is it different from people who go download chrome when they get their new pc. What if you just prefer using Microsoft services? I prefer outlook over Gmail, I have a office 365 home subscription and use onedrive all the time, etc. Plus aside from Microsoft services the launcher itself is a nice customizable launcher even if you don't use Microsoft services.

Try it... to try and see the point.
Moved to MS Launcher several months ago. I have Arrow on another phone (drone video) for comparison. IMO, Microsoft Launcher beats (Samsung) TouchWiz without compromising native Samsung capabilities. I have LG UX on a retired G5 for comparison too. Just added the MS 'Phone Companion' app to improve seamlessnesss across my main Android driver and PC. I can still lose my cool over the Windows 10 upgrade hell they put me through years ago, but give MS credit when they deserve it.

My favorite launcher by far.

if it worked flawlessly with samsung themes then i'd use it again.

I've been using it over Nova and Action for weeks now. It's a great launcher that keeps getting better. There's truly no reason for me to ever switch back to Action and Nova. Despite their greater customization, Microsoft Launcher just does more. And does it well. Timeline support is huge for me.

DO I have to use Edge for this to be useful? I use both Google and MS apps but Chrome is big for me as it syncs between my phone, PC and tablet

Correct answer, no. But Edge does all those things you listed for reasons of using Chrome.

No. I use Firefox, and I still find it quite useful.

Edge syncs between them also - my photos synch from my phone to my Windows Insider Account as do my texts

how the heck do I get someone to approve my request to join the Beta? If it is full then heck I understand but I get no response at all

I just clicked join in on the play store, refreshed it was instant
Android Central Newsletter
Get the best of Android Central in in your inbox, every day!
Thank you for signing up to Android Central. You will receive a verification email shortly.
There was a problem. Please refresh the page and try again.