Microsoft begins to drop 2GB file size limit for OneDrive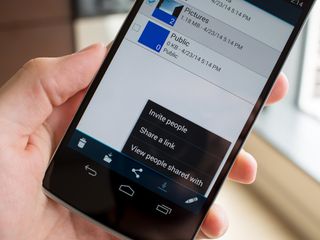 Microsoft is prepping to drop the 2GB file size limit for OneDrive. Right now a small number of users can upload files larger than 2GB in size to OneDrive. Users on Reddit were the first to notice a change, with Microsoft sharing a statement to The Next Web to confirm the file size limit changes.
Here's a statement from Microsoft on the OneDrive file size limit:
Back in April 2012 Microsoft updated the desktop app for OneDrive (then called SkyDrive). The update introduced a handful of new features, one being an increase to 2 GB for files uploaded to the cloud storage service.
Microsoft hasn't shared the new maximum file size but will most likely announce it in the near future on the OneDrive blog. For now, let's play around – tell us the biggest file you're able to upload to OneDrive.
Source: The Next Web
Thanks for the tip Adam!
Get the Android Central Newsletter
Instant access to breaking news, the hottest reviews, great deals and helpful tips.
Seriously who would have files larger than 2 gb ? All I could of think of are iso files Posted via Android Central App

Why would you upload a torrent to OneDrive?

The question was, " who would have files larger than 2gb?" I just gave an example.

I upload shows for my kids to watch on any device Posted via the Android Central App

Well, that is an interesting way to use it.

Of course there are, duh...p0rn!!!!!

4K video gets up in size too Posted via the Android Central App

A long 1080p movie could easily be above 2gb Posted via Caseless GT-S7500 because I need an excuse to get a new phone

High bitrate 1080p video from a DSLR or M43 doesn't need to be very long to creep past 2GB either. Plus it's one bullet point that made them seem slightly inferior to Dropbox (10GB limit) and Drive (which has either none or a crazy high file size limit), at least for paid customers or those of us with 20GB+ for free on each... I use all three FWIW. Drive might eventually convince me to part with my money for the sheer convenience of a single account, but there are still things Dropbox and even Onedrive do better.

The Drive file size limit is 5TB per file.

How high definition does your porn have to be for 5 TB?

I have my laptop backup on drive in case I lose my USB. Posted via Android Central App

I have files for school that are larger than 2gb.. also videos are easily larger than 2gb (say i film a video on my family trip and want to upload and share it through one drive etc)

Or someone's cherished collection of cat videos Posted via Android Central App

Mmm, lots of puddy videos! Spread'em porky!

It says I have 18gb storage available. .. Posted via Android Central App

File size limit is changed not storage limit.

This has kept me from one drive. Email backups, kids movies, etc. Posted via Android Central App