MetroPCS raises data caps, expands to new markets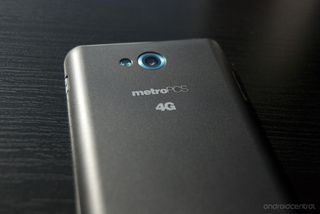 MetroPCS is updating their plans so anyone getting 500 MB/month are now getting 1 GB, and anyone on the 2.5 GB plan are now getting 3 GB. Subscribers don't have to do anything to take advantage; the upgrade is automatically being applied to active accounts.
Besides the bump in data allowance, MetroPCS is also expanding to new markets. 10 more regions were announced for the T-Mobile-owned network...
Catch up on the latest MetroPCS news!
Chattanooga, TN
Chicago, IL
Kansas City, MO
Milwaukee, WI
Minneapolis-St.Paul, MN
Norfolk-Portsmouth-Newport News, VA
Richmond-Petersburg, VA
Salt Lake City, UT
St. Louis, MO
Yakima-Pasco-Richland-Kennewick, WA
Anyone currently rolling with MetroPCS? How's the service? Anyone in the new areas considering the switch? That $40 plan is pretty solid value by the looks of it.
Source: T-Mobile (opens in new tab)
Get the Android Central Newsletter
Instant access to breaking news, the hottest reviews, great deals and helpful tips.
Simon has been covering mobile since before the first iPhone came out. After producing news articles, podcasts, review videos, and everything in between, he's now helping industry partners get the word about their latest products. Get in touch with him at simon@futurenet.com.
There still around? Posted via Android Central App

Lol, why wouldn't they be?

Unfortunately in South Florida they are worse than ever to the point that most of the stores have a security officer to handle pissed off customers. Their service is rated 1/10 Posted via Android Central App

That's the old metropcs, I've never been to one of their stores, but I've heard bad things about the authorized reseller stores.
From what I hear go to one of the corporate stores or better yet, simply buy a sim online. That's what I did, same T-mobile service for about $20 less.

Yeah authorized reseller stores do whatever the heck they want. Force you to buy the most expensive plan or they won't sell you a phone, or a SIM, charge fees for payment processing etc.

They're Posted via Android Central App

My fiance and I are both on the $60 unlimited plan, the service is essentially the same as T-mobile as they are just a T-mobile mvno. Surprised you didn't know that Android Central guys :)
Voice/Text and data all work great. I average 25mbps in my area with a 30 - 40ms ping and get HD voice just like any T-mobile subscriber.
None of those absurd 150 - 200ms latency that you get on AT&T mvno's, which makes LTE feel like 3G.
MetroPCS is the best deal imho if you have good T-mobile coverage in your area.

AC does know it is a T-Mobile MVNO. See the quote below :). "10 more regions were announced for the T-Mobile-owned network..."

My bad, I skimmed the market list section as I don't really care as they already offer service in my market lol.
I read most of the article rotfl
I admit, I only care about the network voice/data/text quality. I'm sure other people have concerns with customer service etc.
Other than tracfone, their is no wireless customer service department that really drove me crazy. Most of them don't know what they are talking about, so I never bother calling unless absolutely necessary.
MetroPCS phone support staff is surprisingly good, once you get to a live person. I've had no issues swapping phones (you have to call to change the IMEI) as well as changing plans if your on a family plan. For some reason their website doesn't support making changes to family plans.
If you want to save money on customer support reps you should fix that MetroPCS.
But overall I've been very satisfied with their phone based support, never been in a store.

I've had them for a few months and I like them except for the times my data kept dropping.. I was told it's due to T-Mobile upgrading their network which Metro will also take advantage of. Haven't had the problem too much lately (here & there, I just toggle Airplane mode on & off to get it back) so maybe they're right. I have the $60 unlimited plan and have yet to be throttled even with heavy use. Definitely a life-saver for work since I like to stream music alot! I'm in Central PA btw.. Posted via Android Central App on The Nexus 5

Thats a problem in some areas with regular T-mobile as well. It is happening a lot less often but still happens. Also Nexus 5 isn't exactly great for T-mobile. The Nexus 5 actually has better radios for Sprint, its GSM radios suck.

I don't know why you say the Nexus 5 isn't good for T-mobile, I get very good performance from my Nexus 5 on MetroPCS.

It just happens to be one of the worst mid range phones offered for reception. Far from unusable but definitely not the greatest phone for reception.

I don't know if I'd buy that. I've have to see a side by side comparison with other phones on T-mobile. Almost every phone I've owned has has threads about bad reception on T-mobile, and I'm usually OK. I came from a Galaxy S4 and didn't notice any real difference in actual performance, the only thing that was different was the Galaxy S4 showed more bars even though the actual dbm signal value was the nearly the same. I actually get faster downloads in my poor reception apartment than I did on the S4 and when I say poor, I mean poor my nexus 5 manages to hold onto a connection but at like -115dbm and no bars.
but better than my old S4 did. Fiance has a Moto X on Metro and her signal is always about the same as mine.
Really it's just because T-mobile uses high band AWS that signal penetration is difficult, and phones act differently there's always going to be a few people who in their exact location one phone performs slightly better than another. I've had a lot of phones on T-mobile in my bad reception apartment and they all really perform about equal, there are some small slight variations, but not as much as people in forums like xda and android central seem to make of it.

I just got the M8 yesterday, for the last 6 months I've been using the N5 on T-Mobile. I can say that my data speeds were actually a little faster on T-Mobile with the N5 than they are right now with my M8.

I also considered the fact that it could be my phone as well but I dealt with it.. As I said, it is a little better now so I'ma wait & see how it goes once their new lower spectrum kicks in if it hasn't already.. Posted via Android Central App on The Nexus 5

I like their service. My wife and I both have the Optimus L70 on the $60 plan...... no complaints. Posted via the Android Central App

Don't forget the new 4/100 plan! Posted via the Android Central App

Believe it or not metro pcs is really good if you're on an LTE network I hit about 2MB down Posted via the Android Central App

That's it? 2MB, I get much higher with metro LTE Posted via the Android Central App

2 MB could mean 16 Mbps....just saying. AT&T Galaxy S III

Their service is the same as T-Mobile's assuming you have purchased a device in the past year. If you have an older device then you are running on the old CDMA network for voice and T-Mobile's network for LTE.

I get great service here in Houston, TX. LTE is solid and available everywhere I go. Best of all I get about 80mb speed on LTE when I'm home, an average of 30 to 40 mb else where.

I switched from Straight Talk to MetroPCS a few months ago, and have been very happy with the service. I made the switch because MetroPCS supports conditional call forwarding on T-Mobile, which Straight Talk does not. This is necessary for visual voice mail to function. With the data bump announced I may actually downgrade from the $50 plan to the $40 plan. Thanks for the info. Posted via Android Central App

MetroPCS has great source of cheap but good Android phones like the LG F3/F6/L70/L90. Previously I had to ship it to a friend in service area to get the good deals, but now can order it directly. sweet.