Metal Gear Rising: Revengeance is now available for Nvidia Shield TV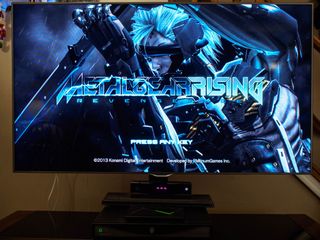 Nvidia's been hard at work bringing new, action-packed, console-grade games to the Shield line of Android-based gaming-focused hardware for quite a while now, and there can be no doubt those efforts have kept Shield fans nice and happy. Partnering with Valve meant we got great games like Portal and the refreshed Half-Life 2, but both of those games are well beyond showing their age. Perhaps more important, Valve's offerings lack the edge-of-your-seat action that so many other console games are known for, opting instead for a healthy mix of action and puzzles to keep you playing.
Today Nvidia has released Metal Gear Rising: Revengeance to the Google Play Store, and if you've never played it before and dig action slasher games you need to fire up your Shield TV right this second.
For the uninitiated, Metal Gear Rising: Revengeance is a hack and slash game based in a world where heavily augmented human soldiers are common and the idea of superpowers basically boils down to whoever can afford to have the best tech installed. The main character, Raiden, brings a healthy dose of revenge-fueled justice loving to a classic internal struggle between good and evil in a nonstop explosion festival featuring bigger and meaner robots as you move through the game. Back when it was first released for the Xbox 360 and PS3, Metal Gear Rising: Revengeance was a great way to shut your brain off and kill things for a while, and since this is a port that hasn't changed at all since it was originally released.
Nvidia has made Metal Gear Rising: Revengeance available for a limited time at $14.99, but after the launch period that price will jump to $29.99. This version of the game includes all three DLC missions that were released after the initial console launch, as well as all of Raiden's body upgrades for those of you who enjoy playing dress up with your murderous cyborg soldiers. See you on the other side!
Buy: Metal Gear Rising: Revengeance ($14.99) (opens in new tab)
It runs perfect! Loving it!

Can anyone confirm if this game is also available on the Shield Tablet? I'm assuming the X1 is required and it's not available.

Only on the Shield TV for now, according to Nvidia.

Do you know if I buy it for nvidia shield TV, will that also allow me to play on my pc through steam? I seem to recall nvidia saying a while back that they might be selling games using that sales model. Posted via the Android Central App

GEFORCE Now games purchased give you a digital key for Steam downloads. I may be wrong but I don't think this applies to games available in the Play Store. Posted via the Android Central App

Sick ass soundtrack Posted via the Android Central App

It still says coming soon on mine!!!! Posted via the Android Central App

Hey bro just do a voice search from the home screen and it will come up don't go to shield games

If anyone knows, how are the graphics compared to PC game on high settings?

It runs at 720p at 60fps, With graphic settings blocked. But is best to be compared to the PC version. Which is in turn a port of the XB360 and PS4 version to begin with.

PS4? Posted via the ACA on NEXUS 6

Russell, I disagree with the line "a great way to shut your brain off and kill things for a while", having every single trophy for this game, including the DLC trophies, I know this game can be extremely challenging, downright frustrating at points even. In order to play this game at a high-tier requires incredible focus and reflexes, meaning you can't shut your brain off while playing. Either way, great game, and good to see you promote it to more players.
Android Central Newsletter
Thank you for signing up to Android Central. You will receive a verification email shortly.
There was a problem. Please refresh the page and try again.