Metal Gear Rising: Revengeance is now available for Nvidia Shield TV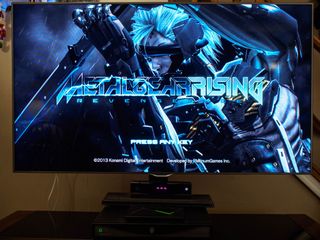 Nvidia's been hard at work bringing new, action-packed, console-grade games to the Shield line of Android-based gaming-focused hardware for quite a while now, and there can be no doubt those efforts have kept Shield fans nice and happy. Partnering with Valve meant we got great games like Portal and the refreshed Half-Life 2, but both of those games are well beyond showing their age. Perhaps more important, Valve's offerings lack the edge-of-your-seat action that so many other console games are known for, opting instead for a healthy mix of action and puzzles to keep you playing.
Today Nvidia has released Metal Gear Rising: Revengeance to the Google Play Store, and if you've never played it before and dig action slasher games you need to fire up your Shield TV right this second.
For the uninitiated, Metal Gear Rising: Revengeance is a hack and slash game based in a world where heavily augmented human soldiers are common and the idea of superpowers basically boils down to whoever can afford to have the best tech installed. The main character, Raiden, brings a healthy dose of revenge-fueled justice loving to a classic internal struggle between good and evil in a nonstop explosion festival featuring bigger and meaner robots as you move through the game. Back when it was first released for the Xbox 360 and PS3, Metal Gear Rising: Revengeance was a great way to shut your brain off and kill things for a while, and since this is a port that hasn't changed at all since it was originally released.
Nvidia has made Metal Gear Rising: Revengeance available for a limited time at $14.99, but after the launch period that price will jump to $29.99. This version of the game includes all three DLC missions that were released after the initial console launch, as well as all of Raiden's body upgrades for those of you who enjoy playing dress up with your murderous cyborg soldiers. See you on the other side!
Get the Android Central Newsletter
Instant access to breaking news, the hottest reviews, great deals and helpful tips.