Best Merge Cube apps for schools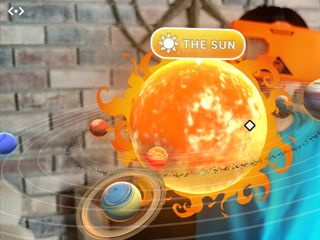 One of the more exciting accessories that has come across my desk in quite some time has been the Merge Cube. The soft foam is durable and the range of apps available make it an excellent present for kids and grownups and make me think there are applications for it in schools. There are no shortage of games for this augmented reality platform, including some of my favorite puzzle games for the Merge Cube, but there are now also some great uses for education.
Here's a look at a few of my favorites!
A lot of these apps would also work in the Merge VR headset, allowing a student to use both hands while interacting with the cube, making the experience even better. The headset may be a little pricey for schools at around $49 but Merge is introducing a new, slimmer version aimed at children this summer for the low price of $30 and perhaps a bulk sale price for education.
Mr Body
Mr Body is a very simple app for elementary level kids to get an idea of what organs are in the human body. Currently there are 10 different organs to check out including the Brain, liver, and even the pancreas, each with their own small piece of blurb to explain what it does. All you have to do is look at the organ you want to examine, touch the screen and you will see an enlarged version and the explanation. Simple and easy for any kid to use.
Mr Body, while not being the most technical app out there, does give young kids some great information about their body and does it in a bright fun way that can hold in their hand. I'm pretty sure the first time i used the app it only 4 organs and now, with updates it has reached 10 so I'm convinced this is an app that will grow into something much more comprehensive.
Find Mr Body on Google Play (opens in new tab)
Galactic Explorer
Galactic Explorer is extremely similar to Mr. Body but with an astronomical slant instead of biological. You control it in the same way by tapping on one of the heavenly bodies spinning in your hand for a closer view, then tapping on the info screen to give you a short snippet of info about each planet. I prefer Explorer over Mr. Body graphically, it's just a better-looking app with the swirling star surrounded by revolving planets.
Again, for an app designed for younger children, around 10-14 years, this app gives a lovely sneak peek into a world children rarely get to see. It also gives a small snippet of information they can take with them into future education. The information is always short, concise and gives them a few facts in an easily digestible format, perfect for young kids.
Find Galatic Explorer on Google Play (opens in new tab)
Dino Digger
This may be my favorite of the Education apps so far. Dino Digger is designed to make interacting with fossils and paleontology fun for grades 2-8, given children a chance to unearth their own fossils using assorted tools of the trade, all the while learning a little about each dinosaur and the area of the world they inhabited. The cube itself is a small patch of rock or ground that you have to dig out making the whole app feel very interactive.
I love Dinosaurs, I have since I was a tiny tot and Dino Digger makes me wish we had it when I was a child, I would have lost my mind. There are plenty of dinosaurs to find in the app as well as more information than the last two apps give you, it has a slightly wider range for its audience, after all, so the app could be used over several lessons or classes in conjunction with other, more traditional teaching methods.
Find Dino Digger on Google Play (opens in new tab)
HoloGlobe
While HoloGlobe is still in Early Access it is worth a mention here. The premise of this app is to show the Earth with a lot of different real-time information over it. For example, you can have real-time clouds flowing over your pale blue dot or, my favorite, see the night/day line move slowly along the countries. There are many other features to check out on HoloGlobe as well though they are still a little janky, it is Early Access after all.
HoloGlobe seems to be aimed at older students, high school and above I think, as it has more complicated data and no real intuitive learning structure. It feels more like an aid to collect real-time data in a handy visual way than an aid for teachers. I am still excited to see what HoloGlobe can do in the coming months to broaden its scope and maybe it can come up with even more data to wow and amaze.
Find HoloGlobe Early Access on Google Play (opens in new tab)
So there we are the first Merge Cube apps for Education. I have a feeling Merge VR will make a big push in the direction in the coming months and we will see some interesting new ways to use the Merge Cube to expand our minds. Let us know in the comment section if you have found any more.
Get the Android Central Newsletter
Instant access to breaking news, the hottest reviews, great deals and helpful tips.
Since the days of the HTC Hero James has had two or three Android phones stuffed into pockets. James is always on hand to offer advice on phones, apps and most recently, PlayStation, especially VR, It's now something of an obsession. Find him @keridel wherever Media Socials itself.