The new LinkedIn Pulse app arrives for your professional news needs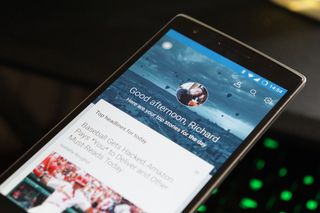 The Pulse app was originally developed back in 2010 as a platform for millions to remain up-to-date with news. Today, part of LinkedIn, the team behind Pulse has released a redesigned app (opens in new tab) for Android. LinkedIn Pulse takes what is delivered on the main LinkedIn portal, as well as the email digest and streams content directly to your mobile device.
Think of LinkedIn Pulse as your personal reader to keep track of what's happening in your professional world. The beauty of LinkedIn Pulse is how the app doesn't require you to spend hours configuring topics you wish to follow. Simply login with your LinkedIn account and the app will instantly provide you with news based on the industry you work in, who you are connected to and what you follow on the professional service.
The new cards-based UI offers an easy way to skim through content quickly with the ability to immediately dismiss a story you're not interested in. Following authors is also possible, further refining what content is provided in future sessions. Pulse will even alert you as to when your connections are mentioned in the news. The aim is to provide personal, targeted news stories with little setup and effort required by the user.
the new Pulse apps are readily available. If you're still rocking the old apps, be sure to download and install the new one. The old Pulse apps will continue working until the end of 2015.
Android Central Newsletter
Get instant access to breaking news, the hottest reviews, great deals and helpful tips
pulse has been going downhill in usability ever since linkedin purchased them. I recommend looking at other apps instead like flipboard, which is what i had to switch to when linkedin wouldnt fix the usability issues i was documenting and sending them over the past year.

Agree. The mobile app has gone to total crap. I don't use it anymore. I still love and use the web interface though. Works great. I liked Pulse because it showed me lots of news sources at once. I didn't like Flipboard because I was only showed one article at a time. I like to skim across multiple sources.

i like reading stuff on my phone and tend to reshare things out, but the only one i found that doesnt try to make me log into my accounts every time i click a link was flipboard. i put all of my topics into one "magazine" in flipboard so i just scroll through one to see all the articles that were posted about topics im interested in.

Spamtastic. Posted via Android Central App

I downloaded, messed around a little, then promptly uninstalled and left my 1-star review in the Play Store. Ridiculous - I don't need to be told what news is relevant to me, and losing the ability to see multiple news articles and sources at a glance [love the old app's grid layout] is an instant loss in productivity for me. Anyone have any alternatives for a grid-arranged news aggregator? Something that is, basically, like the current Pulse app?

Looking for the same thing. I hope they don't change the web interface. This is what I use most of the time now anyway.

Right now I'm looking at: News+ https://www.androidcentral.com/e?link=https2F2F...
...and
Inte.rests https://www.androidcentral.com/e?link=https2F2F... ...but neither have a web interface. I came across GoodNews.click and it seems to be an okay alternative to Pulse's web interface, but it's not quite the same. ::sadface::

LinkedIn just effectively killed Pulse. Congrats for ruining my day.

Ever since LinkedIn took over Pulse... it all went downhill for me... they really messed up a good app

Horrible update. Hope they listen to their users and return to the classic grid view.

I used to love Pulse before they joined with linkdin. Now they want you to create an account blah blah blah... I deleted a long time ago. Very disappointed. Flipboard also got the stupid and hence deleted also. Now I just use News Republic. It's not as good as the old Pulse, but it's the only I one i can find that's decent right now. Posted via the Android Central App

Terrible, terrible 'upgrade' - I don't' want curated (especially from LinkedIn) news on the app. Original intent and layout was just fine.
Tried the Android version (thankfully my lowly iPhone 4 can't handle the new version) and promptly uninstalled it, complained (sorry...offered feedback) and went back to the last version
Android Central Newsletter
Get instant access to breaking news, the hottest reviews, great deals and helpful tips
Thank you for signing up to Android Central. You will receive a verification email shortly.
There was a problem. Please refresh the page and try again.