Mate 10 Pro scores one point less than Pixel 2 in DxOMark test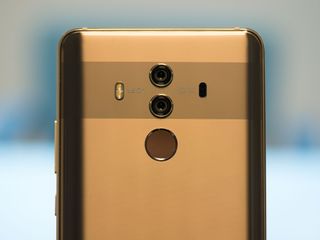 There are a lot of reasons to like the Pixel 2, but for a lot of people, the biggest one is the phone's fantastic camera. The Pixel 2's camera is exceptionally good, and Google proudly announced that it received a score of 98 from DxOMark during the unveiling for the phone on October 4. That's the highest score DxO has ever handed out to a phone, but that's bound to change at one point or another.
DxO recently put the Huawei Mate 10 Pro through its paces and ended up giving the phone a score of 97 – just one point less than the Pixel 2.
Although the Mate 10 Pro got an overall score of 97, that doesn't mean it's exactly one point worse than the Pixel 2 (whatever that would mean in the first place).
Final DxOMark scores are a combination of a lot of different things, including separate scores for exposure and contrast, color, texture, noise, and a bunch of other factors. Photo and video performance are also broken up into two different categories, and different weights are placed on each factor for both photo and video.
Taking a look at the Mate 10 Pro, DxO gave the phone a 100 for its photo output and 91 for video; comparatively, the Pixel 2 scored a 99 and 96 respectively. The Mate 10 Pro scored very high marks for its exposure and contrast, color, and autofocus in both photos and videos, and it even beat the Pixel 2 in regards to bokeh portrait shots, noise, artifacts, and zoom.
We don't advise basing your buying decisions solely on DxoMark rankings, but they do offer a detailed look into just what a smartphone camera has to offer.
If you want to read through DxO's entire findings, you can check out their Mate 10 Pro review here.
Joe Maring was a Senior Editor for Android Central between 2017 and 2021. You can reach him on Twitter at @JoeMaring1.
LOL stopped reading after unstoppable.

I stopped reading after seeing Dxo mark in the the title.
I mean, one number!

When comparing these marks from dxo I tend to discard the video side and compare only photo aspects from camera to camera instead of the overall score which is very misleading when comparing the phones. Zoom I hold I lowest regard.

Yep same here. I very rarely shoot any video so couldn't really careless how it scores in that department.
The only thing that really bugs me about the camera on Huawei phones is that HDR is a separate mode altogether bundled in the mode menu with the rest instead of having an Auto HDR setting like most other phones

For anyone's that's interest there are some side by side comparing of the mate 10 an note 8 on YouTube right now . Spoiler alert the note 8 was the clear winner. Check it out

We must have watched different videos. One thing to remember is the Mate 10 in all of them was on preproduction software and it still crushed the Note in lowlight

Well until you blow them up 100% then you realize all the detail lost with the mate 10. An then you shot video an start walking, now the video of the m10 looks like my grandma is holding the camera . Did you see how the m10 total massed up the HDR range in front an back camera. By the way that was a production m10 . Hum? I'll keep shooting with my note 8 thank you very much

I've watched a lot of comparison between Mate 10 and many other phones. Mate 10 kept it's sharpness when zoomed in.

It was a production M10?, And yet in the video he states several times that the M10 is running pre production software.

spoiler Old g fanboy alert !!

Now now , the truth is gonna hurt sometimes , shouldn't let your feeling get hurt so easy

Pretty sure the Mate would have better photos. And this is coming from a Note8 user

Well I'm basing my judgment on what the reviewer have said an what I've seen on YouTube. There's a n8 vs m10 camera shoot out on YouTube right now. Granted that's just one example. But when the claims are made that this is the best camera of 2017 from your company an you don't deliver the goods .... .lets just say the note 8s camera has proving it's worth .

This is subjective. I watched the same video and the Mate 10 won a lot against the Note 8. Opinions are opinion. They're not facts

I don't know why anyone reports DxOMark scores anymore.

The numbers can really be misleading.

Seems to be a trend that lends itself to the companies' marketing campaigns. Plus people like "quantifiable" data it seems.

The same reason people think Benchmarks are important. It gives them a warm fuzzy feeling inside. Meanwhile the real world is just snapping pics with 0 f* given.

THANK YOU! One thing though... I can really see that my Axon 7 is lacking in HDR and low light modes so that can be seen. But in most cases, you are absolutely right. Most people just point and click and share.

Because it brings in clicks, you notice the same sites (really, most tech sites in general) that decry benchmarks like this also post about them constantly. They bring clicks, especially now since phone companies have started boasting about the score.

Benchmarks and DxOMark scores just need to die in phone reviews.

But but the iPhone 8 looked sooooo strong on paper . Until you saw with your own eyes it get whipped in every category but oponing a few games

Cause they crippled their soc in their phones.

NoooooI gonna say iOS 11 is buggy as hell . Even the ram management sucks. But man don't those benchmark sure look good

You lost me at "getting whipped". So you're buying into this **** as well

Nope making the point that the benchmarks don't always mean much if ever. An yes judging from a lot of forums an what I've seen from Various YouTube video ios 11 is less the Stellar

I hear ya. But again, who cares? Those you tube videos don't always tell the whole story. How smooth is the A11 chip in day to day use? Is the buggy new OS causing performance problems? How fast will the A11 chip still be next year when other chips begin to show their age? These are things gimmicky You Tube videos can't tell you. Take them as entertainment and not much more. Same with these camera scores.

You do realise that iOS 11 did away with 32 bit app support? There is bound to be some teething troubles with apps that have recently moved from 32 bit to 64 bit.

You do realize that Apple more then any other oem gets first crack at all the new apps an are Taylor made for iOS. All the other oem get the left over scraps from the Developers. Sorry but Apple doesn't get a pass

I know- huge conflict of interest since companies can hire DxO to help them tune their camera to do better on DxO testing..

Love this Mate 10 Pro https://www.youtube.com/watch?v=i3Eaa7pU36w
Android Central Newsletter
Get the best of Android Central in in your inbox, every day!
Thank you for signing up to Android Central. You will receive a verification email shortly.
There was a problem. Please refresh the page and try again.