This massive leak just confirmed a ton of new Pixel 6 features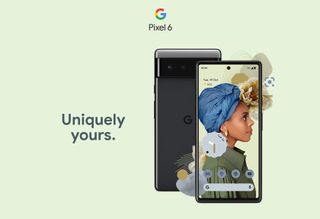 (Image credit: Carphone Warehouse / @evleaks)
What you need to know
The Pixel 6 and Pixel 6 Pro product pages have been accidentally published.
This confirms many of the new features that are coming to the devices.
Features coming include 'Magic Eraser', camera-based translation, and more.
Google recently announced that the Pixel 6 and Pixel 6 Pro launch event will be held on October 19. But that hasn't stopped the leaks from appearing anyways, as we've seen with the leaked Pixel 6 Pro assembly video and a series of images provided by Evan Blass (@evleaks).
Blass is at it again, at least kind of, as the latest leak shows us pretty much everything there is to know about the upcoming Google phones. It seems that someone over at Carphone Warehouse (based in the U.K.) didn't get the memo, and has published the landing pages for both the Pixel 6 and Pixel 6 Pro.
Pretty much all of the images line up with what Blass revealed early in the week, showing off both phones, the U.K. charger, and the rumored 2nd-gen Pixel Stand. Going through each landing page, and there's a bunch of catchy phrases and headlines heralding all of the features these upcoming devices will offer.
Starting with the Pixel 6, the landing page kicks off by detailing the "powerhouse" Google Tensor processor. The Tensor chip will include a "custom image processor", the Titan M2 security chip, while offering "up to 80% faster performance" than the Pixel 5. As we've seen in previous leaks and rumors, Google is set to begin offering five years of security updates for the Pixel 6 and Pixel 6 Pro. Unfortunately, there's no mention as to what this means regarding Android platform updates beyond the current standard.
Keeping with security, the all-new Security Hub "keeps all your security settings in one place". This is where you'll be able to keep an eye on what apps are using your microphone and camera, and when. Your phone will also offer "proactive recommendations" so you can properly ensure that your device is protected.
Another section highlights the 50MP main camera that will "capture more color, more detail and 150% more light" when compared to last year's Pixel 5. Google will also be integrating a "Magic Eraser" feature that allows you to get rid of objects in the picture that don't belong. There's even a new "Face Unblur" feature that can "de-blur a face to make it sharper".
As for the Pixel 6 Pro's landing page, we were provided with a bit more information regarding the cameras. There will be the same 50MP wide-angle lens and 12MP ultrawide lens as the Pixel 6. However, the 6 Pro gains a 48MP telephoto sensor that offers 4x optical zoom, and "Super Res Zoom" which lets you zoom in up to 20x with this new lens. (This is the same hybrid zoom technology that debuted with the Pixel 3 in 2018.)
If it wasn't obvious by now, Google's coming to reclaim the throne for being the best camera phone out there. The upgrades to the rear camera system were necessary and expected, but this new leak also confirms that at least the 6 Pro will offer an ultra-wide selfie camera. This features a 94-degree field of view, making it so much easier to get everyone in the shot without trying to line up the rear camera. This figure isn't far off the ultrawide selfie camera of the Pixel 3, which had a 97-degree FOV.
Between the Adaptive Battery and Extreme Battery Saver features, the Pixel 6 and 6 Pro will last for up to two days on a single charge. But the Pixel 6 Pro is rated for faster charging, as the listing states it can charge "up to 50% in just 30 minutes". Plus, we'll have "Battery Share" if you find yourself needing to juice up your headphones or someone else's Qi-enabled phone. Unfortunately, there's no specific mention of what capacity the batteries for either device will be, but previous leaks point to a 4,614mAh capacity for the Pixel 6 and 5,000mAh for the Pro.
Along with showing off Material You with Android 12, which is the biggest update to Android that we've seen in years, we're also getting another look at the 'Live Space' feature. This is an addition to the At a Glance widget that we've come to know and love. But instead of At a Glance just showing your flight information, it will also actually show your boarding pass. We'll have to wait and see what else will be possible with Live Space.
As expected, both devices will offer IP68 water and dust resistance, while using Corning's Gorilla Glass Victus, offering "up to 2x better scratch resistance". This is the same glass technology that we've seen arrive on some of the best Android phones. Speaking of the display, the Pixel 6 Pro will use a display with LTPO technology, bringing with it a variable refresh rate that switches between 10Hz and 120Hz based on what you're doing.
Thanks to the Tensor chip and Google's translation prowess, both the Pixel 6 and Pixel 6 Pro will be able to offer offline translations. Even the disclaimer on the landing page says that the only time that an internet connection will be required is during the initial setup.
Rounding out things out, the Pixel Stand (2nd gen) is on display, confirming that it will turn your phone into a smart display. You'll also be able to load up pictures from Google Photos and even control your smart home, essentially putting a Nest Hub wherever you are, whenever you charge the device. According to fine-print, the Pixel 6 will offer up to 21W wireless charging, while the Pixel 6 Pro charges at a slightly-faster 23W.
Wired charging will come in at 30W using a USB-C charger, but again, Google won't be including one in the box as its following in the Samsung and Apple footsteps here. And those who are hoping for a fabric case might need to hold on just a bit longer. The only case shown off is one that is made with "translucent materials" while being comprised of "over 30% recycled plastics.
As confirmed by Google earlier this week, the Pixel 6 and 6 Pro will be unveiled on October 19. The event is set to kick off at 1 PM ET and could also see the launch of a few other new Google products.
The Google Phone
It's going to be special
The Pixel 6 and 6 Pro look like they will be absolutely incredible devices, and the wait to get them in our hands is almost over.
Senior Editor - Chromebooks, tablets, and wearables
Andrew Myrick is a Senior Editor at Android Central. He enjoys everything to do with technology, including tablets, smartphones, and everything in between. Perhaps his favorite past-time is collecting different headphones, even if they all end up in the same drawer.
I'm still not a fan of no charger in the box. I've been using oneplus the last few years so have warp chargers which will not fast charge another phone. The last galaxy charger I have is from before Samsung increased charge speeds on galaxy phones. And just from using oneplus 50% in 30 minutes sounds so slow... Lol. Oh well, time to get used to it as my next phone will not be oneplus

you can buy a 65w Xiaomi charger from giztop.
That's what I did.

For the first time ever, as we get closer to launch, Pixel phones get better with each leak, not worse/more disappointing.

I personally have no problems with no charger in the box; however, if a higher output or just because someone needs it, make it a realistic price to get one. I just closed up my camper trailer for the winter and found four chargers I had forgot about. I now have nine chargers in this house and it is only me and two dogs.

Wow! How many phones do your dogs have?

If they are not including a charger, I wonder if they will sell one with the new Pixel Stand to take advantage of the faster charging.

I hope Google will have some good trade in deals. If they do this S21 Ultra is gone.

Ah yes, cue the idiots who discard year old phones premium phones. You must live to burn money on mobile tech. Last I checked, you can't live in or drive a mobile phone. You rent, you don't own a house or even a vehicle less than three years old, but you blow tonnes of cash on new phones annually.. Mlol

Who offing cares. People work hard and can spend their money on whatever the hell they want, whenever the hell they want.

I never keep a vehicle three years. Once the warranty is gone, so is the vehicle.

Just because people spend their money in ways that you wouldn't... why do you care? I am responsible with my finances so that allows me to buy a new phone if I want one. And I own my home, my vehicles are 3 years old or less, but I spend responsibly and can afford what I have. Find something more worthwhile to complain about.

Jealousy rears it's ugly head.

Cue the jealous idiots who worry about what other people spend their money on... On a tech hobby site no less...lmao

Those specs look sexy. I hope the under-display fps is just as good as the gen 2 ultrasonic fps on the S21 Ultra. I use an iPhone 13 Pro Max as my main phone but I'll buy a Pixel 6 Pro for my Android fix once it's on sale.

The pro sounds really impressive. I presently use a fold 2 and I refused to upgrade to a fold 3 because of the shorter battery life. I will probably keep my fold 2 for awhile longer because I love the productivity it gives but I need an alternate phone for the days when I don't want my pocket bulging from a tablet phone. I also need an alternate phone for when I'm exercising or when it's about to rain since the fold 2 isn't waterproof. This would be my 1st pixel and it sounds like it will be a winner.

So have they talked about the unlocking features is it going to be face unlock, fingerprint in screen I don't see a fingerprint sensor on the back

So basically, they're catching up to what Samsung devices have already been capable of.
Android Central Newsletter
Thank you for signing up to Android Central. You will receive a verification email shortly.
There was a problem. Please refresh the page and try again.