Three apps that can help your new Nexus 6P or 5X take even better pictures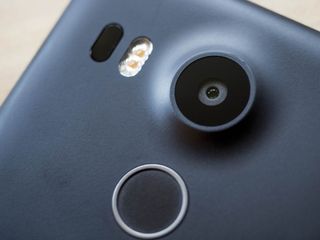 The Nexus 6P and Nexus 5X have really good camera hardware, and for the first time the logic that processes the photos is also pretty darn awesome. There's no doubt that all this makes for the best camera to ever grace a Nexus phone, and (surprisingly) it also means your Nexus has one of the best cameras on any smartphone in 2015.
One place where things still need a little work for some of us is the app that drives the whole thing. The Google Camera app isn't bad — it's light, it's quick and it's included by default — but it can be lacking when you go looking for features.
Google Play has you covered.
Before we begin, let's talk a little bit about APIs and support of them. With Marshmallow, Google gave us a newer, and arguably better, Camera2 API. That means application developers might have to change a few things to support all the features, and to do things like make sure the picture isn't upside down.
It's not a huge deal, but it can make a difference. An app you might have loved and one that worked great on your previous phone can be a little buggy on your new Nexus. Some of these apps will be updated, and things will be peachy again. Others may not, and you'll need to find something new. I'm tracking a handful of camera apps on both the 6P and the 5X, and have some that are worth recommending.
Manual Camera
This has been one of my favorite camera apps for a while. It was also one of the few apps that worked with the Nexus 6P at launch, though the new Camera2 API wasn't fully supported.
With Manual Camera, you get manual controls. The name fits, eh? You can control ISO, shutter speed, white balance and focus distance on your new Nexus (note that exposure control is not available on the Nexus 6P or the Nexus 5X) to take control of the way your photo will look. RAW file support is also featured, so you can use a photo editor to fix things after you tap that button.
The developer has been updating Manual Camera, but "officially" only the Lollipop Camera APIs are supported. Having said that, it covers my needs as-is.
Download: Manual Camera ($2.99) (opens in new tab)
A Better Camera
Recent updates have made A Better Camera one to try on your Nexus 6P or Nexus 5X.
Features like Night Mode, Time Lapse, video pausing and multi-shot are done really well, and other features like exposure bracketing and better metering modes mean you can get better pictures than you can with the Google Camera app.
With plenty of options, and an easy to use interface, A Better Camera is well worth trying. The free version is excellent, and the $3.99 pro version also features HDR+ video, "Smart" Multi-shot, High-res panoramas and a Super Sensor mode for even more control. And it's all open-source!
Download: A Better Camera (Free, $3.99 for premium version) (opens in new tab)
ProShot
No camera app comparison can be complete without mentioning ProShot.
ProShot will get you trying things you've never tried before with your camera, because it has adjustments and settings for everything. Luckily it has an awesome — seriously, kudos to everyone involved for how this is done — full tutorial that shows you how everything works.
The features are insane. Manual, semi-manual or automatic control over the flash, ISO, focus, shutter speed and white balance are included, as is RAW file support. But that's just the beginning — there's a Light Paint mode, an on-screen histogram, support for custom aspect ratios, zero-lag bracketing, night and action scenes and more. If you want to do something with a smartphone camera, no matter what it is, ProShot can help you do it. You can even set a pseudo-shutter priority mode like a "real" camera.
And the pictures look great!
Download: ProShot ($2.99) (opens in new tab)
Your favorite camera app
This is just a sprinkling of apps that I think you should try if you love to take pictures with your Nexus 5X or Nexus 6P. There are probably other great apps that I just haven't tried yet!
This is where you can help. If you have a favorite camera or photography app that helps you take better pictures with your 5X or 6P, you need to share it. Jump into the comments and let us all know about it, so we can give it a whirl, too. I know I always love trying out new apps, and I'll bet plenty of others are the same way.
Community hugs and thanks in advance!
Android Central Newsletter
Get instant access to breaking news, the hottest reviews, great deals and helpful tips
Senior Editor — Google Ecosystem
Jerry is an amateur woodworker and struggling shade tree mechanic. There's nothing he can't take apart, but many things he can't reassemble. You'll find him writing and speaking his loud opinion on Android Central and occasionally on Twitter.
I enjoy Camera FV-5 quite a bit, and use it on my N6. I'm excited to try the ones listed here.

FV-5 is one of the apps I have installed and am keeping an eye on. It's almost there for the 5X or 6P. Dev has done some really nice work getting it updated.

Be sure to check out Cinema FV-5 from the same vendor. They work well hand in hand.

Same!! Don't know why this camera was not mentioned at all. I think it's one of the best cameras available to be honest. Posted via the Android Central App

I use Manual Camera sometimes when .dng is needed. But for most other times I stick with google camera app. Its light, fast and does the job just fine pretty much all the time.

I loved ProShot on Windows Phone. I haven't tried it yet on my LG V10 simply because the stock camera app is so wonderfully made. I may have to dive in with the V10 and see what ProShot on Android can do. One picture at a time--LG V10

Have you been able to change the static F1.8 on the LG V10? When I'm in Manual mode with the camera, it never changes and I see no setting to adjust it...

Most phones have fixed aperture lenses. Moving parts are very fragile, and since phones get dropped / tossed / sat on all of the time, this is a choice most manufacturers make to ensure durability.

Have you been able to adjust the static F1.8 on the camera? Even in Manual mode I'm unable to adjust it or find a setting for it...it never changes. I'm on an LG V10 as well.

They have fixed aperture lenses.

I like perfectly clear Posted via the Android Central App

Wow, didn't knew ProShot is available on Android, thought it was Windows Phone exclusive. Glad you guys can enjoy it, great app!

Its even on iOS as well. The developer and his team are some of the best. One picture at a time--LG V10

Windows 10 version is in the works, hope to have it ready by the end of the year :)

Great to hear that, hope it will come before I leave W10. Do you need beta testers? ;)
Any news on setting it as default app on W10M?
Cheers, you are the best.

Unfortunately I don't see it anywhere in the new API. I'm going to ask my Microsoft contacts, cause that issue has been lingering for years :/

Cool! I'm going to be reviewing a Windows phone in the next week or so, so I'd like to give ProShot a whirl there too!

My favorite camera app is actually the Samsung camera app on the Note 5, too bad you can't sideload it onto a Nexus. But fun fact you CAN sideload HTC's camera software!

Can you sideload LG's camera software onto an LG G4 running Cyanogenmod. I'd love to buy a G4 now that deals can be had, but not if I have to stick with LG's Android implementation, which I don't like (my partner has a G2 - which is also a really nice phone other than the LG skin). I assume the G4's great camera isn't as great with the AOSP (or CM) camera software...

Question: If I use a third party camera app, can I set it up for the double click to open by disabling the Google app? Posted via the AC App on my Nexus 5X

Yep Posted via the Android Central App

The camera app is NOT quick. That is the last word I would use to describe it. I've had the 5X for a month, and the slowness of the camera app is an embarrassment.

Startup not quick or camera lag when taking pictures not quick? I just got my 5x this week (coming from nx 5) and I find the camera very fast compared to the nx 5 and other devices I've played around with.

It's difficult to say exactly, sometimes it is slow to start, other times it is slow to take a picture or doesn't respond when pressing the button. Google definitely needs to do some work on the 5x. A reboot seems to fix these issues for a little while but then they slowly creep back in. Use it for a while and you'll see. Otherwise I love my 5x.

Yes I concur that the Google camera app is SUPER SLOW on my 5X and hope Google puts in fix for it very, very soon. I had a friend take my pic yesterday and when he handed me back my phone he said "Your camera took almost over a whole second to take the pic and you should get an iPhone because the camera is really fast." I was embarrassed by that and tried to defend my Nexus, but in reality... He's right about the camera. Posted via my Nexus 5X & T-Mobile Unlimited

I only use the Google Camera app on my Nexus 6P and I find it snappy. Quick to launch, quick to take the picture. Never had an issue. Also, google did an update to the camera app yesterday, I don't notice much of a difference as I found mine pretty fast before too... but might make a difference to your phone.

Or just by a Samsung phone with a great camera already installed....... I'm just sayin..... Dam It Feels Good To Be A Google Gangster

Samsung does have a good camera. Unfortunately that is the only thing that is good. Until they get rid of TouchWiz I wouldn't consider buying a Samsung. They should buy HTC just for Sense. Posted via the Android Central App

Touchwiz 2015 isn't even noticeable. Dam It Feels Good To Be A Google Gangster

Really. Then what is that 3 second delay when clicking on a contact to place a call? It's laggy throughout. That's why I sold my S6 Edge. Posted via the Android Central App

I must be the one lucky guy who doesn't have lag or over aggressive RAM management. If anything the Samsung S6 is to fast. Dam It Feels Good To Be A Google Gangster

I went from an S6 to a 6P. Samsung does have the better camera and a better app. But Touchwiz IS most definitely noticeable and laggy. It's not the end of the world, but it slows the phone down a lot.

Lg's camera software is great too Posted via the Android Central App

Ahhhhh NO! Just look what FV- 5 had to say about Samsung...
Samsung has always provided relatively good OS updates support. However, with the transition to Lollipop, focused more on user-visible features than internal details. Updated phones like the Galaxy S4 and S5 do not mean any improved support for manual controls compared to Android 4.4. The new Samsung Galaxy S6, as it came from factory, did implement the newer Lollipop camera subsystem, but its implementation was a mess: critical features were missing and basic parameters were badly implemented or completely missing. Camera FV-5 used the pre-Lollipop camera subsystem while trying to get the most of the manual controls through it. With the Android 5.1.1 update to the S6, Samsung finally implemented proper support for manual controls, so Camera FV-5 does immediately get RAW capture, manual shutter selection, manual focus and live exposure and ISO information immediately after updating the OS. If you are still using the original Android 5.0 that came from factory, be sure to perform an update from Android settings / About the phone / System updates. Newer phones like the Galaxy S6 edge+ and Note 5 already support full manual control out-of-the-box. However, it seems that there are carrier-specific variants on some countries that do not support manual controls. Why this happens is completely unknown to us, but it is certain the international version does support full manual control (their model numbers end with "X"). So moral of the story... Samsung isn't best at all.

@Jerry,
You didn't mention if the latter two camera apps support the updated Camera2 APIs.

My DSLR ftw Posted via the Android Central App

Is there an app that will stabilize the video on the 5X? The samples I've seen look terrible, and I don't want to have to post-process every video to make them decent.

I use Camera360 Ultimate as my default app. Though it doesn't offer a great deal of manual controls, the filters and enhancements make for really good pictures.
Also, there are A LOT of editing options. Posted via the Android Central App

Thank you for the excellent review Jerry! I'm the developer of ProShot :) I have a 5X coming in tomorrow, so I'll have a device on-hand to bring further optimizations to the 5X / 6P, including slow motion video. Coming in about a week!

Looking forward to the update! :-)

Thanks for the info! Are the Camera2 APIs supported in the ProShot app? Thanks

Hey guys, can any work be done on setting the shutter speed to any slower than 0.2 to 0.5 seconds? Or is it hardware limited?

Hardware limited, unfortunately. Try Light Painting mode, can still produce great results :)

Can ProShot work with an external mic? (like a headset mic or something like an iRig Mic Cast). Posted via the Android Central App

Not yet, but it's on the to-do list :)

Open Camera is amazing. Well worth checking out. Free, open source, awesome and no ads. Posted via the Android Central App

Good as those apps may be, I'll still tell anyone that if you want more than decent photos ( which is what you'll get from a phone) go buy a real camera. I love the quality I get from my N6P but for those moments that I need good pics I pick up my Sony a6000 camera. No phone will get you any closer in quality, that's why they are canners not phones. My ¢2...... Posted via the Android Central App

Loving my Sony a6000...price/performance is unbeatable imho...haven't spent anytime with the 6P camera.

I would be happy with a working "quick camera" (double tap camera) where the camera always starts and the camera doesn't crash.

Buy a lg v10 for the best android camera

Best android phone 2015 by far. LG Flex 2 (5.1.1)

When I had the 6p I downloaded every imaginable camera app from the market free and paid and the best one was Snap Camera. I liked that you could take pictures while recording video. Check it out. Posted via the Android Central App

The stock camera app on any phone is the only option for the best quality pictures. And what I have found trying different app's seems to support this. Although i haven't tried them all. Yes, the apps may have more features and take nearly as good of pictures, but the factory camera app is specifically tweaked for that specific phones hardware and version of Android. This what I have been told repeatedly and when I have tried them on my LG G3. Especially in difficult lighting situations. Am I wrong? Which I am open to that possibility or that I have been misinformed.

you're right in that sense, the LG camera app is tailored for that specific model's camera. but when it comes to the nexus devices, they seem to be using google's standard camera app. they might have some extra features (slow mo being the first that comes to mind) but that camera app is designed to work on a lot of different phones, so i doubt they went through as much customization for the nexus camera as LG did with the Gx cameras.

I've looked through the source code, can confirm no special tweaks for Nexus phones.

All manufacturers definitely tailor their apps for the devices they run on, but there's a limit to what can be done. For example, there is only one way to get a JPEG off of the image sensor (building different or hidden methods requires more R&D). The same applies to AF (auto focus), there's only one way to trigger AF, with the focus hunting and confirmation managed by the hardware itself. That said, certain manufacturers do go to some lengths to prevent third party camera apps from outshining theirs. LG, for instance, doesn't allow third party camera apps to access longer shutter speeds and higher ISOs. In the end though, third party camera apps like ProShot can offer more control over your final image, with the ability to tweak noise reduction, JPEG compression, and more. And with active development and the support of users, it will become better and better over time. Source: I made ProShot, and have spent considerable time with camera APIs.

Is it possible with Proshot to shoot with a combination of any resolution + any aspect ratio using a LG phone (G4 or V10)?

Any aspect ratio: YES. 21:9, 3:2, 51:3, you can type it in manually from the settings menu. There are only two resolution options right now, but I'll be adding a third in a future update.

Thanks for the reply. What I don't like with the LG V10 is that we always have to shoot at full resolution even if we do not want that, because it has no settings for resolution.

Thank you for the comments. I wish this were in a forum thread so more people could read it. Because you guys have some good information and this is how I (and others) learn. In short, it seems that what this article really is saying is; if you have a Nexus, you have camera app options because like everything Google is doing with Android, they aren't hiding any special camera (proprietary) processes, therefore Apps have as much (if not better) of an opportunity to make a quality picture as the stock camera. Unlike LG, who no one knows for sure, because they keep their secrets to themselves, sort of speak and even handicap other Apps deliberately. Good stuff. I really appreciate the info. Nice to see helpful and knowledgeable people posting for a change.

I use the default Asus camera app cuz it's good. But I've also used Camera MX and it's a close second. Posted from my Asus ZenFone 2.

The app maybe good. Sadly, the camera's not.

I looked at a few of the apps, but on the Nexus 6P the shutter speed is maxxed at 1/5sec. Does anyone know of an app that supports long exposures on the 6P or is it hardware limitations?

Limited by hardware. You can still use Light Painting mode in ProShot to get some great results though.

That sucks. Was hoping to try some long exposure shots. Always enjoyed those long exposure lightning shots

Well it looks like Google listened to us and read this thread because they just updated their app for the camera today and it is a night and day difference in the experience. Posted via my Nexus 5X & T-Mobile Unlimited

Google finally put a good camera in it's nexus devices now hopefully they will get to work on a better camera app.

does anyone have a Nexus 5X (or 6P) and using the Manual Camera or any other manual camera application? I am wondering - mainly in Manual Camera - what the longest shutter speed is with the Nexus 5X. I know that the LG G4 in their own software can go from 1/4000s to 30s. In Camera FV-5 the Nexus 5X can go up to 1/5s which is nothing to talk about. Long shutter speeds are 10 sec or longer. thanks

I'm using Manual Camera and can only go to 1/5 second and no longer.

If you want to try some unusual things with the camera hardware have a look at the FlickStart app. One example is shown in a video called "FlickStart, Nexus 5X, Two Cameras" at https://www.youtube.com/channel/UCtASE30oEDGXFLWRM0BQfiQ . FlickStart also lets you take videos at 240 fps on the back camera on a Nexus 5X.

So, call me crazy but I have been digging the port of the Motorola camera app lately. The hacked version allows you to control EVERYTHING!
Android Central Newsletter
Get instant access to breaking news, the hottest reviews, great deals and helpful tips
Thank you for signing up to Android Central. You will receive a verification email shortly.
There was a problem. Please refresh the page and try again.