Lowes giving away 7-inch Galaxy Tab with Samsung appliance purchase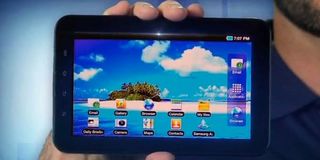 It's not every day that people go out shopping for appliances, but if you've been looking for a good reason to get a new stove, fridge or whatever for you home you might as well take advantage of the cool offer Samsung and Lowes has going on. For a limited time, Samsung and Lowes will give you a free Samsung Galaxy Tab 7-inch when you purchase a qualifying appliance plus, you can nominate your favorite school to win a $48K technology make over.
Not bad, you're going to be spending quite a bit of cash on appliances anyway but the real question is -- will it connect to the Samsung RSG309 refrigerator (opens in new tab)? And why does it look like Jimmie is using a third-party launcher on that tab? A good deal and a good cause as well seeing how they'll be equipping some lucky school with quite a bit of tehnological goods.
Source: Samsung
Guess it is finally time to replace my broken dishwasher.

lol . . . I guess its not a bad Add on if you really did plan on buying a new appliance . . . its not exactly a selling point.

Just forwarded this to my boss. Incoming tablet for the office.

Jimmie johnson is soooo dreamy

That's not a third party launcher, that's what comes standard with the Galaxy Tab.

damn...I just got a new samsung washer and dryer a few months ago.

Well crap, we're going to buy a new fridge but not for several months still. :(

I called Lowes as I just purchased a fridge, but the promotion is mainly for washer/dryers and 1 model of fridge (RF4289HARS $2699).
Android Central Newsletter
Get the best of Android Central in in your inbox, every day!
Thank you for signing up to Android Central. You will receive a verification email shortly.
There was a problem. Please refresh the page and try again.