LG's sleek video teaser shows off new Velvet design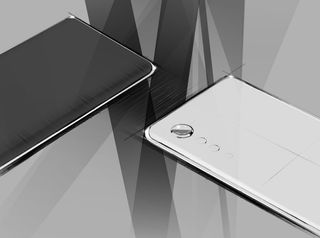 (Image credit: LG)
What you need to know
LG's upcoming new Velvet debuts in its first video teaser.
The teaser highlights its arc glass, raindrop camera, and natural design.
The Velvet is expected to be LG's followup to the G8, debuting under a new brand.
LG today showed off more of what its upcoming Velvet flagship is supposed to look like. While it's doesn't show off a lot more than the images we saw previously, it's just that the added motion and lighting help to give it a physical presence and contextualize it.
Here's what it'll look like:
The Velvet takes on many modern smartphone design cues. There's a colorful "3D arc design" curved glass rear panel, smooth metal sides, and even a multi-lens "raindrop" rear camera that stands out in how much it doesn't stand out compared to say the iPhone 11 Pro Max or the Galaxy S20 Ultra and its Space Zoom camera bump.
LG hasn't made what you'd call fashionable phones in a while. They've been trending more towards serviceable, utilitarian designs like the G8. Nothing too ugly, but nothing you'd be dying to show off.
The LG Velvet is a step in a different direction for the company overall. It's rumored to be what LG would have called the G9, now retooled to take on a friendlier name in addition to a nicer design language.
"Our new branding reflects current trends of addressing the unique personal tastes and emotions of the individual with a greater emphasis on design," said Chang Ma, senior vice president of product strategy at LG Mobile Communications Company about the upcoming Velvet. "It's a more intuitive approach that we are confident will resonate with today's consumers and help us to establish a clearer brand identity."
Android Central Newsletter
Get instant access to breaking news, the hottest reviews, great deals and helpful tips
I'm with you I like it to

Looks like many of the cheap mid range devices that have been coming out with that vertical camera alignment. Looks like they took a page from moto's playbook. LG needs some new designers.

Blah blah blah. You don't like what they had before and you don't like the modern design language either. Somehow I doubt the design has anything to do with it, but the branding on the back does

Actually I had no issue with their design language before but whatever you say 😂

Doesn't look cheap at all to me. Looks classy with its lack of a camera island so big it needs its own zip code.

Did you guys even notice the 765G logo in this teaser?

No ridiculous hole punch thank God, will definitely be considering this

Ridiculous teardrop design. Get back to me when you have a camera-free display. Otherwise pretty nice lookkng phone. In my opinion the G7 was the styliest phone of its generation. However, if LG hasn't made massive strides in photo quality, they're out of the race...!

You kidding me dude? The V60 is the best I've seen and it has manual controls. Something others don't have.

LG has great manual controls, probably the best. The image quality is where LG often comes up short.

You can use the manual controls to fine tune the image quality. Did you see any of the samples? It's neck and neck with the S20.

But is LG's v60 better than HTC's u12+ ???

Eric12341 - Yes, I've seen the V60 photos. To me, they are more pleasing to the eye than the S20. The downside is a softness when you zoom into the image. On some other cameras, you can zoom and the fine details are clean and sharp. On plants for example, you can see hairs on the stems and individual particles of pollen, and the edges of the pedals are well defined. I'm not seeing that level of clarity on the V60 photos, and I'd say it's on par with the iPhone X, but not as good as the iPhone 11, especially with Deep Fusion. Now, there's the argument to be made that the slight softness is a good thing, as most smartphones are accused of being oversharpened, and that's how you can tell the results from dedicated cameras. It's a camera you can be very happy with though, and the audio boost while video recording is a must-have feature in some scenarios. The manual controls for photos can give you an advantage in a lot of situations, but they cannot push beyond the limits of the sensor, lenses, and image processing.
Android Central Newsletter
Get instant access to breaking news, the hottest reviews, great deals and helpful tips
Thank you for signing up to Android Central. You will receive a verification email shortly.
There was a problem. Please refresh the page and try again.