LG's 2018 flagship to have all-new design and be released in June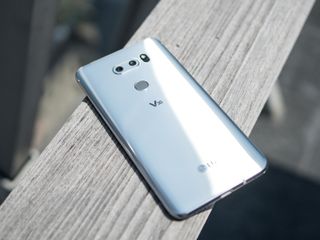 For all intents and purposes, the LG G7 is dead. LG's CEO reportedly scrapped the phone shortly after CES and ordered the mobile department to go back to the drawing board, and now that some time has passed, we've got new information about what we can expect from LG's big 2018 flagship.
According to Venture Beat, the G6's successor is currently being referred to as "Judy" and has a "brand new design" compared to past phones in LG's recent lineup. Judy will ship with a 6.1-inch 18:9 Full Vision display, and while that may sound like nothing special, the panel LG's reportedly using is.
Rather than using OLED like on the V30, Judy is said to be LG's first phone with an MLCD+ panel. MLCD+ has an RGBW matrix with white sub-pixels, and it has a brightness rating of 800-nits while also using 35% less power compared to IPS LCD tech. LG's OLED panels on the Pixel 2 XL and V30 left a lot to the imagination, so I don't think anyone will be upset over its absence on Judy.
As for other specs/features, Judy sounds like a pretty common 2018 flagship. It'll come with Qualcomm's Snapdragon 845 processor, 64GB of internal storage, dual 16MP rear cameras with an f/1.6 aperture for each, IP68 dust and water resistance, and support for HDR10. Judy will also have wireless charging, its own digital assistant (yay?), and AI camera tech that we'll get our first look at with the LG V30S at MWC.
The small 4GB of RAM is an odd choice considering the V30 came with 6GB, and there's also mention of "boombox" stereo speakers.
Most of this sounds great, but unfortunately, it'll still be a while before we get to go hands-on with Judy. LG reportedly won't ship the phone until this June, and this lines up with the company saying it was only going to release new phones "when it is needed."
Based on this new info, are you excited for what LG has in store for 2018?
LG G7 (2018 flagship): Rumors, Specs, Release Date, and More!
Joe Maring was a Senior Editor for Android Central between 2017 and 2021. You can reach him on Twitter at @JoeMaring1.
Good luck LG... Hopefully they are way better than the disappointing 2017 LG flagships compared to other great flagships from other companies.

I'm happy with the V30; how does it disappoint you?

LG flagships don't disappoint. Just their sales figures weren't high

Yes, they disappoint by not responding to claims of many past users who had bootloop problems with their devices.

Give it up on the boot loop ****, they messed up but I owned a G5 and now a V20 and both haven't had a single issue

I had two LG G4s (one for me and one for the wife) both of which eventually suffered from "boot loop" and both were repaired with a new motherboard free of charge by LG. It would have been better had the issue not happened but it is unfair to say LG did not respond.

LG's response was fine. The problem was that they didn't resolve the issue for several major releases, which was really damning. That said, they haven't released a device with bootloop issues for like two years, so I think we can safely let it go at this point.

What affect will this MLCD+ panel have on battery life, as opposed to AMOLED? Speaking of which, battery capacity isn't mentioned in this story. Also, "Boombox" stereo speakers... Does this phone include the headphone jack and quad DAC? What does the release of this phone in June mean for the release of a potential V40 in September/October?

Maybe they won't have a v40 since LG is changing their strategy with phones plus they have the v30s coming.

LCD needs a backlight in order for you to see what the pixels are displaying. It faces many challenges where if a picture contains a dark sky and a bright, say park light, the backlight Must be turned to maximum brightness, thus the rest of the picture will also be lit since the backlight is one pice. And for the dark sky, the screen blocks the light from the backlight. The challenge is that this uses a high amount of battery, the contrast ratio is not nearly as good as OLED displays and the blacks aren't TRUE blacks. OLED is thought to be better since the screen would only turn on the pixels, which create their own light, for the park light and everything else will be turned off, thus not eating away at precious milliamps from your battery. MLCD+ Addresses these issues by having those white subpixels, which work like hundreds of mini Backlights, be the source of light and they can be turned on and off individually. This will help with battery consumption, increased contrast, but will improve on the over saturation of OLED (imo) screens bringing more true to life colors. This isn't new technology. Outdoor screens that you see in airports which use two to four panels to display a single image divided by minimal bezels have been using this technology for quite some time. Why hasn't it been used in cell phones? Maybe due to the compact nature of cell phone screens. But I'm not sure. Hopefully LG pulls it off!!!

The lgv30 is one of the best phones on the market, period!

I do agree but with just a few wrinkles. Front facing camera for one. Software secondly. Small little auto processing tweaks for the camera lastly.

Problem is "one of the" and also towards the bottom end of one of the.

Interesting. Here's hoping. I'm spoiled on OLED though.

My V30+ only has 4GB of Ram...? Am I missing something

You're missing 2GB, according to this article.

LG V30S 6gb of RAM confirmed?

Not by me. I have no idea.

Smart move abandoning PeeOLED.

They could could perfect the P-OLED along the way..

This actually sounds interesting. They definitely can use this breath of fresh air. I hope the upcoming Xperia proves as interesting, as S9 is going to be a mere iteration. Last year was boring enough.

No LG V30 variant came with 6gb of RAM. Out of curiosity I think I'll wait to see what LG brings to the table before making a decision on the S9. I'm not giving them any passes this year. I want to see a better front facing camera. Larger sensor than the one used for the V30. And pricing and release information...... The day of the announcement. None of that "in the coming weeks" or sign up page nonsense. If LG can grow up like this new CEO seems to be trying to help them do I will stay loyal to LG as a pretty satisfied fan. If not, it's Samsung for me. I would go Pixel 3 but I already know the Pixel phones won't have expandable storage and probably headphone jack again.

V30 Signature came with 6GB. I think.

If the phone doesn't ship until June, you know LG is announcing this thing in March 😂.

Lol maybe new CEO guy learned from those other guys that tried that. 😂

Maybe advertise it a little this time? I've seen exactly one commercial for it since it was released, and that was last week during the Olympics. Compare that to hundreds of Galaxy, Pixel, and iPhone ads, and it's no wonder it's not selling well.

LG not using their own OLED screens on their next flagship doesn't sound great. Wonder if Google will continue to use LG's OLED screens for the Pixel 3.

That kind of undermines all the defensive praise people heaped on the Pixel 2 XL display when it was criticized.

Defensive praise? Pretty sure the screen got criticised pretty harshly. So much so that Google had to release an update to boost the colour saturation, reduce the intensity of the navigation buttons and make a big post about screen colours etc.

Fix.......your........ marketing....... strategy........LG

What LG needs is a camera that finally delivers and more marketing... it's that simple. Plus, keep that amazing internal audio.

They're camera are great just not the front facing camera.

I'm talking Google pixel quality here... If it's not at that level than keep going back to the drawing book, plus the Pixel 3 camera will blow everything out of the water when it arrives.

I was unaware that LG V30 came with 6 GB Ram. Hopefully, G7 brings some competition and excitement.

You were unaware because the information is incorrect. The V30 and V30+ both came with 4gb of RAM.

That skin though.. G6 sitting in a drawer right now.. No more OEM skins for me. Pixel 2 has me spoiled.

Then try different launchers

Exactly. G how could someone make a skin that ugly. That's my biggest issue with lg phones. And yah, I could use a launcher and all that. But I can't use a launcher for some reason. I use it for a day and change back to stock launcher, whatever it is

The last time LG made money on their flagship phone was the G3. They never made a worthy successor: The G4 had bootloop problems, the G5 also, the G6 was just a ME TOO and it lost its huge LG competitive advantage: the only smartphones for power users thanks to interchangeable batteries. The V20 was OK but not available in Europe and bad relationship with US carriers. V30 is again too little too late and why didn't they use the same cameras they used for the pixel 2 XL? Why use 16M small pixels if 13M larger pixels are enough for 4K and larger pixels generate better images. My recipe for the new CEO: take the V30, use 13MP camera's like Google, Apple etc, give it stereo speakers, use you new screen if you like, but make sure the world knows that it is the best in direct sunlight. It would be nice if you could use stock Android instead of sticking to the skin everybody hates and finally: GIVE POWER USERS THEIR REMOVABLE BATTERY BACK. Then and only then will you have a smartphone that sticks out of the competition! A really nice add-on would be hot-swappable batteries.

Power users and removable batteries aren't always tied together Give me a battery that lasts all day.

@Joe Maring V30 doesn't have 6gb of RAM.

Signature edition does. Sadly, the V30 has numerous versions, and the S is another one coming.

The camera really needs to get in line with iphone and Samsung .They take to long to focus and snap fhus having a out if focus image.
Not everyone shoots manual and even then I am not impressed in that mode.
Still miss removable back and extra battery just another way to get you to upgrade in two to three years.

I think G6 and V30 are great PHONES and need more brand awareness and marketing....
I still love my G6 using it SINCE April....and mite upgrade to V30 the new one which will be announced at MWC
I think LG can still improve on v30 Like what Apple does with S series new processor , better cameras ...v30 already has a great design

Can't wait to see LG new flagship, using a LG G5 with nougat and absolutely love it, it's my first LG phone.

After the 2 dead LG G4's I had, from the bootloop fiasco, which took a month for each to be repaired, I will never buy an LG phone again. Great TV's, awful phones

What is MLCD, what happened to the P-OLED? A 6.1 display, stereo speaker's 4gb's & 64gb's of storage. Ok, finally LG is waiting for the 845 processer. I think will find out this is a much better move instead of releasing at MWC. Maybe this will help their cause!

>its own digital assistant Why?

V30 has 4gb of ram though?

Good luck Lg, stay around to provide a little diversity and competition. Choice is a good thing. Also, work on greatly reducing your usual 3 month window between introduction and availability for your new phones, and actually provide updates.

They'll announce it too early and give it one fatal flaw to kill it...aka v30 front camera

Optimus G, G2, G3, G4, G5 & G6. I owned the first 4 (albeit one was the Nexus 4) and there was hardly anything that made them a G phone from the design. I suppose the G2 & G3 were most similar. So there is no surprise that they will change design again.
I wouldn't buy LG again, they have a proven track record of NOT updating devices.

Because I fear screen burn-in, I really like that the upcoming LG flagship will use a MLCD+ panel rather than OLED.

4 GB stateside gray or silver Nah

The mixed feelings about LG phones 😏
Since the G3 /G4 times.... I only watch what they do or mess up, timely announcements, delayed releases , limited availability, poor software update history, boot loop fears, lack of transparency with software roll outs, lots of flopped experimental devices, poor marketing of their devices and more...
Which leave me 😤

LG should concentrate more on their mobile division. We all know their appliance's & TV'S have been carrying them for some time now. Waiting for the 845 processer is a very good move. I wouldn't have dropped the P-OLED for MLCD. What happens to all the money that Google invested in the P-OLED? Doesn't make a whole lot of sense.
Android Central Newsletter
Get the best of Android Central in in your inbox, every day!
Thank you for signing up to Android Central. You will receive a verification email shortly.
There was a problem. Please refresh the page and try again.