LG V30 will offer audio features 'unseen in a smartphone before'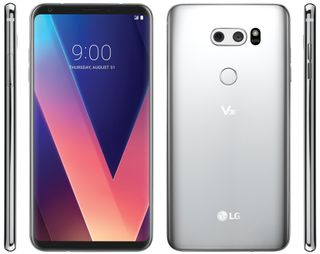 LG is continuing to serve up information regarding its upcoming flagship ahead of its release at IFA. The company is now talking up the audio prowess of the V30, saying that the phone will feature "next-generation audio functions unseen in a smartphone before." LG rolled out a 32-bit Quad DAC in last year's V20, and its successor will feature a "32-bit Advanced Hi-Fi Quad DAC" powered by ESS Technology's Sabre ES9218P chip. The new DAC will also be much more customizable, with LG offering digital filters and pre-programmed sound presets.
LG says that the V30 will offer four sound presets — enhanced, detailed, live and bass — allowing you to customize your listening experience, in addition to the digital filters that let you tweak the impulse response. LG was able to cut the distortion rate down to 0.0002%, and it has teamed up with MQA to offer high-resolution audio streaming.
LG is also stating that customers using "ordinary equipment" will be able to "experience much of the high-quality audio enjoyed by listeners using expensive headsets." And like its predecessor, the V30 will come with a pair of B&O Play earphones in the box. There's certainly plenty to look forward to with the LG V30, and with the handset slated for an official unveil on August 31, we don't have to wait long to find out exactly what's in store.
FROM DELICATE CHORDS TO DEAFENING THUNDER, LG V30 DELIVERS TAILORED HI-FI
Hi-Fi Filter, Sound Preset and Hi-Fi Streaming Set to Delight Ears Everywhere
SEOUL, Aug. 28, 2017 — The upcoming V series smartphone from LG will offer next-generation audio functions unseen in a smartphone before, leading to a personalized sound experience that is also easy to use. Developed in conjunction with long-time experts in the audio space the LG V30 is a perfect example of the partnership strategy behind developing the perfect mobile device for audiophiles.
Building on the Hi-Fi Quad DAC first introduced by its predecessor, the LG V30 features a 32-bit Advanced Hi-Fi Quad DAC powered by ESS Technology's SABRE ES9218P. LG's Hi-Fi Quad DAC presents two new features: digital filters and sound presets. While the original Hi-Fi Quad DAC emphasized delivering Hi-Fi sound as close as possible to the original source by minimizing distortion and white noise, Advanced Hi-Fi Quad DAC offers more customizable options.
Digital filters, normally only available in expensive digital audio players, improves the pre- and post-ringing of the impulse response with filters that can be customized to personal tastes. In developing sound presets, LG engineers studied the characteristics of popular tones and identified the best combination of sounds to create four optimal pre-programmed settings: enhanced, detailed, live and bass. Even with ordinary equipment, LG V30 users can experience much of the high-quality audio enjoyed by listeners using expensive headsets.
The Hi-Fi Quad DAC controls left and right audio signals separately, adjusting balance in such detail that listeners will feel as if they are standing in the center of a concert venue. LG has cut the distortion rate down to 0.0002 percent. The less information lost when converting digital data into analog waveform, the clearer the resulting sound is. The audio paths are wider than ever in the V30 so it can process large, high-quality audio files without any lag and with greater accuracy.
The LG V30 also includes technology from partner company MQA Ltd. that facilitates high resolution audio streaming, the next big trend in mobile music. This allows the V30 to combine its stellar Quad DAC with MQA technology for a listening experience that will touch the heart as well as the ears. Music fans can enjoy high-resolution audio without the inconvenience of downloading huge files or using up large amounts of mobile data to get great sounding music through the V30.
What's more, the HD Audio Recorder in the V30 features the capability to use the audio receiver of the phone simultaneously as a microphone (Receiver-as-a-Mic or RAM). The RAM can record loud sounds clearly, so the LG V30 can record a wider dynamic range of sounds, from a whisper to a thunderstorm, without distortion.
"With the V30, LG and our partners are pushing the boundaries of smartphone audio to enable a more bespoke listening experiences," said Juno Cho, president of LG Electronics Mobile Communications Company. "The combination of its advanced Hi-Fi audio technology and the superb images generated by its OLED FullVision display makes the LG V30 a true multimedia powerhouse."
With the V30, LG continues its close partnership with B&O PLAY. B&O PLAY refined the audio capabilities in the V30 by fine-tuning the overall sound experience and adding its own exclusive touch. A set of high quality B&O PLAY earphones comes bundled with the V30 for hours of listening pleasure with style.
"For most people, listening to the music they love is a fundamental part of their lives and they expect the same uncompromised experience and quality from their headphones as they do from the mobile device they source music from," said John Mollanger, CEO of B&O PLAY. "That's why B&O PLAY is very excited for our long-term partnership with LG and satisfying global music lovers world over."
Android Central Newsletter
Get instant access to breaking news, the hottest reviews, great deals and helpful tips
Harish Jonnalagadda is a Senior Editor overseeing Asia at Android Central. He leads the site's coverage of Chinese phone brands, contributing to reviews, features, and buying guides. He also writes about storage servers, audio products, and the semiconductor industry. Contact him on Twitter at @chunkynerd.
Bring it on. I love the headphones and sound of my s8 so this is definitely a good thing. Please let it also have the wireless magnetic payment system similar to the one Samsung pay uses.

Samsung has the magnetic payment thing on lockdown with patents.

Yea, they own mst, but I'm referring to the lg version that uses wireless magnetic communication or WMC versus MST which stands for Magnetic Secure Transmission.

Unlikely since it's pretty much only the US still using that old technology and we know how LG like to stop certain regions having certain features.

What old tech? The credit card swipe? Yes, it's old but it's very much alive in the usa and in other countries it's still active for gift cards and other things like mobile payment receivers in mom and pop shops and the credit card terminals on monitors which it will also work on. And lg pay not only uses the magnetic payment system but also works with nfc just like Samsung pay. And it's been very well accepted in Korea.

Actually no, lg has their own version only not in the us.

Huh? Not sure what you're referring too. Just in case I didn't explain it correctly.... Lg has LG PAY... Currently it's only active in Korea. It uses a similar tech like the one on Samsung phones which works with nfc and regular credit card terminals, it uses wireless magnetic communication. Hopefully it comes to the usa with the v30. That's all I was saying.

Right, I agree with you. I was responding to gendo :)

Lol..android central really needs to update this comment system, at least in the mobile app... It gets too convoluted. Sorry about that

Bwahaha,. No worries, happens to me all the time.

Sight unseen, no removable battery, no secondary display, no sale!

You're going to be very hard pressed to find a phone with removable battery and second screen that has 835 processor.

Good luck with your current device forever 😁

A 2nd screen? Doesn't seem as if that will come back especially given that phones are elongating from 16:9 to 18+:9

Better stock up on V20's.

So LG v30 will be it's first USB c Jack for audios?

I would definitely expect it to have a traditional 3.5mm headphone jack

It still has a 3.5mm jack. Just about any current phone with usb-c can output audio to an external Amp/DAC combo now. That's nothing new.

Must be in the top, cuz isn't on the bottom in released photos.

The g6 is on top in the right corner

Yeah, it is on the top r/h side. Not too happy about that, but I've grown used to it on my G6.

And a lot of that is pure luck. The USB-C audio standard was just ratified a free months ago.

Improve the camera where you can take pics without motion blur and I'm all aboard. Until then I'm not moving off my Pixel.

Download the pixel apk and off you go.

I doubt it's been ported to an unreleased device. 😛

I'm glad they're doubling down on the audiophile features, it definitely makes it stand out from the market, especially with HTC giving up the headphone jack

Even when HTC had the headphone jack hardly anyone cared soooooooo...

Long live the 3.5mm headphone jack. Thank you LG. I think I might be upgrading from the V20.

Damn, I wish Sammy was *this* serious when it comes to audio. Samsung puts so much focus on the visual and the aesthetic, that they forget about the audio. I suppose that not enough people care enough about superb audio quality (People only buy Beats - which isn't even *that* great with audio, because of the name brand) for Samsung to make a significant move in this area. Now, I must choose. Stylus or great audio... Hmmm...

Samsung actually did on the s8. The akg headphones that come with it have a unique set up and the sound is great on it. And for Bluetooth you can tweak the audio settings.

That's better than nothing, but it's a far cry what LG is doing with the V30

Those weren't akg headphones.. those were cheapie samsung headphones with the akg logo printed on them to bamboozle their idiot customers. Kinda like saying the s8 had bt5 since release. Just another lie.

Ok. Got it. I guess these cheapo headphones are one of the best I've ever used. Imagine what real akg headphones sound like! By the way, bt 5 is on s8. It's just not active yet until android O. But it's ok if you didn't know. The same way that dozens of tech sites also don't know that those aren't akg headphones.

The headphones that come with the S8 look very nice, but they sound like crap! I can buy a $40 pair of skullcandy that sound far superior.

They sound great to me. And of course you can buy better ones, they were free with the phone lol. It's all good. I enjoy them. My dj headphones sound better but for tangle free headphones they sound petty good once you tweak the sound settings.

You haven't even used a decent set of aukey earbuds then, because a 10 dollar set would outperform them. Because those are just samsung headphones. And while I agree, the s8 has the capable hardware for bt5.. it doesn't have it, and shouldnt be listed on a spec sheet until its a working thing. But again, samsung lies to their customers all the time. It's kinda their thing. You didn't see HTC advertising bt5 on the u11 though. Because they aren't shady.

That's true, their not akg headphones, just akg tuned. And I never said they were the best. I'm sure other ones sound better. All I meant is that for free headphones they sure sound good. Maybe not to you but it's ok. As far as bt 5 and Samsung lying, I don't get all wound up about it. All I know is that when o is released, bt5 will work. No reason to go all crazy and go against companies that really won't do much for you anyway. Everything will be ok. Don't like the headphones, get different ones. Manufacturer lied about a spec that won't be active yet, oh well. Life's too short to worry about that. Hope your day gets better.

BTW, real akg's don't sound much better now that they're a samsung subsidiary.
https://youtu.be/W_J2dCDl_tg
Most sites don't fix headlines, because samsung pays them to much to care to actually read. Oh, that little word "tuned" was in there to fool you. move along to the next samsung article we're getting paid for.

Didn't Samsung buy them less than a year ago? How many models have they actually launched that were designed under Samsung's ownership to judge that quality has dropped?

The quality dropped automatically. Duh

correct. Same reason I'll be going back to pioneer for my next surround receiver from my harman now.

Looking forward to this device.

That would be interesting. Even moreso is they work with Tidal. .... But that would probably be Sprint exclusive.

I would hope not. MQA on the desktop app has been around for a while.

Will this Audio chip and DAC help on the recording side of things too?

It does on the V20 so I am going to say that it likely will here as well.

I am fine with a headphone jack and a "regular" dac so I have no problem with this. I have never really considered an LG V phone but if the rumors of the Pixel 2 are true I'll probably need to find something and this seems to have fewer negatives than a lot of other phones. I kind of wish they didn't get rid of the second display though. i saw someone with a V20 this past weekend and the notifications from that second screen are awesome. I hope Google can dump HTC after this year. They are so far behind on innovation and manufacturing capability compared to pretty much anyone. Google acts like they design the phones but there is no way that is true looking at the rumored Pixel 2. It has HTC written all over it.

You know the pixel 2 and pixel xl 2 look the same other than the screen right? Watch later in the year as the xl is returned as defective, and the regular model works like a champ. "so far behind on innovation and manufacturing" lol. They wrote the frickin book everyone is following.

Surprised by all the love for this feature-- about the only time I use my phone for audio is while travelling, at which point all the exterior noise is a much bigger factor than any onboard electronics.

I use headphones with my V20 for hours every day at work

Ahh, a music box phone, just what the doctor ordered! Yikes!

"LG was able to cut the distortion rate down to 0.0002%" Well, I'm sure my dog will enjoy listening to it......Humans cannot detect less than .1% distortion.
Just like we can't hear outside of the 20-20Khz range (some people, like my wife, can hear up to 24Khz, or down to 18Khz, but that is rare) and it's the frequency clipping that is the problem with DACs anyway. Sounds like they have just increased the sample rate to smooth out the waveform.

ZTE where y'all at right now?

I'm all for you LG, happy your making one of the pixels. It's time for Google to dump HTC. I wish they would buy them out & get it over with. Although the 11 is a good phone they don't know how to market or sell it. A very sad story!

People making such a big deal about headphone jacks how about the lack of a front camera?

What phone lacks a front camera?

I read somewhere that the v30 didn't. But it totally does.
Android Central Newsletter
Get instant access to breaking news, the hottest reviews, great deals and helpful tips
Thank you for signing up to Android Central. You will receive a verification email shortly.
There was a problem. Please refresh the page and try again.