LG V10 will pick up Nougat update in Q2 2017, LG G4 in Q3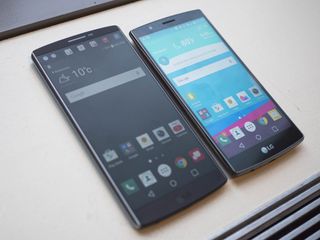 LG initially stated that it will not roll out the Nougat update to its 2015 flagships, but the company has reversed course following backlash in its home market. According to an LG official speaking to Korea Times, the LG V10 will pick up the update sometime in the second quarter, while the LG G4 will receive the update in the third quarter. That's for the Korean market, and it is likely that we'll have to wait slightly longer for the global
LG was worried that the hardware — specifically the Snapdragon 808 SoC — on the G4 and V10 would cause compatibility issues on Android 7.0 Nougat, but with the Nexus 5X featuring the same chipset and running Nougat without any problems, LG decided to offer the update to its flagships.
With profits from its mobile business shrinking, 2017 will prove to be a pivotal year for LG. Last year's modularity experiment with the G5 failed to gain momentum with consumers, but the G6 is turning out to be a step in the right direction. Reliability issues with the G4 and V10 have also affected the brand's image, and it looks like that is an area LG is looking to fix this year.
Get the Android Central Newsletter
Instant access to breaking news, the hottest reviews, great deals and helpful tips.
Harish Jonnalagadda is a Senior Editor overseeing Asia at Android Central. He leads the site's coverage of Chinese phone brands, contributing to reviews, features, and buying guides. He also writes about storage servers, audio products, and the semiconductor industry. Contact him on Twitter at @chunkynerd.
Meanwhile, the S7E still doesn't have 7.0 😒

Actually multiple variants do.

Who cares go blow up another post

Q3? Man... I suppose it is 2 generations old now, but still, it's the last G phone anyone bought. It is good they're releasing it at all though, can't afford to piss off what fan base they have left.

Does the G5 have 7.0 already?

They won't have to update that many G4's as most have been abandoned due to infamous bootloop

Or the maddening touchscreen issues.

Good on them for reversing their decision, even if their deadline is a wee-bit long for a 2015 flagship. I don't think there's that many of both left now, though, since many died to the bootloops.

I had my phone replaced once and then repaired. I'm assuming my repaired phone (done in January) won't bootloop anymore.

They should have come up with a better excuse than the 808, or they should have done better research.

Hm. Q3 is June-Sept. What's the odds Verizon Wireless actually releases this for a two year old device? It's very tempting to wait, becuase the choice of a new phone this year is daunting.

Very surprised they would even consider not updating the V10. Would leave a bad taste to anyone thinking of purchasing future V versions.

The real question is how long are the US carriers going to drag and lag behind for their "bloated" roll out? Not going to hold my breath on this with Verizon... my V10 has been ROCK SOLID since December 2015. IF there were legitimate concerns before... why aren't there any now? I would like to know the details before installing.

This might be unrelated but makes me wonder what is going on. I have Note 5 with Verizon and my wife has S7 edge. I am currently in February 1st security patch and my wife's is still stock on October patch. Note 5 is old r device yet getting updated consistently and I have noticed that it's faster then edge meaning less lag. I am looking forward to Note 8. Has anyone noticed this?

I have the 815 unlocked & I will probably be using the G6 by the time the update hits. It is a little late though...

Not sure why people get so worked up over this Nougat update, when it's been such a bumpy ride for so many. Marshmallow is the smoothest Android OS ever. I want what works. Both my phones (2014 Moto X, and a Nexus 4 on CM13) are on Marshmallow, and I'm quite happy to have them stay there.

People are getting worked up because of Multi-Window, Rich Notifications, and the new Doze Mode.

Yahoo... I don't mind waiting for it that way LG & VZW can get it right!

So whats so wrong with marshamallow again?... my V10 runs GREAT.

Been quite happy with my G4 on Marshmallow. To be honest I've stopped worrying about having the latest Android OS on my phone. Every one of them promises the earth and mind bending performance improvements and then you get it installed, it's..."meh". I shan't be staying awake waiting for this to arrive. Much like the Google Play store on all those Chromebooks Google said where getting it over a year ago....

Lag, lagg, laggg, and sudden death.

If they wanted to fix their image they should have fixed my bootloop-ed V10 instead of telling me I missed their 15 month extended warranty by three weeks because the went by build date instead of purchase date. Wasn't the story a week or two ago that the G4 and V10 were optimized to run M and N would be problematic. So was that BS or are they going to put out a N update that will make my phone have issues just so they can look good and sell more G6s....?

As a V10 owner, I am concerned that LG would ever consider NOT updating the v10 to Nougat. And the timeline is embarrassing. If LG is trying to create a loyal customer, they are going about in a very odd fashion.