LG Optimus F6 coming to MetroPCS for $199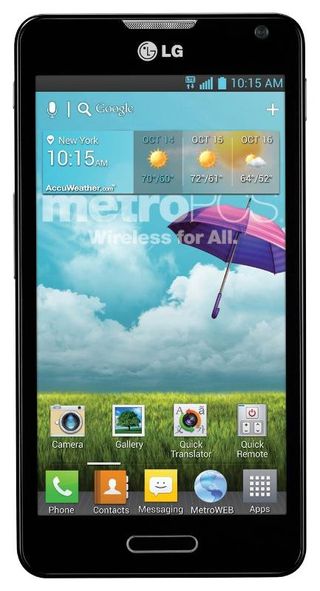 MetroPCS is working to build up its mid-range phone ranks with a new LG device, the Optimus F6. Slotting in above its current LG offerings of the Optimus L9 and Optimus F3, the F6 offers a 4.5-inch 540x960 display, 1.2GHz dual-core processor, 5MP rear camera and running Android 4.1 Jelly Bean.
On the software side the F6 brings over some of the same features introduced on LG's higher-end handsets, like QUickRemote, QuickMemo and QuickTranslator, along with the same look-and-feel across the OS.
The Optimus F6 is a MetroPCS phone by name, but is one of the first devices to run on T-Mobile's HSPA+ and LTE networks rather than MetroPCS' older CDMA network. This marks the transitional period for MetroPCS after its acquisition by T-Mobile earlier this year. The Optimus F6 is available today in-store and online for $199 without a contract, with plans starting at $40 per month.
Source: MetroPCS (PRNewswire)
Andrew was an Executive Editor, U.S. at Android Central between 2012 and 2020.
I don't like metros logo on any phone. But this makes for a compelling device. Better than the L9. Posted via Droid Razr M on the Android Central App

Seems like a low end phone. Not a "mid range" device.

Mid range because of LTE, QHD resolution, and screen size Im suspecting. It has a decent although nothing too special Snapdragon 400 processor.

Will they start letting people bring their own phones? Posted via Android Central App

They have been for a few months now.

Interesting...
So how do they compare to T-Mo's prepaid? is that going away soon?
T-Mo's unlimited prepaid is $70 Vs MetroPCS's $60?
Is there any difference in service?

T-Mobile is not going to do away with their prepay options. MetroPCS is owned by T-Mobile now, so you can use top of the line GSM phone if you want to. So I can conclude the coverage will be exactly the same as T-Mobile coverage. I'm really not sure what's the difference between the two unlimited choice, but the latter does seem the cheaper option + tax. I have to look into the $60unlimited plan myself. Assuming the LTE speed I get from my T-Mobile plan is the same speed as I would get with MetroPCS, then it should be fast. I am not aware of any data cap, T-Mobile cap their unlimited data at 10,000GB.

The $60 unlimited plan includes all fees and taxes, so it is $60 PERIOD. In contrast, with Boost Mobile I was paying an extra 9% in fees and taxes. Last week I was traveling and seldom had access to a good wi-fi connection. So, my Netflix habit depended on the Metro/T-Mobile 4G network. The T-Mobile network was fast enough for Netfix even during peak hours. Their 4G signal was lost in a rural area 40 miles from the nearest truckstop, but even in the boonies the T-Mobile 2G signal was fast enough to stream Pandora Radio. I used about 6GB of data last week. During September I used about 15GB of data. I do not know of any other plan where I could pay a total of $60 a month, including all taxes and fees and be able to feed my 15GB a month Netflix habit.

Not a bad phone...playing with one for hte last few days. Wouldn't make it my main phone, but a great value, and cool specs. Only thing sucks is the Ram size...and you can feel it!

The LG F3 has worked very well for me. Some lower priced phones struggle with Netflix and Temple Run 2. Both run great on my LG F3. The small internal memory will be a problem for larger games. I deleted or disabled many of the pre-installed apps. Then I updated the apps I use, such as Google Maps. Last, I installed my ten favorite apps, including Netflix and Pandora. At that point, I was down to 750mb of internal memory. Some apps can be moved to the SD card, bringing me back to 800mb of memory. There are several games larger than 800mb in size. Not a gamers phone.
Android Central Newsletter
Get the best of Android Central in in your inbox, every day!
Thank you for signing up to Android Central. You will receive a verification email shortly.
There was a problem. Please refresh the page and try again.