LG Optimus 4G LTE arrives on Bell in Canada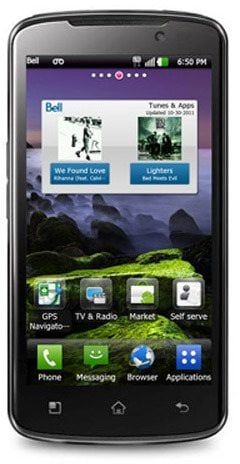 With rumors of the LG Optimus LTE coming to AT&T as the LG Nitro LTE, Canadians are already ahead of the curve on availablity for this one as Bell Mobility has released the device.
As a reminder for those interested in specs you'll be getting a 1.5GHz dual-core processor, an 1830 mAh battery as well as an 8-megapixel rear camera with LED flash, and a 1.3MP shooter up front. That all goes with a full 1GB of RAM and 2GB of internal storage all powered by Android 2.3 Gingerbread. Prices are as follows:
3-Year Contract - $130
2-Year Contract - $580
1-Year Contract - $605
No Contract - $630
Call me a spoil sport but I think if I was going to go no contract, I'd spare my Toy Story piggy bank a brutal beating and just wait for the Samsung Galaxy Nexus considering that will only ring in at $650 no contract come December 8th.
Source: Bell
The GNex is not available on Bell with no contract. It was for a short time yesterday, but they have since withdrawn that option.

It'll come back eventually, they just seemingly don't know what their supply is like at the moment and if Bell won't sell it no contract, their third party retailers will. Been there, done that -- all just a matter of who you ask, much like anything else carrier related. :/

Why not just say it's no contract or 3 years? No one's going to sign 2 years to save 50 bucks. Canadian companies really want to lock you in for 3. And we thought we had it bad. What's a typical ETF for a carrier in Canada?

$400 for the voice, and an additional $100 for data. The $400 is pro-rated and the math is not in favor of the customer.

$300 for voice and an extra $100 for data where I'm at. I'm with virgin on the supertab so if I ever want to upgrade I just pay off the remaining balance of the phone. Which isn't to bad after a year or 2.
Android Central Newsletter
Get the best of Android Central in in your inbox, every day!
Thank you for signing up to Android Central. You will receive a verification email shortly.
There was a problem. Please refresh the page and try again.