LG offers $425 cash or $700 rebate to those affected by bootloop lawsuit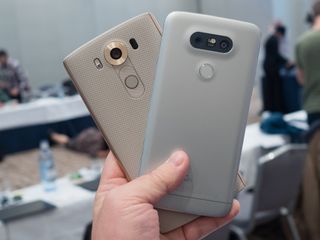 Last March, LG was hit with a class-action lawsuit as a result of its phones being stuck in bootloops and essentially turning into fancy paperweights. This originally started out as a suit from owners of the LG G4 and V10, but it was soon expanded to those that had purchased a V20, G5, or Nexus 5X. This past summer saw the suit go to arbitration, but now LG has officially settled.
With the settlement, LG is offering owners of the above phones two options – a $425 cash payment or a $700 rebate that can be used towards the purchase of a future LG phone. I don't image too many of the people affected by this suit are going to dance with the devil for a second time, but $700 off the V30 or the upcoming G7 is a darn good offer.
Members of the lawsuit are being contacted now, and if you haven't received an update yet, you should within the coming days. All claims need to be filed prior to Monday, February 12, and if you aren't already part of the lawsuit, it sounds like it's too late to join.
The whole bootloop incident isn't a good one for LG and shouldn't have ever happened in the first place, but at least in my opinion, the settlement terms are more than reasonable.
If you were a member of this suit, will you be doing business with LG in the future?
LG might announce an upgraded V30 at MWC instead of the G7
Joe Maring was a Senior Editor for Android Central between 2017 and 2021. You can reach him on Twitter at @JoeMaring1.
Uh oh..LG's new mobile lead is gonna shake things up!

Man that sucks. Wish I had known about that lawsuit. I bought a V20 last year because my V10 was stuck in a bootloop after an update...

My 5x bootlooped but Project Fi replaced it and I've since traded in for a Moto X4, which I like even better for the most part.

Wish they would extend this offer to everyone affected by boot loops rather than just those who were a part of the legal action. I stuck with them after G3 and G4 issues and now have a G6. I'm hoping whatever comes after the V30 will be my next phone.

This has been happening since the Nexus 5. Mine bootloop for no reason and lost it because if it. Then a friends of mine Nexus 5 and also his Nexus 5X, I know of a couple at work that both their V10 also. When I contacted LG about mine they were not helpful at all (lawsuit was already staring but nexus 5 was not part of it). LG lost me as a customer with this and that is why I never buy a Pixel 2 made by LG or a V30 for that matter. What is a shame that just few will receive a compensation when most people that had an LG had problems. With so many other great quality phones from Samsung, Motorola, HTC,
ect., why buy an LG when their phones are not really superior to other brands.

Wow, once again I'm screwed by LG. My G3 went into boot loop exactly 2 years from the date of purchase and it's still sitting in my closest because I had hoped the G3 was going to be added to the suit. Then, AT&T sends me a notification last year in July that one of my lines on month-to-month was eligible for a "Free" G5. I had no reason to doubt the offer since the G6 was already out, and I was aware of the boot loop issues but figured what the heck since I was going to give it to my 12 year old son for his b-day and it was supposed to be free. Fast forward to now, and I'm paying $28/month for the POS along with a few hundred other people I've stumbled across in the AT&T forums the got ripped off as well. The Cherry on top is that the G5 went into boot loop 2 weeks ago. Now I'm left paying several hundred dollars for a phone that was supposed to be free, and I can't file a claim with this lawsuit to rectify this. I may just tell AT&T to put the phone & their Bill for it where the sun doesn't shine.

Wow, yep... AT&T gives exactly zero Fu©%$ for their customers. They sold me a g4 early in the infancy of the bootloop issue and swore that it was fixed for all the ones being shipped now. Of course mine died at 10 months. I've been on the fence about leaving at&t for months. Finally, this April I also done paying for my POS LG phone. I can simply walk away now from both companies.

I bought a V20 and returned it after less than a week. Just didn't like the phone. Do I get $425 anyway? That'd be pretty sweet.

Why is it that when I'm part of a class that gets a $10 gift card, I'm automatically added and told that it's up to me to remove my name from the suit, but when LG's replaced my phone under warranty for bootlooping, and I was planning on buying a V30 anyway, I don't hear about it until after the fact? I thought that companies were under an obligation to reveal the names of people who might have been affected by the class action?

I'm pretty sure I filed to be part of this. My N5x had the bootloop issue and I got it replaced...pretty sure by Google and not LG. Still using that replacement N5x but I've been looking at getting a new phone because my 5x is showing its age. This may be what pushes me into a new phone if I indeed qualify.

And this is the real reason why LG flagships will be announced only when needed. Gotta make sure those rebates are used on older and unchanged cheaper hardware.

No one notified me of anything. I have two 5X's, both purchased through Google Project Fi; one of them has bricked and I have no idea when the other might do the same. So, am I now doubly screwed? Too late to join the suit?

I'm wary of LG smartphones after reading so many bootloop complaints, but this sounds like a fair settlement for members of the lawsuit. I wonder how many LG owners had malfunctioning devices but didn't join the suit, though.

I still have a g4 it's been replaced 4 or 5 times and lg never notified me of this BS and its registered with them. How do I get in on this

Is there anything that prevents another law firm filing another suit? In Civil law there is no double jeopardy. If LG excludes people not part of this suit from filing a claim can't others not part of the original suit get another class action suit filed?

I think the case has been proven.
LG would find it very hard to now refused any claim of the same kind.
Therefore the should just settle without the need to go to court.

That would be true if there was an actual trial. The matter was settled by arbitration. The only people getting anything from this will be those in the original suit and, of course, the lawyers.

My v10 bootlooped in about a year, sucks because I got the phone as a gift so I don't have the receipt. Bought a v20, so far it's a great phone (knocks on wood) LG did inform me that the warranty on the v10 was extended to 30 months.

Got my money back on my wife's V10 bootlooper. It was a $46 Square Trade policy I bought with the phone from Amazon. No deductible on that one. Full phone refund...Her new V20 is protected now as well, though the policy was a little more expensive from B&H than the last. So worth getting a warranty.👌🏻

wow i had 3 of the 5 phones mentioned and i didn't get any email or information about this lawsuit.
Android Central Newsletter
Get the best of Android Central in in your inbox, every day!
Thank you for signing up to Android Central. You will receive a verification email shortly.
There was a problem. Please refresh the page and try again.