LG has reportedly decided to shutter its loss-making smartphone business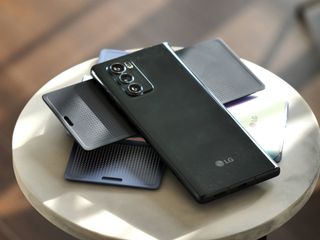 (Image credit: Alex Dobie / Android Central)
What you need to know
LG has apparently decided to quit the smartphone market.
An official announcement regarding the decision could be made as soon as next week.
LG will be relocating its mobile communications employees to other divisions.
LG has apparently decided to wind its mobile communications division and relocate its employees to other business units, according to a new report from The Korea Times. Industry sources told the publication:
The industry sources added that LG will make an official announcement about the decision at its upcoming board meeting on April 5.
When asked for a comment, an LG Electronics spokesperson said:
Back in January, LG confirmed that it was considering "all possibilities" for its smartphone business — including sale, withdrawal, and downsizing. The company had held talks with Vietnamese conglomerate Vingroup and Volkswagen on a possible sale of its mobile business division, but the negotiations fell through. Since it couldn't find a buyer, the company is said to have recently decided to pull out of the smartphone market altogether.
Not only has LG's market share in the global smartphone market seen a significant decline over the last few years, but the mobile business division has also not posted a profit in over five years. Even though LG launched innovative devices like the Wing to challenge the best Android phones last year, it hasn't been successful in attracting consumers.
Get the Android Central Newsletter
Instant access to breaking news, the hottest reviews, great deals and helpful tips.
LG has nobody to blame but themselves. Updates & marketing, always the worst. You can't continue to lose 💰🤑, 4 billion dollars is a whole lot of moo-la over the years? A very sad story indeed!

LG hasn't been successful because they don't listen to customers, they suck at updates and their UI is a poor rip-off of Samsung's superior one ui, along with the ui always being buggy and never fixing these bugs so for all the innovation that LG has done, its their software that's been neglected, so LG are where they deserve to be and no one will miss them but the most diehard LG fans on here. Goodbye and good riddance.

Perhaps one of the things they should be considered should've been making smaller phones that consumers in the West prefer and having much better customer support.

The majority of consumers prefer big phones but as there's definitely a market for smaller phones as we've seen with the success or the iPhone SE but then again the iPhone 12 mini was a flop so while there's a market for smaller phones those that want a smaller phone are still in the minority.

It's too bad. LG made some good phones they were overpriced, and updates took forever, but the LG V30 I had was a great phone. I never had an issue with it and it had really good battery life for the time. I can't help but think if they priced their phones more aggressively they might still be in the game. Unfortunately, they wanted Samsung money when they should have been pricing like OnePlus. 2 events really sealed their fate IMHO. 1 when they introduced the 1st "modular" phone which flopped hard. the 2nd was the big stink about the OLED screen on the V30 which was greatly blown out of proportion. But they never recovered from either.

I had that modular phone and loved it, but never had any of the accessories beyond a second battery.

Americans will continue to suffer from a lack of diversity. Samsung and Apple dominate, Google can't get any traction, and Oneplus is a long way off from meaningfully affecting the market. LG probably wasn't going to save us, but still sad.

Looks like my next phone will be a TCL 10 5G or a Pixel of some kind. Ah well so long old friend.

LG has had little consistency over the years. Back in 2012 I felt they were a Samsung clone until their G and V lines came about. Then almost every year they try something different as they struggle for market share. The G3/G4 did well from my perspective as a Verizon employee, were solid devices with excellent cameras, until the boot loop issues began. Then while LG was having quality issues Samsung came along and sent employees to personally train us on their products, provide the stores with displays including phones(other brands we paid for the demo phone), gave us free merchandise in exchange for completing training courses online, chose employees to become advocates whom would receive free phones in exchange for recommending Samsung to everyone. Then came the commission bonuses for selling Samsung products as a further incentive. Can't speak for the world but Samsung bought the US market while LG and HTC slowly died. Let's not forget the horrible G5 either. That phone was a flop, no one wanted to sell it.

Boot loop issues did it for me. We had G4s that both boot looped. While I went to a G5 and my wife a G6, we still left right after that.

Yes piggy, I had two bootloopers the G3 & V10. Then the worst, they never at that time took responsibility & turned around & tried to blame the users? I said back then, never again!

Boot loop experienced by the LG Nexus 5 and of course that only manifested after a year when there's nothing you could do.

Not going to miss one bit, always they used to make crappy useless carrier models only and didn't offer non carrier models in the US for many recent models. Get out of making phones anyway they were making bad carrier phones filled with carrier bloat. At least other companies give options to buy non carrier models.