LG G6 coming to Sprint on April 7 for $708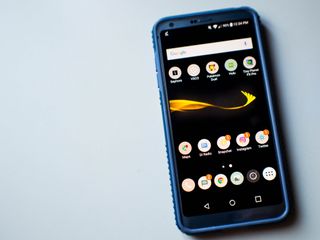 Last, but not least, Sprint has finally released details on its part in the LG G6 launch. The shiny metal-and-glass smartphone will debut on April 7 at Sprint stores and online for $708.
Sprint is using the G6 launch as a way to herald its network's High Performance User Equipment (HPUE) abilities. What does that mean? To you, dear user, it doesn't mean too much. For the most part, LG is part of a broad range of manufacturers have signed on to this particular 2.5GHz standard, which makes it easier for devices like the G6 to latch on to cell towers.
The G6 also comes equipped with other you-facing features, including Google Assistant, wide-angle cameras, and few gimmicks. If you're looking to jump into a monthly payment plan, Sprint will offer the G6 for $29.50 a month for 24 months. Sprint is also throwing in a free 49-inch LG television, as well as honoring the promotion for Google Home. Interestingly, Sprint's free Google Home offering extends through May 11, compared to LG's original end date of April 30.
Be an expert in 5 minutes
Get the latest news from Android Central, your trusted companion in the world of Android
Florence Ion was formerly an editor and columnist at Android Central. She writes about Android-powered devices of all types and explores their usefulness in her everyday life. You can follow her on Twitter or watch her Tuesday nights on All About Android.