LG G5 versus G4 versus G3: Quick spec comparison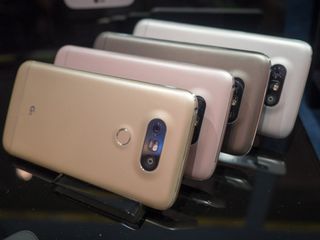 With today's announcement of the LG G5, LG's premium G-series enters a new era, with an aluminum body, dual rear cameras and modular attachments. We've come a long way since the first 2K mainstream smartphone, the LG G3, back in 2014. To see just how far we've come, check out our quick spec comparison down below.
Category
LG G5
LG G4
LG G3
Operating System
Android 6.0.1
Android 6.0 (with upgrade)
Android 6.0 (with upgrade)
Processor
Snapdragon 820
Snapdragon 808
Snapdragon 801
Display
5.3-inch IPS quad-HD quantum display (2560x1440, 554 dpi)
5.5-inch IPS quad-HD quantum display (2560x1440, 538 dpi)
5.3-inch IPS LCD display (2560x1440, 538 dpi)
Storage
32GB UFS ROM, microSD up to 2TB
32GB, microSD up to 2TB
16/32GB, microSD up to 2TB
RAM
4GB LPDDR4
3GB LPDDR3
2/3GB LPDDR3
Rear camera
16MP main, 8MP wide-angle (135 degrees)
16MP main (f/1.8)
13MP main
Front camera
8MP
8MP
2.1MP
Battery
2800 mAh removable
3000 mAh removable
3000 mAh removable
Modules
LG Cam Plus (camera grip with 1100 mAh)
B&O Hi-Fi audio
N/A
N/A
Dimensions
149.4 x 73.9 x 7.7mm
148.9 x 76.1 x 6.3 - 9.8 mm
146.3 mm x 74.6 mm x 8.9 mm
Weight
159 grams
155 grams
149 grams
Networks
LTE/3G/2G
LTE/3G/2G
LTE/3G/2G
Connectivity
Wifi 802.11a/b/g/n/ac
USB Type C, NFC, Bluetooth 4.2
Wifi 802.11a/b/g/n/ac
microUSB, NFC, Bluetooth 4.1
Wifi 802.11a/b/g/n/ac
microUSB, NFC, Bluetooth 4.0
Colors
Silver/Titan/Gold/Pink
Titan/White/Gold, leather back options
Titan/White/Gold
Alex was with Android Central for over a decade, producing written and video content for the site, and served as global Executive Editor from 2016 to 2022.
Really dissapponted its taller than the g4 but with a smaller screen..... Thats not moving forward

Agreed, and its heavier too. Posted via the Android Central App

Are you kidding me? It's only 4 grams heavier! that's 0.14 ounces or 0.0088 lbs. I guarantee if they told you it was 4 grams lighter you wouldn't know the difference without putting it on a scale.

It's... Magic. Posted via the Android Central App

Yup. Apparently the "thinner and lighter every year" trend has finally died off. I was really bummed to see that the physical dimensions of this phone vs its screen size. I guess those modules take up a lot of space. Say what you will about removable batteries, but you can have a phone that is so much thinner and more compact if the battery is sealed inside.

Not true at all with regard to thickness and removable batteries. The LG G5 is the same exact thickness as the Nexus 6P (7.3mm) and it's thinner than the Nexus 5x (7.9mm) and both of those have batteries sealed inside. Even the iPhone 6 Plus is only 0.2mm thinner which is about the thickness of 2 or three human hairs depending on what nationality you are. Personally I like a little thicker heavier phone... Especially if it has a bit more battery. I don't go putting extended batteries on my phone and I also don't want it to be so thin and structurally weak that it gets bent if someone accidentally sits on it. Didn't done of the iPhones or Galaxy S's have a problem with that a while back? Also I don't know that metal is the best thing to make a phone chassy out of. Plastic may seem cheap and may even be cheaper but sometimes it's actually better because it can take a little bend and snap right back without staying bent... That's why they call it plastic deformation :)

I compare everything to what I have and I think any other phone would be easier to use, Samsung Galaxy Mega aside. Nexus 6

I like that the screen is slightly smaller so it's not as wide as the G4. However the design is boring some might say ugly and they gave it a smaller battery. Also, LG will be giving those modules away soon just wait and see. Surprised they didn't have an extended battery module and quick charge module at launch. Is quick-charge built in?

Type-C as far as I know already has a form of fast charging but not sure if it's the Qualcomm certified version, even though it'd make sense. Posted via the Android Central App

Sorry I'm still sleepy, I meant wireless charging!

I think wireless charging is dead. Nobody is doing it but Samsung these days.

Kinda surprised they didn't use the V10 in the comparison as well but of course, it's essentially a G4 with a fingerprint sensor, extra screen and built-in ESS DAC. Posted via the Android Central App

V10 wins Posted via the Android Central App

I'll be sticking with the G4 unless it breaks prematurely. Then maybe I'll consider that, but I don't think I like it enough to displace the Galaxy S7.

2800 mah battery? Really? I think the phone is ugly. I'll stay with the 6p for now, thanks. Posted via the Android Central App

Better than the battery in the Galaxy S6!

Not by much, though. The G5 is actually physically bigger than the S6. Had it been the same size, I would assume the battery would be about the same.

Ugly? It looks like your 6P lol Posted via LG H815

The 3000 mAh battery in my G4 has 30% left at the end of a heavy-usage day. The G5 has a smaller screen and more efficient processor, so a 7% in battery capacity decrease will hardly make a difference. And you can swap out the battery to be fully charged in a half a minute

Also smaller battery...did they not learn from the GS6?

By going with a smaller battery, they must be counting on more efficient performance from the 820 and the smaller screen. I would've stuffed a 3000mah battery in there somehow. I'm not interested in going smaller from the G4, however. If anything, I want a bigger screen. Posted via the Android Central App

AC needs to fix scrolling on the app Posted via the Android Central App

Every time I see a spec comparison I just put my phone into landscape for this very reason. Scrolling sideways is a pain. It wants to go to the next article vs scrolling the spec sheet instead. Its annoying. I'm not sure how they can fix it. Posted using my Moto Maker Moto X Pure Edition on Verizon... Unlimited Data as well...Android Central App helped as well ;)

Either that or hit the 3 dot menu and go to web view. Posted via the Android Central App

What's wrong with it? I'm using the app too but don't have any issues with scrolling.

Put one finger on the screen and scroll side to side with another. Posted via the Android Central App

I don't know about everyone else, but I like to look at the display when I use my phone, not stare at the back. Not sure why people complain about backs of phones. Nexus 6

Will definitely use my Jump On Demand for this and swap my V10 out. LG continues to bring something different to the field and not the same old iPhone clones. Posted via the Android Central App

Smaller screen, gimmicky top screen, smaller battery, no curved back, no back buttons...... Loud sigh.... I'm out........ Posted via the Android Central App

So far this phone seems as a disappointment. The g4 and v10 are a better buy. I was hoping to go LG for this half of the year to before the note 6. Looks like I'll have to look at the s7 specs when they release them or just keep my note 5

At this point, I'll keep my G4 with Qi wireless charging back. I have been considering the V10, though. The G5 just seems to gimmicky.

Not sure what to think of this. All the Tech Journalists seem to have received this positively, however, potential end users appear to be disappointed. What do you think went wrong? Too gimmicky? Ugly looking? I know its boring but I actually lile having the choicr of black coloured phones. Posted via the Android Central App

How is the DPI on the G5 higher than the G3 when it has the same resolution and screen size?
Android Central Newsletter
Get the best of Android Central in in your inbox, every day!
Thank you for signing up to Android Central. You will receive a verification email shortly.
There was a problem. Please refresh the page and try again.