T-Mobile LG G4 getting a 'mandatory' stability update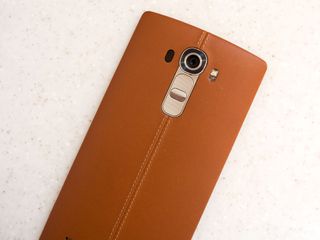 Owners of the LG G4 are currently receiving an update on T-Mobile. We've spotted a handful of reports over on our forum, as well as a few shots of the update notification. If you're rocking the latest flagship smartphone from LG, you may want to check for updates.
Reports point to a 174.1MB bump to version 10h. You'll be able to check what version you're rocking by going to "System settings > About phone > Software info". OS version remains on Lollipop 5.1. We're yet to receive the notification on our own units, but here's what you can expect to see post-updating:
T-Mobile's official documentation (opens in new tab) says it's a mandatory update that "improves software stability." Have you received the update for your LG G4? Let us know in the comments and be sure to join in the discussion with other owners over on our LG G4 forum.
I just got my T-Mobile G4 last Wednesday the 4th and my phone came with this software version.

Interesting! Mine is on 10d, got it over the weekend I'm interested to see the change log Posted via the Android Central App

Quite interesting! I guess we will see soon enough :)

Weird. I got mine last Wednesday too but have 10d.

Can you please help me understand what is 10d. I just bought my LG g4 2 weeks ago n I have notice how hot it get n how it not responding to the double tap. Thanks

THE NSA BACKDOOR...! Still using the Sprint GSIII on FreedomPop Unlimited for $19.99

Mine is on 10h as well. Ordered as soon as it was avail. Posted via the Android Central App

Ordered min also as soon as it was available got it on 5/28/15 but mine is on 10d, now the question is which version do you have? Lather back or Gray Plastic? I have the Gray Posted via the Android Central App

Mine is the Gray as well.

And you have the update or not? You are on 10d or 10h? Posted via the Android Central App

My phone came with 10h from T-Mobile.

I'm on 10d. No update yet. Phone ordered May 27. (light brown leather back)

Just picked up the leather back from t-mobile on the 9th and it is on "d" . The manufacturing date on the box says 5-2015. Not sure if that makes any difference or not. No update so far at 10:24 EST.

AT&T one got an update yesterday or the day before.

That was only 27mb and it was forced on them. Posted via the Android Central App cuz Android Police doesn't have an app yet :(

That's right. :-)
I believe this one is also mandatory though, as per the title of the article, right?

Guess I didn't see that in the title or they changed the title on us lol probably the former. Posted via the Android Central App cuz Android Police doesn't have an app yet :(

Purchased on 6/3 from T-Mobile and it has 10h already. Posted via the Android Central App

Bought Leather back on the 3rd and mine came with 10h as well.

Ordered mine the first day it was available and I'm 10d. Hopefully this isn't too off topic, but is there a clear plastic protective sticker on the camera lens of the G4 out of the box? It sure doesn't look like there is one on mine, but it seems odd that they wouldn't have put one on.

Looks like whoever is on 10d will be getting the update sometime soon to bring it to 10h Posted via the Android Central App

10d with brown leather here. Got mine 6/3. Waiting game I guess. I felt overall speed the Nexus 6 still edge out the G4 for me. Love the camera here though. Can't really complain.

Seems unnecessary, but ok. I'm on 10d, grey plastic version. Picked up from the strore on Friday last week.

Already? I ordered my g4 back in May, just looked and no updates yet running 10d

How is everyone enjoying their new G4's? Was it a worthy upgrade from the G3? Posted Via The AT&T Note 4

More than worthy upgrade for me. Switched from Sprint to T-Mobile, but my G4 is so smooth and fast, much better than the lag I had on my G3. I'm really pleased so far.

Got my update last night. Phone seems to be cooler to touch during normal usage like in camera. It was getting pretty warm before the update. Battery life seems better but need ore time to tell for sure. Also phone seems snappier. Some transitions that used to be choppy especially when phone was warm don't lag anymore. Posted via the Android Central App

Bought Brown leather when first released still on 10D look at update says I'mup to hope they unlock the bootloader

Isn't all software updates mandatory in that they get pushed to your device regardless. Posted via the Android Central App on my Nexus 5 or Nexus 7 2013

Normally they show in the notification bar after they are automatically downloaded and you have to acknowledge it to do the actual install. This one just reboots the phone unexpectedly after the download is complete. That's makes it pretty mandatory. :)

I ordered mine the first day and got it on that Friday. It already has 10H. Posted via the Android Central App

Is there any way to "fast track" this installation? I thought TMo had a software installer program you can download but I can't seem to find it. Brown leather 10d user here, purchased 6/6

I just called tech support because my wife's g4 wasn't getting sms or attachments into her email accounts. They had to reset the APN. All is well now but I asked if they could push out the new update and they said no. It's done in batches and they started going out this morning. They are sent out automatically by a preset list in the system. So that is that. It'll come when it comes!

Got my gray plastic on 5/27 and came with 10h Posted via the Android Central App

On 10d with the brown leather. Bought it on 6/3. Hope the update fixes the random bog downs I've been getting. And increase battery life, battery life has been crap for me Posted via the Android Central App

Got my update this morning Posted via the Android Central App

Mine did the upgrade this morning unexpectedly. Posted via the Android Central App

I got mine already... Don't even know when.

I have not gottent my update yet, but hopefully it will resolve my very unstable wireless connection. I cannot download files from my server(s) and it forces me to restart my wifi connection to get it working once more.

Mine was updated at some point, not sure when. Phone seems to be running a little better now.

Mine has 10h and I have another update to install. Says update size is 353.5mb anyone know what this update may be?
Android Central Newsletter
Get the best of Android Central in in your inbox, every day!
Thank you for signing up to Android Central. You will receive a verification email shortly.
There was a problem. Please refresh the page and try again.