LG G3 Vigor arrives on AT&T Sept. 26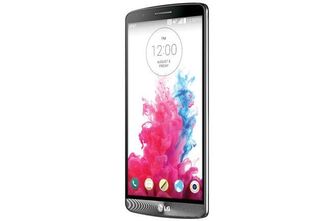 Come Friday, if you're interested in the LG G3's little brother, you can grab the LG G3 Vigor from AT&T starting September 26 for $334.99 without a contract. The mid-ranger will also support AT&T's HD Voice for clearer calls where available and delivers a lot of the styling from LG's flagship phone.
The G3 Vigor will also be available on AT&T's Next plans or for just $49.99 with a two-year service agreement. With Next, you're looking at $13.96 per month for the Next 18 plan or $16.75 per month for the Next 12 plan.
Many of the features from the LG G3 are present on the Vigor, though you're scaling down to a 5-inch 720p HD IPS display.
So on Friday, will you be picking the LG G3 Vigor on AT&T or the Samsung Galaxy Alpha, which will also be available on the same day?
Source: PR Newswire
Get the Android Central Newsletter
Instant access to breaking news, the hottest reviews, great deals and helpful tips.
55 inch! I see what people mean when they say phones are getting bigger. Posted via Galaxy ace plus running Speedmod 2.5 with Xposed

Scaling down to a 55" display, hmm. I knew the trend was for larger screens but wow! Posted via Android Central App

The specs on the alpha are better, i believe that camera will even be better. Other then that is the Alpha worth an additional 300$. Form factor is gonna be the Alpha's #1 appeal.

Lol Posted via the Android Central App

I thought this was a 5 inch display. If so I think it's got the alpha beat even sans metal.

Just curious what parts of the Vigor do u believe have the alpha beat?

Form factor given LG's styling with bezels. Some may say ips beats SAMOLED but that's preference. Processor and ram go to Samsung. Camera as well. LG gets points for screen size in dimensions not that much larger than Samsung. 0.5 cm wider and taller. The height isn't that big of a deal with LG's rear buttons. LG also has removable higher capacity battery and expandable storage something Samsung benched for the alpha. Software is a wash.

LG is even throwing in the new laser auto-focus from the G3 onto the Vigor. The Vigor will have the knock code functionality from the G3 as well. You also have wifi calling on the Sprint version. Some would disagree software is a wash compared with Bloatwiz. Also, as nice as the Alpha is, those iconic 'old school' physical buttons make it less appealing to those not stuck in that rut.

I'm gonna need bigger pockets Posted via Android Central App

The Vigor has more in common with the Vista than the G3. It's practically a Vista Mini (if you can call 5 in. mini). You are still better off buying last year's Optimus G Pro that has a better screen, cameras, and processor with more ram and storage for only $35 more on att.com. I know it's .5 in. larger, and for some that's a turn off, but you get way more bang for your buck with the Optimus G for a small price increase.

I'm pretty sure it's only 5 inches. The regular G3 is 5.5.

It could at least have 1080p. Nexus 5 anyone??? AC App via Nexus 5

Vigor ... Alpha...... See no need for these devices... Mid tier specs are just annoying imo Posted via the Android Central App

Unless you have mid tier budget. Not everybody can spend $600 on flagship phones yearly or every 2 years. So this phone is perfect for them. Price wise I'm not sure these phones are in the same category. I care very little about Samsung products so I'm not sure what they're charging for the alpha but with a Snapdragon 801 I'm assuming $500 to $600. Posted via Android Central App

Followed the link to alpha article and it cost nearly double what the vigor cost. How are these phones even mentioned in the same sentence? Posted via Android Central App

It looks great but the screen and RAM are a deal breaker for me. It should have a 1080p screen and 2GB of RAM imo.

I do not like my new gsm vigor at all..was not an upgrade from my Samsung G4 MINI. what someone who is great with cell phones tell me how I can share a video or picture via facebook as it does not show up at the option On share button at all it does give me a lot of options but not facebook, any help would be appreciated thank you. In fact I think I HAD a Samsung g3 mini..def not an upgrade. Ugh disappointed..need help adding fb to share pic or video or web link or web page thru the via....

I am replying to ANYONE..thank you