The LG G3 and two more Android devices get July shipping dates for T-Mobile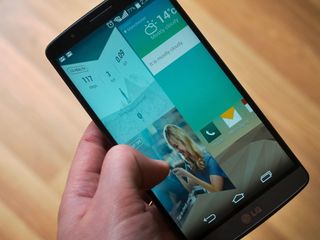 Fancy an LG G3 on T-Mobile? Then you might want to get your wallets ready for July 16. That's the day that the LG G3 is expected to make an appearance on the Uncarrier network. We should also see two more Android devices join T-Mobile just a few days after that.
Sources to TmoNews indicate that the LG flagship should be on store shelves July 16th. Those same sources also state that the Sony Xperia T2 Ultra should be available at T-Mobile on July 23. The Xperia T2 Ultra is a mid-range phone with a 6-inch 720p display and a Snapdragon 400 processor.
The Samsung Galaxy Tab 4 is also expected to hit T-Mobile on July 23. Should you pick that tablet up? Read our review of the Galaxy Tab 4 to find out.
July will be a busy month for Android fans on T-Mobile. Which of these devices are you thinking of picking up?
Source: TmoNews
Get the Android Central Newsletter
Instant access to breaking news, the hottest reviews, great deals and helpful tips.
I want a new Nexus! Prefer a mid-size phone. Posted via Android Central App

Something like m8 size without soft buttons

Wait till fall. Posted via Android Central App

Let's hope! Nexus phones have been my daily drivers since I switched from BB to Android (this was soon after the Nexus One was launched), but if the next Nexus is any wider or taller than the N5, I'll look elsewhere. Posted via Android Central App

What exactly is a FLAGSHIP device? Posted via Android Central App

Any pricing info? Outright purchase price?

If it follows UK pricing then it'll be $650 Posted via Android Central App

$650 most likely plus or minus 50. Nothing new on that. Posted via Android Central App

So a few more weeks until the G3 finally makes it to US carrier shelves.

Awaiting the Galaxy Note 4 as well as the Galaxy Tab S 8.4 LTE tablet and the Galaxy Solo or Gear 3 in October. From my Galaxy Note 3 via Android Central App

You're not even the real Richard. Brought to you by the Nexus M8

this could be the kinder gentler Richard

I doubt it. If you go look at the real Richard Yarrell profile on Disqus he is still spewing his inflammatory comments all over the last few websites that haven't banned him yet. This guy missed the mark by not saying the stupid "Plain and simple yada yada yada" crap that he says in every comment.

+1 Posted via Android Central App

What is it with you all hatred for this guy Posted via Android Central App

I don't hate him. This guy is just faking his identity. Brought to you by the Nexus M8

Idk I kinda liked him because I always get a good laugh reading his stubborn comments whenever I commute in the morning Posted via Android Central App

This is definitely the real Richard. Don't be fooled. From my Galaxy Note 3 via Android Central App

The real Yarrell would've had this... "Plain and simple, nothing beats Samsung, period."

I also waiting on the Note 4 to arrive on AT&T. I hear its coming in October. Correct me if I am wrong Posted Via AT&T Galaxy Note 3

Yes I am also waiting on the note 4. Posted via Android Central App

Provide Test Drive models LG :P It's the only way I see any Android devices stealing a significant marketshare from samsung sadly.

You mean any other Android devices, right? Samsung is Android. Posted via Android Central App

yeah I meant any other Android devices.

Nah people are just going to buy Samsung blindly. I was talking to my insurance guy and he was saying my Nexus looks thin and nice and he is planning to buy a new phone since he is due for upgrade. I asked him what phone he has, he told GS3 and will just upgrade to GS5. He was not even interested in knowing about other phones. Posted via Android Central App

So? If he's not a gadget-obsessed nerd like we are, and he's been happy with his Galaxy S phone for the last two years, why wouldn't he just upgrade to the same line? Posted via Android Central App

I make love to my note 3 everyday and will get the 4 when it drops. When I say that I make love to my note 3, I mean that I use it everyday lol. Posted via Android Central App

Haha we know what you mean alright. Posted via Android Central App

Love my g2,so the g3 looks great. M8 or g3 for me, battery replacement and better camera vs those speakers and great build and ui. Posted via Android Central App

I'm deciding between the same two phones, same reasoning and everything. I think I'm going to go for the G3. I have a Galaxy S3 now (fml) and can't wait for the G3 to come to the States.

July 16th is the day I make my last car payment! This phone might come right on time!

Congratulations! Posted via Android Central App

Thanks! I'm elated! Posted via Android Central App

In my experience, July 17 would bring a car-payment-size repair of some sort. :( Posted via Android Central App

Lol you rained on the man's parade before it could even get started Posted via Android Central App

It is the paid off car curse. I've heard of it, and I want none of it! Luckily, I bought a full extended warranty direct from the manufacturer. I have worry free driving for another year.

Congrats! Just in time to buy an Android Auto-equipped car soon, right? ;-) Posted via Android Central App

I think not! :-) I've learned my lesson. This car will be paid off, and the payment will go in the bank. Of course, I'll periodically withdraw to buy new gadgets.
Posted via Android Central App

I think the Marketing Department based the Release on your car payment....

In looking forward to the G3. Just not sure if I will give up my HTC One M8 for it. I'll have to compare each UI first. Posted via Android Central App

I'd have been all over the g3 when it was announced last month. But now I may just wait & see what moto has in store with the x+1. It'll be interesting to see how that looks when paired with the moto360.
Posted via Android Central App

Same here, unfortunately.

Then you'll be waiting for the next nexus....then you'll be waiting for CES in January. Buy the phone you like, if you want to swap it .........sell it and buy what you want.

Me, too. I'm going to stick with my N5 until the next Nexus is released, and then I'll probably decide between that and whatever the Moto X successor is. It'll probably come down to form factor at this point. Posted via Android Central App

I always want the latest and greatest, but after Android L announcement, the Nexus 5 or Moto X is still the way to go. LG took too long to release in the US for me.
Posted via Android Central App

I'm saying good bye to my S5 when the G3 hits AT&T, hopefully we hear about a release for all US carriers soon.

Not like gs5? Posted via Android Central App

I'm also waiting for the ATT release. But I'm afraid it's gonna be August before it finally get here. Not sure if my patience, or current phone, will last that long.

Lg took way too long to release. And they made a mistake by using the 801sd instead of waiting for the 805sd. I'm keeping my mint condition S5 until the note 4 comes out this fall. I think lg is nothing more than a fake Samsung. Only company that gets my $$$ is Sammy and maybe HTC. Posted via Android Central App/GS5

Agree. I think it would have been better to wait and release the g3 with the snapdragon805 when it was ready rather than rush out the snap801. Nothing wrong with the snap801, just with the 2k screen, 805 would have been highly preferred. That and a larger battery.

There's nothing wrong with the Snapdragon 801 just like you said. Having the 805 wouldn't have made a difference. You people just like yapping about insignificaant specs.

A youtube review of the 805 in the Korean Version of the Samsung Prime / "F" (still the plastic model not the metal model we'll get this fall) shows there is a difference when compared to the S5 standard edition with an 801.. not to mention once games / video are compiled to take advantage of the new flagship standard 1440P resolution you will see a huge difference in performance.

LG a fake Samsung? OK lets see here.....LG has buttons on the back. Does Sammy? LG has light flow built in. Does Sammy? The power button lights up on the back when there's a notification. Does Sammy? Headphone jack on the bottom. Is Sammy's? LG's screen is IPS. Is Sammy's? LG has on screen buttons. Does Sammy? Plus the UI is different in so many ways. If every manufacturer waited for the newest proc to be released before releasing a top end phone, new phones would never be released. You're forgetting these phones have been in development for at least a year before production and the 805 was released yet.

LG is better than Samsung and for the second year in a row has out-innovated Samsung. Their UI is cleaner and they have advanced battery tech to make sure that the QHD screen doesn't negatively affect the battery life. Posted via Android Central App

Lol the ignorance is real, I feel bad for you if Samsung gets all your money. I bought my s4 and as soon I pay it off I'm gonna sell it for something better. (Hint: lg ) Posted via My Ever-Bloated S4

want the prime version and i hope its true. Otherwise getting the nexus 6. This fall is so getting really exciting. so many phones to choose from.

and so far you have named none of them

Now that we know Nexus is here to stay.. the Nexus 6, Note 4, Samsung S5F, HTC M8+ and G3 Prime all come to my mind Nex.. :-) Black Friday / Cyber Monday is going to be something else in 2014...

Will the only one you mentioned that is absolutely real is the Note 4. We are not sure what the f is, the others are rumor and the N6 is wishful thinking Posted via Android Central App

I respectfully disagree Nex..
The Google employee said at I/O Nexus is alive and well.. Thus the Nexus 6 will be right on schedule. NO WAY Samsung and HTC are going to let LG have a full year with the only flagship with a 1440P screen..The Note 4 is a Phablet Class device..and its size is too big for the masses.. even though it will sport 1440P. Samsung already has the 805 driven LTE-A in Korea and can choose to export it anytime they please.. (there is a good video on youtube) they just decided not to piss off S5 purchasers and are giving the standard S5 owners time to have "The Flagship" in the S5 for 6 months..you'll see the F / Prime when the time is right.. Same can be said about the M8.. Sammy and HTC HAVE to have 1440P devices in 2014. And they will be powered by the Snapdragon 805.. you already seen multiple sources report last week that LG has seen the light and are prepping their own 805 based G3 for release at a future date.

Just ordered an lg g2 for the wife since they completely forgot about the Xperia z. I will not be buying any Sony phones for a while. Posted via Nexus 5 Android Central App

Tmobile Sony phones are screwed as far as support goes.. My buddy is still on 4.1 on his Z. Great phone anyways though Posted via My Ever-Bloated S4

I will get a g3 but keep my nexus 5 as well. Posted via Android Central App

LG really dropped the ball on releasing it close to announcing it. Not sure why OEM's can't announce it and then launch it right away. Guess HTC and apple are the only ones who got the memo.

Don't worry about it. The LG G3 is currently the only Android handset that will compare head to head with the 5.5 iPhone 6. http://www.loadthegame.com/2014/06/26/iphone-6-vs-lg-g3-upcoming-smartph...

What about the 5.7 inch Note 3? Or the dozens of other Android phablets? A 5.5-inch iPhone to me is just a bloated iPhone.

Don't mind dumbo, he is just wrong.... All the time Posted via Android Central App

LOL. "The G3 is the only Android phone that can compete with the 5.5" iPhone 6" *Completely misses the G2, Note 3, Note 2, One Max, OG Note, Oppo N1, S5, One M8, etc.* Yup. Dumbo indeed.

I agree, call me "whinny, spoiled, whatever" I want a phone when the announce it. I would have bought it on day one, I'm tire of my Samsung S4. I have had Samsung for 4 years now, and have grown tired of them. I was super interested in the G3 and the OnePlus One (I know they are completely diff) but NEITHER were availbile to purchase. O well I guess, probably tomorrow another "highend" phone will be "announced" and i'll be waiting some more.... O, and for all you people who do nothing but bash people for THEIR OPINION get a life!

They have my attention. Looking to drop sprint but the g3 is the only worthwhile upgrade for me. Posted via Android Central App

Don't drop Sprint. You break break it.

Man all you guys like to get a new phone every week it sounds like
Posted from my Nexus 7 2013 running Android L or Samsung galaxy S5

That's what I'm thinking too haha Posted via Android Central App

I'm pretty sure that with JUMP, and if some people on T-Mobile had the money - sadly not one of them - they'd just use JUMP every month or so just to change out phones. I'll probably jump to a G3 from my Note 3, then to a Note 4 from the G3.

That's exactly what I'm going to do!

I'm glad you guys can afford the newest and latest, I have to wait next year and half when it's cheaper. Posted via Android Central App

I want to replace my aging Nexus 4 with a new LTE phone that will work on T-Mobile. I put off getting one because LTE was not available where I live, now that it is here I need a phone that will take advantage of the LTE. Also liking that I can stream Slacker without impacting my data.

You can get LTE with T-Mobile on your Nexus 4 if you are willing to root it, and flash another radio. Everything you need to know is available on the XDA forums. Posted via Android Central App

Or every time you get an LTE signal it'll kill your radio until you restart your phone. I could complain, but the Nexus 4 wasn't meant for LTE.

LTE worked fine for me on the Nexus 4 when I had it. You were doing it wrong Posted via Android Central App

@Nilla
Then you were doing something wrong. I have been using LTE on my Nexus 4 for quite some time with no issues. There are even roms now that come with it built in.... Basically an all in one package.
Posted via Android Central App

I like my Nexus 4 the way it is and never had a reason to root it. I will look at XDA forums to see how to add a LTE radio on rooted N4. Posted via Android Central App

I'm holding steady with my Galaxy S4, and waiting for the Snapdragon 810, and that new USB 3.1 charging standard to reach the market. For the time being, the S4 is a very capable smartphone. Posted via Android Central App

Or you could wait for the Snapdragon 900 and USB 4.0.... Although the S4 is a nice hold over.

SD900?? LOL! As soon as the 900 is released (if ever) the 901 will be announced. :)

Damn Don't Do That !
Leave the 901 alone....
The Snapdragon 905 is what will be needed to power the 4K Screen... the 901 will just barely push it.. and definitely show lag in some transitions..

OK! OK! Well what about that 4K screen and batt life? We will need a 20000mAh to last 5 hours but the transitions will be buttery smooth....like Parkay....:)

You're forgetting that at the same time they release 4K phones they'll have wireless charging capabilities that can use our own electric bio-metrics to charge, thus we only need a 10000 mAh battery for standby power when it's not in thinner pockets or our hands :)

My wife is very happy about this her just is on the 12th of july lol. I might grab this as well I have the note 3 atm its a damn fine phone but im getting get bored with it. When the event for the note 4 maybe I can hold out lol Posted via Android Central App

How much will they be selling the T2 Ultra for? Is it a good buy? Posted via Android Central App with LG Google Nexus 4

Probably one of the best questions I've seen on this article. If I were to guess since it's a mid-range phone with some pretty decent specs(I'd compare them to that of an LTE Galaxy S3 but slightly better/worse[better battery, bigger screen, newer processor, worse internal storage, only on 4.3 at launch]) the off-contract price would be around $459.99-579.99. I'd say based on your use of a Nexus 4, the T2 Ultra would be a step from the Nexus, not necessarily up or down. You'll gain a microSD card slot, lose some internal storage; gain a larger screen, lose some one handed capability if you have smaller hands; gain a newer slightly faster processor, lose the Nexus update profile (sadly Nexus 4 probably only has the first implementation of Android L in it's future); gain a SONY camera sensor, lose a camera that could have been better. If you don't mind dabbling with rooting and ROMing, the T2 could probably have Android L put on it. I'd say it's worth a shot :)

That price guess is probably a bit high.

So excited for this phone! Posted via Android Central App

I currently have the M7 and in the need of an upgrade with Verizon, but I'm not sure if I should just go for the M8 or wait for the G3 or Z2 ... Any suggestions? Posted via Android Central App

M8 is best buy. Posted via Android Central App

90% ppls on android need better processor than quadcore 2.5 than reading faceb watching utube playing angrybirds asphalt8 using camera selfie Posted via Android Central App

Use M8 faster than every phone and best experience with games everything
Posted via Android Central App

Nexus 5 Now Available in Yellow Color
http://www.androiddiscuss.net/nexus-5-now-available-in-yellow-color/

I would like to try the LG G3. Because it's new but I will stay with my Moto X. Posted via Android Central App

Not sure if a 6 inch phone from Sony would be too comfortable to use. Any 6 inch for that matter. My opinion Posted via My Ever-Bloated S4

Seems like a long time since it's introduction, is there still any buzz left for this phone? From my Note 2 to you

I'd say there's more active buzz on this phone finally being released, than there is buzz that died on the OnePlus One for their crappy invite sales model.

I was thinking of getting the G3 now, but I'm going to wait for the Note 4 in the fall instead. I'll stick with the Note 3 until then. :)

I 'm want to see what actual buyers have to say about the 370 nits of brightness and the dull whites when they compare a retail version in the store with the screen quality of something like the M8 & S5.. That may become a more critical decision than the (801 or wait for the 805 Prime version) decision those of us in the know have to make.

My decision is going to based on whether the Sprint version is going to have 32GB storage and wireless charging. I doubt it though and that will be a huge disappointment. If that's the case, I'll stick with the G2 until the N4 is released and check my options then.

So, dumb question possibly, but does that mean the newest software update would be available for my G2 soon? Posted via Android Central App

I think the G2 will get Android "L" but not till the end of the year and that's wishful thinking. Most likely Q2 of next year.

What about the newest software that the G3 has? That's what I really meant

Yeah you will get eventually after 5 or 6 months once your useless carrier tests those stuff in their labs. If you have an unlocked model you might get couple of months earlier. Posted via Android Central App

just come out for sprint already

Unlocked and no contract GPe GS5 or G3 GPe I'll probable just wait for an unlocked Nexus 6 with Android Lollipop aka L

Was so excited for this but with the L developer preview on my Nexus 5 I can't think of going back to KitKat. Posted via Android Central App

Pre-Orders are up 598.80 and its not available yet to finance via EIP.

It looks like they are not offering the model with wireless charging. Sorry,no sale. Waiting for Nexus 6....unlocked,no contract,built in wireless charging at a reasonable price.