Samsung Galaxy Tab 4 review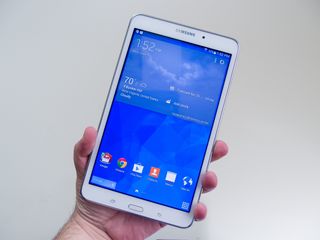 Samsung's latest mid-range tablet offers decent performance and excellent quality at the right price
Samsung loves to make tablets. From innovative products like the high-spec'd Pro series, to the more mediocre Galaxy Tab models, they pump them out in sizes and price points to suit almost anyone. This year's Galaxy Tab 4 continues that trend. Coming in 7-inch, 8-inch and 10-inch sizes, the Galaxy Tab 4 may not be the powerhouse you can get from other vendors, but decent performance and a great price point — combined with plenty of time and money spent to make sure you know that they exist and where to buy them — make the Tab 4 a product that many will end up buying. That's good for Samsung, and after all is said and done it's good for many users, as well.
We got the 8-inch model to have a go with, and after some time with it I have to say it's a decent piece of gear for the price —$269 MSRP — compared to the competition. Many TouchWiz bells and whistles are on board, and many of the things you would shut off on your phone are surprisingly useful on an 8-inch screen. The size and build quality are on-target, and overall it's a good tablet for the money. Not everyone needs a Pro series with expensive innards to sit on the couch and watch HBO Go. That's where the Tab series fits in, and just like last year, Samsung has mostly hit the mark.
The outside
As mentioned, we're looking at the 8.0-inch Tab 4 here. The 7-inch and 10-inch models are very similar, but not exact duplicates, so do your homework if you're looking for something a bit smaller or larger than the 8-inch model.
The Tab 4 has some of the same refinements Samsung has used for their smartphones of late. The blocky, rectangular shape and textured plastic back will remind you a lot of the Note 3, and the added faux-chrome trim rings around the glass and the home button give it a bit of style. You won't find exotic (or expensive) materials used to build the Tab 4, but the plastic and glass is constructed very well and the overall feel in your hands is that of a high-quality piece of electronics. Build quality is one of those very subjective buzzwords that gets thrown around a lot, but we mean it when we say the Tab 4 feels very well-built. There is no creaking when applying a little pressure, the buttons don't shake and rattle around, and there are no gaps where parts fit together on our unit. A device built from a single milled piece of aluminum is easy to make feel solid, but one built from press-fit plastic parts isn't. Samsung did a great job here.
The Tab is nice and light at 11.3 ounces for the 8-incher, and fits well in the hand. It's .3-inches thick, and the way the slight radius where the back meets a solid flat edge makes it easy to hold as your fingers and thumb have plenty of area to grip. The back is flat, and a bit of swell would have been a nice touch I think, but ergonomically the Tab 4 at 8-inches should fit well in the average hand. On those flat sides, you'll find your buttons and ports. You've volume and power on the right (in portrait) near the top, the IR port in the center, and the SD card slot near the bottom covered by a plastic flippy flap. Up top, you have a 3.5mm headset jack, and on the bottom you have the micro USB (2.0) port. The buttons are easy to reach and operate while holding the Tab, and it only takes a few tries to adjust fingers so that the IR port is uncovered.
Around front you'll find a solid sheet of glass that doesn't seem to have an oleophobic coating of any sort (keep a microfiber cloth handy) that covers the entire face. The 1.3MP front-facing camera is at the top, just right of center, and you'll notice the lack of a hole for an ambient light sensor — the Tab 4 has no automatic brightness mode. Move down about 8.5 inches and you'll find the multi-tasking, home and back buttons. The home button is a physical lozenge-shaped button, just like we're used to seeing from Samsung but the others are capacitive. Gone is the menu button, and you'll be reminded of that when you tap the multi-tasking key.
On the backside, you'll find a 3.1MP fixed-focus camera at the center-top, and a speaker that is neither loud nor good on the bottom left. Luckily, the Tab 4 paired quickly and easily with my Bluetooth speaker, and should you buy a Tab 4 you'll want to make sure you have headphones or a Bluetooth speaker of your own if you plan on listening to any music, or watching any video and wanting decent sound.
Finally, we come to the screen. While other tablets come with "true" HD displays, the Tab 4 carries on the tradition of the 800 x 1280 TFT LCD we've seen for a while. It's not a bad display by any means — the colors and viewing angles are good, and it's nice and bright when cranked up, but the relatively low (189ppi) pixel density makes itself known if you're reading text or doing any other activity where you want a well-defined edge between elements on the screen. What would be fine at 20-inches away from your eyes might not be fine at 10-inches away from your eyes. I can't tell you that the display is good enough or not good enough for you, but I can tell you that I see the difference — and I'm not a pixel-snob. I can't read my eBooks on the Tab 4's screen, but maybe you could. For watching video or playing a game, it's fine. Not insane HD like some others, but fine. The screen is one of the areas where costs are cut, and for some of us, it makes a difference.
The full specs
Swipe to scroll horizontally
Category
Features
OS
Android 4.4.2 KitKat
Chipset
Qualcomm Snapdragon 400 (MSM8226) @ 1.2 GHz
Adreno 305 @ 450 MHz
RAM
1.5GB
Display Size
8.0 inches
Display Resolution
800x1280 189ppi
Camera
3.1 megapixel fixed focus rear
front facing 1.2MP
Internal Storage
16GB
External Storage
microSD
Connectivity
Wifi 802.11a/b/g/n, GPS, GLONASS, Bluetooth 4.0 LE
USB host 2.0
Dimensions
210 x 124 x 8 mm
Weight
320 grams
Battery
4.450mAh
The software
Like every other Galaxy S phone or tablet since the beginning of time, the Tab 4 runs TouchWiz. If you don't want TouchWiz, you don't want the Tab 4. Let's get even more clear on that — buying a Tab 4 with the hopes of unlocking bootloaders and flashing Stock-Kat 99 beta or something on it is absurd. Buy a Nexus 7, or buy a Google Play edition G Pad, because they were designed for that. This device is designed and built to run TouchWiz, for the millions and millions of people who like TouchWiz.
It's not the new software from the Galaxy S5 or any new Magazine-UI layout you see on Samsung's high-end tablets. It sort of resembles KitKat on the Note 3 or Note 10.1, with a more tablet-centric launcher. It's colorful, but more subdued like we see on other Samsung products in 2014 — it's a good look. It can feel slow at times, like whenever you think about S Voice. But it also does a lot of things that may be very useful to you on an 8-inch screen. I turn off multi-window on my Note 3, because to me, two little panes are worse than one larger one. On the Tab 4, I use it. And like it. And will miss it on my other tablets when I send this back to Samsung. I want a more basic experience on my phone, but I like some of the TouchWiz features on a tablet.
All of Samsung's apps are on board, as is the Samsung Appstore. The Samsung Appstore can be a little invasive and download things automatically before it asks for permission, but for most users it's another choice. We love choice around these parts. You'll see a few other Samsung apps sprinkled through your drawer — things like Memo or World Clock — but since this is a Wifi device and not bound to a carriers whims and evil plots, you won't find the amount of bloat you may be used to on another Galaxy device. Samsung has their own version of things like Contacts or Calendar, but they're done well and bring nothing to complain about. Of course, Google's bloatware is all present, too. Don't want Google Drive or Chrome? Tough titties, because you're getting them anyway. That's part of the terms Samsung has to agree to to have access to Google Play. While most readers here at AC will find Google's apps useful, they are bloat the same way Samsung's apps are and deserve a mention. Disable the things you don't want in the settings is the best advice we can give.
There isn't much more we can say about the software. The Snapdragon 400 processor does a good job, and most of the time the tablet is speedy and responsive. The few slowdowns I've seen seem to happen when loading big games or task switching away from one while it's running. The OS itself runs smooth, though it's not lightning fast. Enjoy the animations or get in the developer settings and make them go away — just like TouchWiz on a phone. The issue in the gallery I seem to have on just about every TouchWiz phone — syncing a huge Dropbox picture library causes massive slowdown when opening the gallery app — doesn't rear it's head on the Tab 4 so it's obvious that something behind the scenes is different. But on the surface it's very much Samsung's TouchWiz. Unapologetically TouchWiz, if you will. And I don't fault them for it one bit.
The cameras
I would have been pleased if Samsung had just skipped the rear camera instead of giving us what they did. The 3.1MP camera on the back of the Tab 4 is a fixed focus lens on a tiny sensor that can't seem to take a good picture under any circumstances. I can't scan receipts into Expensify, I can't read barcodes without multiple tries, and any pictures will turn out soft, grainy and poorly. The front facing camera is fine for a low-bandwidth hangout, but it's not the camera you'll want to use to try and catch a mate with a selfie. It's exactly what you would expect from a budget device when it comes to camera hardware.
Surprisingly, the software includes shooting modes like Panorama and Beauty Shot, but this is likely because it was easier to leave it in TouchWiz than spend time and money to take it out.
If you've an emergency where you have to take a picture and all you have is the Tab 4, it would probably be good enough for traffic court or blurry-cam bigfoot shots, but don't buy the Tab 4 for it's camera.
Some final thoughts
If you stumbled here from a Google search, and just want a good, cheap tablet from a recognized company, the Tab 4 is a good buy. The screen is a little iffy for reading, the cameras are pretty poor, and the speaker is tinny and doesn't offer much in the volume department. For the most part, though, the Tab 4 works well and you'll like the price. The extremely solid way it's built — can you tell it impressed me? — is icing on the cake.
If you're an Android enthusiast, though, you have other options you should consider. The Nexus 7 and LG G Pad — both in original and extra-Google flavors — instantly come to mind (Apple sells a very nice 8.9-inch tablet as well) and for a bit more money you'll get a much better screen and a more future-proof set of internals. This is especially true if you're a tinkerer and want to do the custom firmware thing. Should you consider all things and go with the Tab 4, you'll have a solid, but middle-of-the-road device that's a perfect coffee-table tablet for a quick peek at the Internet while watching a movie, or for watching the movie itself.
Finally, if you have a Tab 3, it's OK to hang on to it for another year. This is not the way I would spend my "tablet-upgrade" money if I were a Tab 3 user, because it's not that much of a jump. Wait and see what else comes along — both from Samsung and other vendors — that might make for a better upgrade.
Image 1 of 8
Sign up for Black Friday email alerts!
Get the hottest deals available in your inbox plus news, reviews, opinion, analysis and more from the Android Central team.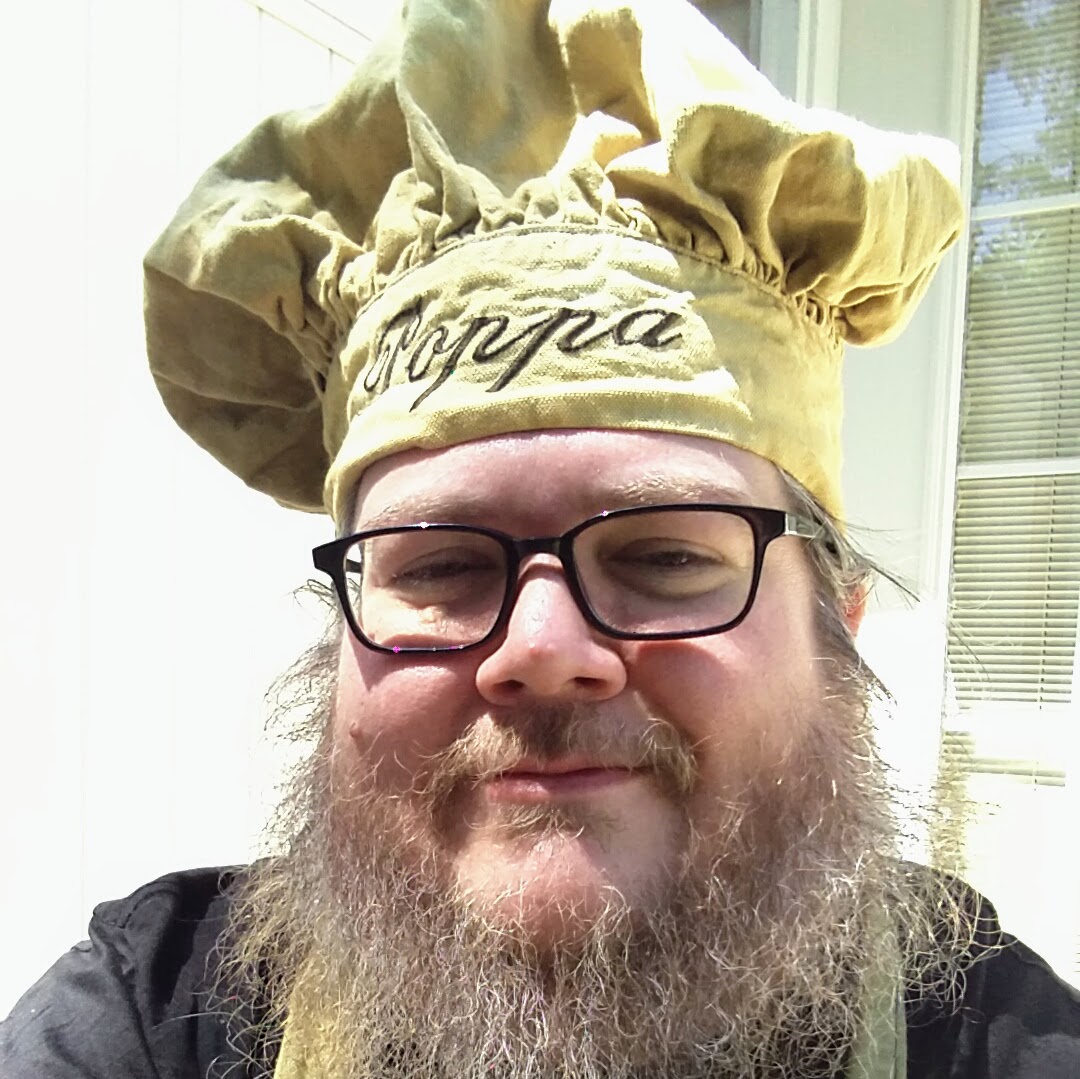 Senior Editor — Google Ecosystem
Jerry is an amateur woodworker and struggling shade tree mechanic. There's nothing he can't take apart, but many things he can't reassemble. You'll find him writing and speaking his loud opinion on Android Central and occasionally on Twitter.