LG G2 KitKat update coming to Korean model starting this month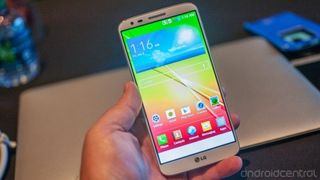 Future plans for rollout in other markets not yet available
LG has announced that it will begin rolling out an update to Android 4.4 KitKat for Korean variants of the G2. Speaking specifically of the model for its own domestic market, LG says that KitKat will be hitting its flagship by the end of the month, and considering that we're half way through December we have just two more weeks to wait before at least some G2s start seeing the software.
Unfortunately no specifics are given on what changes LG plans to bundle along with the move to KitKat, nor does it offer any timeframe for G2s in Western markets. Considering the carrier involvement here in the states that's not hard to imagine, but knowing that LG has the software ready for at least one variant has us hopeful that it won't be too long before we have more information on a more advanced rollout.
Source: LG (Translated)
Andrew was an Executive Editor, U.S. at Android Central between 2012 and 2020.
Not that bad of a turnover rate. Good job! The carrier testing in the US will have to slow it down, but my friend will be happy to hear it's on its way.

At least its coming. Much better then android updates used to be -------------------------------------------------------------------------
I love the AC apps signatures, they are awesome.
Posted from my Nexus 7 (2013)
====================================
Sub Signature-
Merry Christmas and Happy Holidays.

I'm impressed to hear this and I hope the update hits the US before the S4. LG deserves a lot of credit for their work with the G2 this year in comparison to years past. Posted via Android Central App

This is a great phone but I hope there updates are nothing like my old s3. Lg now making the nexus 4,5 and gpad gp edition should learn that people like updates. This is one area that everyone needs to follow Motorola's great example. Moto X On Verizon already has 4.4! Posted via LG G2

times like this I'm glad I root my phones.. seeing as I know verizon won't get it for months now, i have full faith in our devs to bust out a nice LG 4.4 rom! Posted via Android Central App

CM 11 is in beta stages for the G2. I have sprint and we have a few bugs. You guys who have had the phone months before sprint should be mostly bug free. Posted via Android Central App

yeah, I'm not talking aosp or anything though. I like using stock on my nexus devices, but not my g2. I want the kitkat version of a stock LG rom lol Posted via Android Central App

Run CM 11 until the official update comes out? Posted via Android Central App

Wonder how fast it can be ported Posted via Android Central App

This will also probably be the one and only update for this phone. Posted via Android Central App

I think it will get at least one more .1 update after 4.4 as this is LG's main device and people now expect updates as shown by moto and htc. Doesn't matter to much I will be on cm kit Kat soon enough Posted via LG G2

It should go straight to 4.4.3+ because .1 and .2 are mostly nexus stuff, nothing that needs to be done this time around. Motorola has done a lot to show fast updates, not HTC. GPe doesn't count. Lets see US carrier devices get updated quickly.

What's with the hate and nonsense for HTC ?! HTC One unlocked version has 4.4 already as well not just Gpe version. And before u talk more crap YES ! IT HAS A FULL SENSE 5.5 VERSION!! Just like every other htc one. how many unlocked samsung's and Lg's versions have that ?! NONE ! apart from Moto 8x there is no other device. So my advice to you is to chill out and stop talking rubbish. Unless u are one of those paid students..

Thanks! NoNexus usally makes a lot of sense, except when it comes to HTC updates. @NoNexus: Again the only difference between standard HTC One and Developer Edition is the unlocked boot loader.

Motorola runs nearly stock android though. So their fast updates don't impress me. The HTC one Dev edition getting 4.4 with sense is impressive. And anybody with half a brain should have modded their carrier(AT&T and T-mo) variant into a Dev edition. Posted via Android Central App

I would hope so (since i also own one), but i dont believe it much though, unfortunately :( LG 2012 flagship model, the Optimus G, was also similar to Nexus 4, and has so far still only received a single update to 4.1.2 in late March (Q1 2013). But G2 is 4.2.2, so the LG UI has been updated that much farther already. Sounds familiar?

There has to be a better wallpaper for this phone. Every time I see it, at first glance, the screen looks cracked.

Didn't they already say the US was q2 or late q1? Carriers hold the go up but not 5 months long ------------------------------------------------------
As per request, comments containing "THIS" and "AGREED" are hereby outlawed. Use "Spot on old chap" or something similar. Also by request, I have increased the size of my signature and added a few more dashes. No one should suggest how another person posts. Unless it is that "FIRST" crap. That absolutely adds nothing.

"Spot on old chap" Sent via the Android 5.0 MilkShake.

The US has never been mentioned. Canada said they would be getting it in late Q1 (March) I assume the US will get it around that time or sooner, hopefully. Nexus 7 :)

Hurry up Kit Kat source codes! Posted via Android Central App

What do you mean? Source code for Kit Kat has already been available for a while.

This doesn't mean it's coming to the U.S. at all. It's still up to the carriers, yes? Anyway, it'll be interesting to see what they did with KitKat. I love my G2 the way it is, and I'll have to read the reviews on the KitKat update before I do the update myself.

I definately am looking forward to a Kit Kat update to G2, for the Immersive mode at least.

I'm just sayin' I'll wait until the first review of a stateside version. I don't want to trade awesomeness for bugginess.

I'm looking forward to the update. I like my G2 and it can only get better. Posted via Android Central App

Unless they hurried and made a buggy POS which will turn awesomeness into crap.
Like I said elsewhere, I will wait to upgrade (if it comes out) until I see a couple of reviews. The phone is great the way it is and I would hate to hate this phone because of a bad upgrade.
Android Central Newsletter
Get the best of Android Central in in your inbox, every day!
Thank you for signing up to Android Central. You will receive a verification email shortly.
There was a problem. Please refresh the page and try again.