LG Esteem for MetroPCS gets unboxed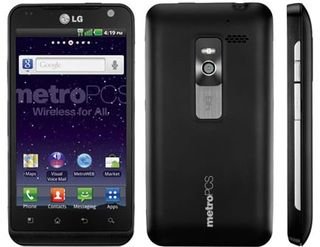 Youtube link for mobile viewing
We're all over the place, but we can't always be everywhere. That's where you come in. And sniper1087 has done an excellent unboxing of the LG Esteem for MetroPCS. He'll walk you through the UI, benchmarks, and don't blink, or you'll miss the very cool boot sound.
Need a reminder on specs?
4.3-inch display
Gorilla Glass
Android 2.3 Gingerbread
1GHz Snapdragon processor
512MB RAM
8GB on-board storage
5MP rear camera (capable of 720p video recording)
1.3MP front-facing camera
1500mAh battery
DLNA streaming
Metro PCS' CDMA/LTE network.
There you have it. Peep the video. It's well worth a watch.
Thanks, sniper1087!
Android Central Newsletter
Get instant access to breaking news, the hottest reviews, great deals and helpful tips
This actually looks pretty nice. Specs are comparable to a Droid Incredible.

that start-up sound is just horrible.

yeah sorry about that the speaker of the phone I used to record with is not the best, hehe I will have a better one next time for sure

This phone looks horrendous...just like the lg revolution...which i don't think had much of an impact...maybe the revo 2? but lg's are just not the popular one's on Verizon at least...its good for metro but at best a mid ranged android phone anymore... Also...its not an s3...its an s2...same as in the original revolution on Verizon... just like the thunderbolt, the s3's are the new dual core's..

Yeah Sorry About that True is S2, now the phone is not bad for a Prepaid Carrier with no contract and 349 with 100 MIR, is a great deal, Remember 60 bucks tax included is always a great deal.

Great video Sniper. Good stuff.

i may buy an LG phone next, my wife loves hers and the volume is mega loud on them too.

Pretty much same specs as my Droid Incredible 2....that I love. Anyone care to chime in on metropcs network? I think its Verizon towers

no I dont think it is, they are using totally different frequencies for LTE and works in some areas verizon doesnt like where i live verizon LTE doesnt work :/

Nice to see Google apps alive and kicking on LG

I still read/see a lot of negative remarks for any phone that comes out on MetroPCS. Not that bad in this review but in general in many forums, I really don't get it. I was a verizon customer for 4 yr, altel and sprint too. i went to metro and terminated my verizon contract and really have not wanted to go back....EVER! I save tons of $$$$ on three lines and the 4g is just fine. I have no more issues with coverage or speed than with verizon. I still have great phone coverage and only a few select spots give me trouble same ones that left my verizon phones with no coverage.. ( metro still works though, just one bar but WORKS!!!)I am sure verizon has very good qualities, never tried ATT, but come people if you have never tried Metro Pcs dont bash them just becuase they will save you tons of $$$$ for very very similar services.... I have three andriod lines with all you can eat andriod 4g lte....45.00( taxes included ) due to group plan discounts..... you won't get more at a better price....anyways a wonderful day to all....
Android Central Newsletter
Get instant access to breaking news, the hottest reviews, great deals and helpful tips
Thank you for signing up to Android Central. You will receive a verification email shortly.
There was a problem. Please refresh the page and try again.