Lenovo launches four models of Tab 4, none are weird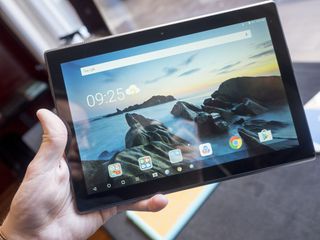 Lenovo's Tab 4 is nearly indistinguishable from last year's Tab 3 on first glance. That's not a bad thing — the Tab 3 was a solid, if unremarkable design, and the Tab 4 series builds on that. With a refined exterior and updated interior, the new Tab 4s (Tabs 4?) present compelling options near the low end of the Android tablet market.
Lenovo Tab 4
Coming in 8-inch and 10-inch varieties, the Tab 4 is a well-built, but low-end, tablet. They're both largely the same internals, with a Qualcomm Snapdragon 425 processor, 2GB of RAM, and 16GB or 32GB of internal storage (plus microSD card expansion) driving a 1280x800 display. You'll find a 2MP camera on the front for selfies and video calls, and a 5MP autofocusing sensor on the back in case you're inclined to take photos with your tablet.
Both are relatively lightweight, with the 8-incher weighing in at 0.64lbs (310g) and the 10-inch variant a slight 1.1 lbs (500g). At 8.3mm these are not the thinnest tablets on the market, but the rounded sides and tapered back made them quite easy to hold. The textured back — something of a cross between soft-touch and fine-grain sandpaper — helps in making it easier to hold.
The biggest hangup here is the charging port. Yes, it's micro-USB, and in 2017 that's unacceptable. Even on a cheap tablet like this. Lenovo's ThinkPad laptops unveiled at CES 2017 all had USB-C, as do the Plus versions of these very tablets. There's an argument to be made for keeping costs down, and it's one that Lenovo tried to make with us, but it's hard to recommend a brand-new product that's sporting the now ancient and outdated port for no good reason other than to save a few bucks.
The Lenovo Tab 4 is coming in May 2017 for a starting price of $109 for the Tab 4 8, or $149 for the Tab 4 10. There will also be available in LTE-capable variants.
Lenovo Tab 4 Plus
The "Plus" variant of the Tab line has an odd history. First introduced with the Tab 3, the upgraded Tab 3 Plus also boasted an oddball design. It moved the battery into a grippable bulge along one side, and that bulge played double duty as a hinge for a pop-out kickstand slash hanger hook. And was the baby of actor and Lenovo product engineer Ashton Kutcher.
Yeah, 2016 was weird.
The 2017 version — the Lenovo Tab 4 Plus — drops all the weirdness. It's now just a more premium version of the Tab 4, inside and out, and entirely free of silly gimmicks. Both screens have been upgraded to an IPS panel with a 1920x1080 resolution and the processor's been bumped to the excellent Qualcomm Snapdragon 625 clocked at 2GHz. Both cameras see a bump as well, with a 5MP front camera and 8MP rear camera. For plugging in you'll find a USB-C port instead of the unacceptable Micro-USB ports found on the non-Plus Tab 4.
If you opt for the 16GB storage version you'll get 3GB of RAM, while 4GB of RAM is packed into the 64GB version (both also offer microSD expansion). The back on both has been upgraded to a slick glass panel. The white version isn't anything special, but the dark gray (err, "aurora black") one sports a slick internal etching that reflects light in beautiful arcs and loops.
The Tab 4 Plus also picks up fingerprint sensors. The Tab 4 10 Plus's is located on the front along one of the long sides of the display (the "bottom", since it's opposite the front-facing camera). Though it's not a clickable button, you can rest your finger on it to turn on the tablet. On the Tab 4 8 Plus the fingerprint sensor is embedded in the side-mounted power button, so it's easy to unlock just as you would turn it on or off. Personally, I prefer the side-mounted placement of the Tab 4 8 Plus.
The Tab 4 Plus will launch alongside the standard Tab 4 in May 2017, with the Tab 4 8 Plus starting at $199 and the Tab 4 10 Plus starting at $249.
Lenovo Tab 4 Productivity Pack
Want a keyboard with your Tab 4 10? Lenovo offers that, too. It's more than just a Bluetooth keyboard, though. the fabric-covered keyboard doubles as a carrying case, with a folding magnetic origami stand that forms itself out of the larger cover flap. There's even a trackpad below the keyboard, though it's admittedly a tiny little thing.
The stand has an embedded NFC chip that activates Productivity Mode on the Tab 4 when you set it on the stand. Productivity Mode was inspired by the Lenovo Yoga Book, shifting the standard Android navigation buttons to the bottom left corner of the screen and using the rest to display a handy one-touch task switcher that may as well have been ripped from Windows. Productivity Mode isn't exclusive to the keyboard, though — you can activate it via an app on the tablet if you want it around when you're not keyboarding.
The Productivity Pack will launch alongside the Tab 4 with a price of $49.99.
Lenovo Tab 4 Kids Pack
According to Lenovo's numbers, a surprising (and yet not that surprising) number of young ones have their own tablets. Given how much easier and safer they are for parents, that's not much of a surprise. So instead of making a tablet specifically for the kids, Lenovo opted to include kid-friendly software and a relatively cheap pack to make the Tab 4 physically kid-friendly.
The software is the free KIDOZ suite (opens in new tab), which doubles as a curated kids app store and launcher. It sports big and colorful icons and can be password locked to keep the kid from getting into the tablet at large.
The Kids Pack itself consists of a thick bright-teal rubber bumper, a pair of colorful full-back stickers, and a blue-light filter screen protector. The bumper isn't tight and is rather flexible; it's the kind of thing I'd expect the typically curious child to promptly remove. The back stickers are at least use a 3M adhesive, so when the kid starts to peel them off or they get too nasty (or, I guess, the kid outgrows it the cutesy drawings), you'll be able to easily pull it off without leaving behind residue.
The Kids Pack will launch with the Tab 4, priced at $19.99 for the Tab 4 8 and $24.99 for the Tab 4 10.
Derek Kessler is Special Projects Manager for Mobile Nations. He's been writing about tech since 2009, has far more phones than is considered humane, still carries a torch for Palm (the old one), and got a Tesla because it was the biggest gadget he could find. You can follow him on Twitter at @derekakessler.
The 8" Tab 4 Plus looks like it could be a decent replacement for my Nexus 7.

Agree, will check these out

I bought a Lenovo Tab 2 in April 2016 and it was an under powered POS. Would pause all the time on apps and just surfing websites, and the screen was not bright and had low resolution. In December 2016 I bought an Asus Zenpad 3s 10 (64 GB) for $300 and have been thrilled with it. I don't know why I haven't seen any reviews of this tablet. Great screen, fingerprint security, plenty of memory. Great option if you are in the market for a new tablet.

I actually bought one of the odd Tab 3's with the hinge bulge for my Dad and while it looks weird it is actually a pretty killer design. It is absolutely great to hold one-handed due to that and he loves the hinged stand with integrated forward facing speakers. That said, as another poster mentioned the thing is horribly underpowered and is a disappointment in that regard for what was intended as a higher level small tablet. Also of note is the OS updates, it just got MM back in December or so and if you do a little searching you will see there has been nothing but problems (of the makes the tablet nearly unusable variety) with it. If they could have fixed the performance issues I would have been happy to use that over my aging Nexus 7 due to the oddball design's usefulness but after seeing the issues with the update I'm glad I had a reason to stay away.

I hope the 8" plus model is a pretty decent small, widescreen tablet, because it certainly appears that we are not getting a Pixel/Nexus 7"/8" tablet, regardless of what EVleaks has to say.

The Nvidia shield tablet is still better. Everything the tab 4 has 'extra' over the Shield are features I don't need. (fingerprint sensor)
The shield has been the best value most versatile and longest useful life of any Android device I've owned.
Android Central Newsletter
Get the best of Android Central in in your inbox, every day!
Thank you for signing up to Android Central. You will receive a verification email shortly.
There was a problem. Please refresh the page and try again.