This LeEco mountain bike fuses exercise and your favorite mobile operating system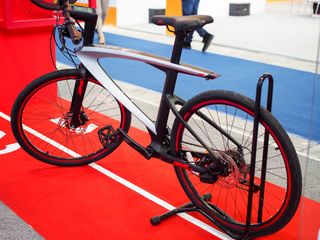 One of the more exotic products we had chance to look over at the recent CE China show out in Shenzhen was this smart bicycle from LeEco. A company with a broad range of connected hardware, this pretty outrageous looking mountain bike isn't something we come across every day.
Oh, and it runs Android.
The Le Syvrac isn't your average pedaller by any means. Besides the built in computer that runs software based on Android, it has smart functions like built in lights, a speaker and even a lock. It's also alarmed should someone just pick it up and throw it in the back of a van and with a companion smartphone app you'll be able to track the location of your futuristic cycle. Nestled in the handlebars is a heart rate sensor, too, for more accurate fitness tracking on the move.
The Android portion of this bike though is worth closer attention. It's not just a smartphone that's been glued to the handlebars, instead hosting some tailored software that the cyclist may actually want to use. It's packing a 4-inch display and a fairly hefty 4GB of RAM. What you're going to be doing most is tracking your activity like most good quality bike computers would. Speed, distance travelled and the weather are all pretty handy when you're outside, as is built in maps.
The beauty is that it's built in to the handlebars, so if you're a serious cyclist you've got what you want right where you want it already.
The computer also has a music player built in, and a speaker to blast your tunes through. There's no need to hit the trails with headphones and while the sound quality isn't exactly top drawer, it is at least loud. Or loud enough to be heard clearly at a busy trade show, anyway.
There are seemingly three different spec levels, with a top price of RMB 39,999 ($6155), and with lashings of Carbon Fiber among the options, it's easy to see where some of the price comes from. But even so, it's one of the craziest pedal powered machines we've ever seen.
That price! *shrieks in terror* Posted via the Android Central App

$6155 for a bike. They can keep it Posted via the Android Central App

That's gonna be around AUS$7000 australian dollars for a bike
S*** Posted via the Android Central App

You probably are not their target market for this. Posted via the Android Central App

Who is????!! Posted via Galaxy S7 edge

I'm a serious biker.
If I am the target market for this bike, they can keep it.

So am I. However, I'm one on a budget so I don't spend that kind of money on any bike. However, there are some that do.

Serious bikers don't mind dropping $6000 on a bike. But this is not a bike serious bikers want. A built in lock? A built in speaker? A freaking BELL?! Extra weight I don't want. Not to mention more stuff to break. I don't need these on the trail. No suspension at all on a mountain bike? LOL This bike is garbage, a city bike for people with more money than sense.

There is more than one type of serious biker.

you're trying really hard to justify this price

"you're trying really hard to justify this price" Nope

Probably better priced at around $2500-3000. Looks cool, though!

Probably once they get up to any real production levels. If they make enough, the price will get down to about $3000. But $6000 for tech/bike bragging rights with a disposable income isn't that bad. 40" flat panels were $15,000 at one point. Posted via the Android Central App

It's awful. Compare it to a $6000 Specialized Stumpjumper FSR. Or a $6000 Cannondale Scalpel. Then turn up at any trail head where people with proper bikes go. One of those bikes is going to get laughed at. Even funnier at the end of the ride when only two of those bikes survive. I'm all for technology and bikes, but don't call it a mountain bike when it isn't. It's a commuter bike with an Android phone epoxied to the frame.

The proper terms are "hybrid", "flat-bar road bike", "recreational bike", or even "urban bike". Nobody calls them "commuter bikes", well except maybe you. I've logged over 6000 miles on my hybrid, mostly commuting, but I see more people commuting to work on road bikes than I do hybrids. AC probably looked at the bike, didn't see a typical road bike handlebar, and erroneous labelled it a mountain bike.

Is this really a mountain bike? It doesn't look like there's much space for a front suspension, and no full suspension. Looks more like a commuter bike to me.

Agreed, this is a road bike with a mountain bike handlebar and cushier tires. Posted via the Android Central App

All of that.. and a 50 cent bell..

SD card slot or bust lol Posted via the Android Central App

Does the bike have a SD card slot? 128 GB bicycle please lol Posted via the Android Central App

How will it be charged? Do you have to charge it while you are at home or it chages itself while you drive?

> drive Posted via the Android Central App

Wheel it into your living room and connect it to the charger on your wall. Hope that your spouse / parents don't notice.

Does this bike come with a SD card slot? If so, how many GB does it support? Posted via the Android Central App

You are going to be easily distracted if you have a 4" phone atatched to yort handle bar Posted via the Android Central App

The photos are so poorly composed it's difficult to tell anything about the bike but yes it looks more like a commuter bike than MTB. No idea on groupset or components, personally I'll stick with my Rocky Mountain and Z3 Compact for carving up the trails but I do appreciate the concept.

Lets be honest. The price is a joke for what it is. You could almost pull this off diy on your own bike for a couple hundred max (the heart rate monitor would cost the most) or you can get a bluetooth heart rate monitor i suppose. Really for 6k its a total rip off to be honest. It would be nice if more reasonably priced.

High end bikes are regularly 6000 or more. If this bike is a high-end bike that also has a built in computer then you aren't paying much of a premium.

Probably needed in China since you'll die of smog outdoors. Smart move to bring the exercise inside. Posted via the Android Central App

This better be a UHD fabricated bike lol, or would Amoled be better? Posted via the Android Central App

That's pretty cool for intense bike riders and fitness fanatics. Price is a little high for the tech ology that's in it it's sure is something to look into if you can afford it. Posted via the Android Central App

Custom molded carbon fiber isn't cheap. A premium equipped high-end regular bike can set you back 6K. I've never paid that much because I'm cheap. $700 is the most I've ever paid for a bike. But there are fanatics with too much money who would buy this bike.

So I guess you are the one who decides what too much money is. Posted via Nexus 6 running on any data plan I want

No. I was countering his point that it's the tech that accounts for the high price when we don't really know anything about the materials and components, the types of things responsible for the cost of high-end bikes. He's assessing its value as he would a phone, which is not how a person coming from the bike world would do so.
Android Central Newsletter
Get the best of Android Central in in your inbox, every day!
Thank you for signing up to Android Central. You will receive a verification email shortly.
There was a problem. Please refresh the page and try again.