Leaked photo shows Motorola Shamu breaching for the camera as next Nexus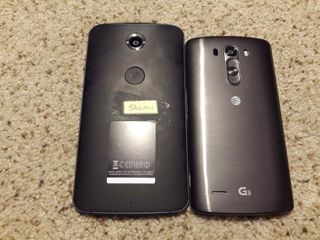 After yesterday's render that suggests that the next generation Nexus, which may or may not be known as either the Nexus 6 or Nexus X, would sport a design aesthetic similar to Motorola Mobility's Moto X smartphone, we now have the first leaked photo. Today's image confirms that, and the code named Moto Shamu phone is shown with its oversized footprint, aping even the 5.5-inch LG G3 next to it.
Similar to the Moto X, there's an LED flash ring on the rear of the phone that surrounds the camera.
Is this 6-inch monster something you're interested in? Be sure to vote in our poll if you'll be upgrading to the new Nexus. If you're interested in the Motorola Shamu, also check out our review of the Moto X for 2014.
Source: XDA-Developers
Awesome. I can't wait. I hope the camera will be good. Posted via Android Central App

I am sure it will be an AMAZING device but I have no desire for a phone that huge. Posted via a Republic Wireless Moto X using the Android Central App

This is the beauty of the Android ecosystem. Where some see fragmentation, I see a myriad of glorious choices! One (or two) size does NOT fit all! Posted via a Republic Wireless Moto X using the Android Central App

+1 I was patiently waiting for this until I found out the size. The size is fine for some but for me...mehhhh just slightly too big. Posted via Android Central App

I hope thus is a sad mistake. 5.5 in is pushing it already. The G3 doesn't have much bezel but this thing is gigantic. An upgrade does not have to be larger. AC App via Nexus 5

Even me who loves my Note 3 and getting the Note 4 thinks that is too big lol

Same here 5.7 is the biggest I'd go a 5.5 inch note 4 would've been ideal for me though. Posted via the Android Central App

This will definitely help Note 4 sales, as it will be the best performing option available if the rumored specs pan out. Posted via the Android Central App

I agree Posted via the Android Central App

Well, if they're using the same one found in the X, I wouldn't be too optimistic.

Am I wrong or were we all under the assumption the new nexus was gonna be made by HTC?!?! Posted via Android Central App

That's the Nexus 9, the next Nexus tabler Posted via the Android Central App

I wonder how these 'leaks' get released just at the right time to build hype for an upcoming device Posted via Android Central App

Paid leaks? Posted via Android Central App

It's more likely a device will leak the closer it is to release. More people will have their hands on it compared to, 3 months ago when they only had a few prototypes... :D

This Posted via Android Central App using an LG G2.

I'm with you, if there are a million units ready for release, 5,000 people working on them, that one slips out isn't super surprising.

Motorola leaked it purposely. It's free publicity. Posted via the Xperia Z4

They manufactures are probably the ones releasing the leaks to gauge the interest there is in the device :)

I doubt it's to gauge interest anymore. Google knows who will buy it and they played this game last year.

I'd love to know who will buy this device. I have a feeling not many people. Too bad they never release sales figures.

I can't wait! Pretty much exactly what I wanted!!!

I am buying it as soon as possible. It will replace my Nexus 5 and 7. My only reservation is battery life. Posted via the Android Central App

Too late for that. Posted from my Nexus 5 via Android Central App

I hope they gauge the intrest based on the Android Central poll showing 75% think that shamu is too damn big.

Too big for a phone, too small for a tablet, Samsung only sold 10 million Note 2's, so I know why don't we call it a phablet, my sister loves her Note 1 and I'm going to surprise her with a Note 2 soon, I loved my Nexus 7, that they said was too small and big. For me Nexus 5 too small, nexus 7 too big, 6" QHD perfect, my nexus 10 QHD, way too big, my 10¢.

"Only" sold 10 million Note 2's. They sold 10 million Note 3's in the first 60 days and an estimated 15 million in the first quarter the 3's were available. There is a really decent segment for these sizes of phone. I can't wait until my Note 4 comes in.

I'm guessing your figures are right, so if there are only a billion Android devices, just the notes must number in the 40 million or so. Not to mention all the other companies phablets, with a wave of cheap Chinese phablets being pumped out and the notes are a high priced, big commitment. Very envious of you getting the note 4, just the note 3 can record UHD for example, I'm getting by with a 32 GB Nexus 5 FHD, and a Nexus 10 QHD. If I could afford to trade up to 2 Note 4 QHD's, I would in a New York minute. Looking forward to seeing Sammy's UHD phablets, hit the market next year. Note 4 can easily take a 128 GB cat 10 micro SD flash card, so go mad recording UHD video, I love my 39" UHD TV, only cost $400 in the US nowadays.

Cmon' boys....only Kim and Kanye and the like do that stuff!

This was a tactical leak to counter the recent Note 4 and iPhone 6 Plus press. It is designed to make those on the fence hold off making a decision until they see what the next Nexus will offer. It is a classic "You like big? Well look what big thing we have coming!" ploy.

The closer they get to release the larger the pool of developers that are sent prototype devices to have day one apps ready. The greater the chance for one of them to leak an image.

cause it's not that much of a leak. I ran into a motorola rep at bestbuy while checking out the moto360. He told me that he had just gotten back from chicago which was their motorola conference or something like that. Guy had the new moto X and I told him i could only use a note sized phone from now on and then he told me about shamu. That was about 2 weeks ago. Shamu broke last week. So this kind of makes sense and gives you an idea how these things get leaked. IDK how early in advance places like android central know.

Damn man I hope it don't feel too big. I have an LG G2 and I think that's the perfect size for me. Then again at first the phone feels big but then you get used to it so, we'll see. Posted via the Android Central App

Someone hack me? Posted via Android Central App

Lol some sort of bug with AC's new comment system.

What a tank! Posted via the Android Central App

Aight! they should have leaked it next to an IP6+, to see if it is bigger than bigger than bigger.

I want the new nexus but not sure how it will feel in the hand. I know for a fact it'll be between this and the Note 4. The main thing for me is gonna come down to the camera and battery life.

Yesssir! Posted via the Android Central App

Gotta love football season. Trash talk and fantasy football. Tell Julio Jones thanks for last week he helped me win my fantasy. Glad he is back healthy one of the best WR's. Can't wait to see ATL in the Dome soon we got to get our revenge. #WHODAT #RISEUP Good luck on the season.

One of the accessories will be a sling to hold the phone.

Or a sling you throw the phone with to kill bad guys, yes! #Goliath

I hate big phones, but WHO DAT!

Your decision is already made then. The Note 4 will be better in both areas based on history.

Yea but I hope they may have improved it only tome and specs will tell. Rumor is this beast will have a 3200 mah battery so we shall see. I'll make my decision one we get official specs.

If those are your determining factors, I'm pretty sure you are going with the Note 4. The only saving grace of the N6 will be price point... it is possible that Google could shock us all again in N4 fashion. If so, I will consider it. Otherwise, I'm hoping for some new play devices or a N5 refresh.

I have a G3 right now so.... yikes. That's a lot taller and wider even.

Looks cool, but DAYYYYUUUUMMMM that thing is way too big.

That's ridiculously huge. Glad I wasn't waiting for this. I'd have gone for the new X for sure. Posted from my Nexus 5 via Android Central App

No wonder it's nicknamed Shamu.

Haha I agree. I love my G3, it's the perfect size. I don't know how I'd feel about the new Nexus X, she's a whale of a phone. I think 5.5-5.7" with thin bezels is the top for me. Even the new Note 4 seems a tad uncomfortably big. Posted via the Android Central App

the note 4 is the same size as the note 3.

I'm willing to give it a long hard look if it comes to Verizon. Motorola has always treated me well, so I'll give them the benefit of the doubt here. The question I have to ask though is, is it good enough for me to give up my M8? I love the hell out it, so it'll take something really special to make me want to trade up.

Bahahahahaha!!!!! Another CDMA Nexus???? Seriously??? Don't hold your breath!

"Bahahahahaha!!!!! Another VERIZON Nexus???? Seriously??? Don't hold your breath!" FTFY......Sprint has gotten every nexus except the Nexus One.

While they likely won't, there's one thing different this time around, and that is that the manufacturer is Motorola. Seeing as how the 2 companies have had a close relationship in the past because of the Droid line, I'd say that opens up the possibility of this phone making it to vzw. Might be a long shot, but I'd say the odds are better than in the past. Also, while Sprint has gotten Nexus devices in the past, they seem to be shunned lately. In fact, seeing how they aren't getting the new Moto X, it wouldn't surprise me if Verizon did, and Sprint didn't.

How quickly we've forgotten the bitter taste left in Google and Nexus users' mouths after the Gnex debacle. Verizon will never see another Nexus until hell freezes over and the underworld rises up.

Oh believe me, I remember..... I had a GNex in hopes it would be awesome. It wasn't. In fairness, a lot has changed since then. Case in point: how quickly the Moto X has gotten updates. So I wouldn't totally rule out the idea. Unlikely, yes. Impossible? I don't believe so. I'll cross my fingers regardless.

lol that's cute...you actually thought anyone gave a shit about sprint...how adorable :)

As lame is this may sound, my toes and stomach or tingling. This will be my first Motorola ever besides that's cheap RAZR I had when I was with Boost Mobile. All in all I can't wait. This will differently be pre ordered and anxiously awaiting. ~My $0.02~

my first Motorola since that random metal flip phone that looked like the ship from flight of the navigator haha

Should've called it Bruce. "We're going to need a bigger boat!"

Whale, whale, whale what have we here? I'm excited about this. Hopefully the camera holds up.

I'm anxious for this. May be another reason for me to leave big red. Tom, love the pun Posted via the Android Central App

I would leave Big Red myself if I had a choice... But not for THIS THING. Posted via Android Central App

Shamu is an Orca...Orca's are Dolphins.... Posted via Android Central App

They're related to dolphins, but they're a different species.

Brings new meaning to the term "Whale Watching"..... Posted my "LiquidSmooth 4.4.4" Sprint GS3

Orcas are whales, not dolphins. sent from my Nos M7 DNA

Wrong. Both are whales. They both are considered "tooth whales", a suborder of the order cetacean.

Whales and dolphins are in the same family. Posted via the Android Central App

http://marinebio.org/species.asp?id=84 Dolphins... Posted via Android Central App

All dolphins are types of whales... not all whales are classified as toothed whales, more commonly known, dolphins. Same way that all tequilas are types of mezcals, but not all mezcals are tequilas. Posted via Android Central App

Kinda like.....pickles are cucumbers but cucumbers aren't pickles.
Hmm

I see what you did there... :D Posted via mostly ghost taps on OG N7, in the Android Central App, therefore posts may not be my own.

Way to big for me, I have a Note 2 and that's my limit. I would wait until I could hold it in my hands (judging from the pics"hands" is fitting) before I would pass it off. >I'm the kind of guy who stops a microwave at one second to feel like a bomb defuser.

Would not use as a daily phone. Too big. Posted via Android Central App

Wow that's big, I have a G2 and I think I will get the nexus 5 when it goes on sale Posted via Android Central App

Which carrier is your G2 on and what is its storage capacity? I have a 32gb Nexus 5 and was always curious in trying the g2. We could possibly do a trade. Posted via Android Central App

AT&T 32 GB I love the phone but I have gadget problem. I always want something new Posted via Android Central App

Wow, given that Google and Moto seem to have absolutely no ability to stop hardware leaks months in advance, I fully expect to have this thing in my pocket a week before it officially launches. Is it in stores yet?

You seriously think this isn't intentional? It was basically a giant leak fest last year so they got free advertising.

Maybe. I guess I'm skeptical that gaming the tech press has any real impact on sales. Don't the people gobbling up every story about a new Nexus already know what phone they intend to buy?

No mom jokes yet? I am disappoint...

I have been waiting for Google to have Moto make a Nexus phone. This phone is perfect for me. Right now I am using the Galaxy Mega, which I love the size just hate the software and lack of specs. I was thinking about the Note 4, but now if this happens that won't happen. Happy little Moto guy. I miss my Atrix. :(

I must be in denial cause I was really hoping this shamu didn't become the next nexus phone. I'll probably buy it and give it an honest try buy I'm not selling my N5 for a few weeks to make sure I can deal with that size of phone

So the new moto x really IS like the nexus 6 mini! I have a G3 and like the size but N6 too big for me. Posted via the Android Central App

The new Moto X has basically the same specs as the Nexus 5. They'd not replace the Nexus 5 with the new Moto X I don't think. They'll probably sell this new monstrosity alongside the Nexus 5.

I imagine there will be a run on remaining Nexus 5s if this pans out. Posted via mostly ghost taps on OG N7, in the Android Central App, therefore posts may not be my own.

Every Nexus device has interested me up until this point.

Agreed Posted via Android Central App

Agree with your agreement Posted via Android Central App

Agreed with your agreement of agreement.

Another agree Posted via Android Central App

Wow! It got all Monty Python there for a minute! Posted via Android Central App

I disagree with ur disagreement.. Posted via Android Central App on The Nexus 5

I agree with your disagreement of disagreement.

Think we can all agree that this phone is a letdown.

That is one WHALE of a phone!

Arrrrrgggghhhh http://marinebio.org/species.asp?id=84 Dolphin... There was a pod that used to screw with me every time I'd kayak in WA off of deception point. My sister would be all marine biologist dolphin crazy if she saw this thread... Posted via Android Central App

I think 5.5 at most should be the new norm. It'll be interesting to see how a phone that's damn near 6 inches handles day to day. It is definitely an improvement over the nexus 5 though Posted via...The One

New norm for phablets maybe. Standard smartphones should have maxed out at 4.7". Apple and Samsung know what they are doing. I have no idea what the hell Motorola and Google are thinking. They ruined the moto X by going way too big and now the Nexus line appears doomed as well.

Normal differs from one person to another. For this exact reason I highly support the idea of same model phones but with different sizes to choose from. If they would've kept this at 5in I would have been all over it. Posted via Android Central App

Bring it on, and bring it to Sprint, please. I know, I know. Y'all hate Sprint. But i get really good LTE data speeds, and the price is right. Plus, having used the Sprint Nexus S, Galaxy Nexus, and Nexus 5, they've done a great job regarding the updates. So yeah, Bring it on, and bring it to Sprint. Posted via the Android Central App

Yes sprint support would be great :) Posted via the Android Central App

How is the price right when other carriers (tmo) have the same exact thing with better coverage and data speeds for cheaper??? Your argument makes absolutely no sense!!

Lightyear, until you go around walking, driving, or horse back riding through America and constantly asking "Can you hear me now?" like the Verizon man. Your comment makes no sense. If I wasn't so bored I wouldn't have even entertained this. But I'll wait. Sell me on T-Mobile.

lol ok, I'll bite...but only because your reply made me laugh :) I only need to make one point to win this:
$80 for unlimited data with tmo ($70 if you're grandfathered...yes, there are a few grandfathered unlimited Verizon users, but how many?) But I'll go on.... GSM > CDMA...ever heard of a chastity belt? Jump...upgrade every 6 months...awesome!! no terrible re-branding of devices to trick customers into thinking what they have is an exclusive with that carrier...'Droid' anyone? ...and c'mon....are you seriously defending the #1 (and don't try to argue, because you know it's true) most EVIL, anti-open source carrier in existence? (Galaxy Nexus debacle...yes, I'm still talking about that)

ive been all the big 4 carriers, sprint was so long ago tho that i dont speak on them. GSM is better. Tmo does have the best and consumer friendly policies, BUT Tmo has 2 huge problems. And ive used them in CA, MI, and PA. 1. once u go inside a building their coverage suffers like ive never seen on any other carrier.
2. Where i live now in central PA, Tmo has NO coverage, none. AT&T and verizon are strong here. Ive also used AT&T in all 3 locations, its a tad more expensive (im talking prepaid offering here) but i never have a location problem nor does my signal go hell when i walk into a building. So for me they couple extra bucks a month are worth actually getting service. See where i said "for me?" there is no God carrier, if there was Tmo is far from it.

I want them to continue what they started last year, and have a single model that covers Sprint, T-Mo, and ATT.

Is that leather on the back? The same one used on the new Moto X?

I think it will be the same soft touch plastic as on the Black Moto X 2014.

Wireless charging? Posted via the Android Central App

Let's cross our fingers... Posted via Android Central App

At least LG made the N5 look uniquely Nexus.
This thing is nothing more than a big Moto X. But without Moto maker customization. Or the excellent Moto app (touchless, glance, etc.). Why would someone but this vs a Moto X Pure? That's essentially a Nexus phone anyway. Posted via Android Central App

LG did not design the N5, Google did.

Going from the above pic, there is nothing to indicate this is the new Nexus, all I see is a larger Moto X. Posted via the Android Central App

That's how Nexus works...Nexus S = galaxy s ; galaxy nexus = gs2 ; nexus 4 = lg g ; nexus 5 = lg g2 ; nexus 6 = moto x

You'd think pictures like this showing the back all greasy would be a clue to use a different material or something a little more oleophobic.

This is the Moto S, not a Nexus device. Sorry folks.

Agreed :) Posted via the Android Central App

+1 though the nexus 6 may actually be based of the rumored moto S. Posted via Android Central App

The Nexus line are devices designed by Google (aka not just scaled up clones), based on flagship phones (aka more likely the Moto X not a niche and untested behemoth) that are priced to be affordable off-contract (aka not the crazy pixel-dense powerhouse that is Shamu). Sorry, this is not a Nexus and not the basis for one. I know we are all so excited for news on the new Nexus and so convinced that Google is incapable of preventing leaks that we are ready to label the first Motorola leak as Nexus, but that is just not the case.

I really hope you are right. Nexus 6 might be my first Nexus device but if this is the one leaked I'll rather buy a LG 3 or the M8 Posted via the Android Central App

I admire your confidence and hope you're right! Posted via Android Central App

I'm wondering how much this will cost. Since it's supposedly using better internals then the moto x it's hard to see it being what we expect to be a "nexus price".

Finally someone is thinking. If there was no other reason for yall not to suspect this as a Nexus is the fact that it'd probably retail for $600-700 easily.

I'm thinking that you can sell your nexus 7 and just rock one device

Its got to be fake, there is no nexus branding there , it still has blatant moto logo where the fingerprint scanner is suspected to be but it also matches up with the expected moto s. Also the 5.9" device hardly fits the rest of the nexus eco system why sell a 7inch & 9inch tablet and then a 5.9" phone. . . The phablet is small market vs a standard phone size of around the 5" mark, nexus is also already aimed at a small market of people who are interested in pure android and flashing ROMs / rooting / development. Doing a phablet will further narrow the market of the nexus and most people will already have a nexus 10 or 7 tablet. Also sticking a label saying shamu is not proof and nor is posting a photo of a random "test handset" Until we see an FCC document with specs and approval images this is all less than credible. Posted via Android Central App

Google is not (and will not) sell Nexus 7. Just Moto Nexus phone (not phablet) and HTC Nexus tablet.

That's weird because I can see stock of both black and white nexus 7's due for despatch in 1-2 days here. And if this is true surely a 9inch tablet will be the only tablet size they will sell in the future because the 10 is no longer in production. Posted via Android Central App

Clearly you are not in the USA. The Nexus 7 in the USA has been out of sock (with many models actually saying 'No Longer For Sale') and the Nexus 10 has been 86 for months. The writing is on the wall.

My local Walmart still has two nexus 10's for sale... Posted via Android Central App

because a battery back with no branding for prototype purposes would break the bank???

The N5 has LG on the back so that's and invalid argument. Posted via Android Central App with my Nexus 5

Fuck yeah I'll buy this phone in a second. Posted via Android Central App

As much as I want this to be the next Nexus, I can't help but feel that it is actually a second version of the Moto X. Motorola's entry into the big phone market. My AC App signature lacks a witty comment.

I agree. I think people want the nexus and seem to gloss over the fact that every company now has a "small" phone, and a larger one. I think it would be stupid for Motorola to not want in on that market. Posted via Android Central App

This phone will be released with a slogan #WhatSheSaid

Will be extremely disappointed if this phone is 6 inches...

Honestly if they are going to make such a big phone i hope they do something to actually take advantage of the screen size. Posted via Android Central App using galaxy s4

That thing looks way oversized. I think I might just go for a Moto X 2014. Posted via Android Central App

I would not like a 6 inch phone IMO that's way to big and unwieldy especially without the bezel tricks LG users to make bezels supper thin. I would also be disappointed with that camera ring flash setup it looks ugly. I personally don't want Moto to make the next nexus at all I like motto and the only thing I think they could bring to stock android is better voice features. I own a nexus 5 and I am happy with that. I would have liked it better if they kept that design but but stuffed up to date specs in it like 16 mp camera, dual stereo speakers (at the bottom really didn't bother me) etc.

Hard to be real and a nexus if it still has the Motorola logo on the back... Posted via the Android Central App

Too big for me. My G3 is as big as I would ever want to go. I have fairly large hands and even my G3 makes me go to both hands at times. I occasionally switch back to my G2, Nexus 5 or OneM7 depending on my activities. I feel that the 5" to 5.5" screened devices give the best mobile usability, for me. Posted via Android Central App

I can see them continuing to sell the nexus 5 with this monster out there. Posted via Android Central App

Is this really PROOF that it's a Nexus? Couldn't it just be a MotoX+ or something? I say this because I am really hoping the new Nexus is a reasonable size, not this blubbery nonsense. I have a G3 right now and it's THE ABSOLUTE MAX I would want to deal with. In fact, I'm kind of leaning toward something slightly smaller. Please google, don't make this the next Nexus...

I'm sorry, that's too big. My G3 is my personal limit and that's only because of how much the sides bevel off. I was toying with going back to a nexus, but not at that size. I sure hope the rumor of a 5.2 inch screen holds true. Posted via Android Central App

I have the note 3 and I just bought a nexus 5 off eBay. I love everything about the nexus but when I hold my note I miss the size. I'll never buy a non pure android phone again. Posted via the Android Central App

If this is the new nexus I guess I'll be getting a iPhone 6 Posted via Android Central App

Cmon price point! Posted via Android Central App

Ugh, please no. They're just going to release this preposterous freakshow phablet and then say, "Eh, buy a Moto X," to everyone who doesn't want something so big. That's my fear, anyway.

If this is the nexus 6 I'm getting another nexus 5 because that thing is fugly and too big and they have not learnt anything about batterys and what users want. God sakes just do the same with the G3 as they did with the G2 and throw in an 805 and a 3200mha battery and be done. Posted via Android Central App

I'm sorry, but that phone is just too big to not have "Note-like" features. What's the point of having a phone that big that's just a phone. I guess I'm stuck with my N5 for another year; damn!

Way to big for my purposes, not sure that could even be called a "mobile" device. I know I don't have any pockets that would fit that thing and I'm just not the type to carry a "man bag". I really hope that's not the next Nexus device.

No way in hell will I consider something that enormous. This will be my first time not buying the new nexus in a while. Makes me sad.

Isn't it more likely that it's Moto's try on a phablet? I'm not sure if this is really a Nexus.

I'm a pretty avid android blog reader but I still haven't seen any solid evidence why anyone thinks this is definitely a Nexus and not just a note competitor out of Motorola. Where did this rumor start? Either way this might be my next phone if they do it right and it still fits in my pants pocket.

Yeah I'm not believing it. There's not even a nexus logo. It's probably just a big moto. Posted via Android Central App

The rumors of a 5,9 inch Nexus device have been circulating for months. The folks at Android Police have broken the news in July, and their track record for rumors of all kinds isn't that bad at all.

if the 5.9" news broke two months ago, why is everyone so surprised by this news now? EDIT: found the original AndPol story; "Working With Google On Shamu, A Possible Nexus Phone With A 5.9" Display" and in the story they clearly state "This rumor gets a confidence level of 6.5 out of 10" doesn't sound all that conclusive to me, again without a NEXUS on the back.

"Points are deducted simply because hardware plans can change very quickly, even when a prototype device already exists. We are confident that Shamu is a real device under active development." 5,9 inch is actually not that surprising. We have for sure heard and talked about it all over the summer. Ok, there have been other reports floating aroung concerning a 5,2-ish device. Who knows. Maybe we'll get both. However, reports about a huuuuuge Nexus 6 isn't new. People are surprised because they do not want to believe that a Nexus device is going to be a phablet, no matter what they've heard already. Plus, AP has posted an interesting article today, talking about Shamu and speculating about possible reasons and a timeframe of this development, with regards to Android Silver and that Shamu could have been an Android Silver device by Motorola, called Moto S. After Silver has been scrapped and the Nexus program revived, Moto S has become the new Nexus device. Interesting therory. EDIT: Concerning the lack of a Nexus branding: The N4 pre-production devices didn't have a Nexus logo, neither did the N5 prototypes. This is a common practice. Heck, the iPhone 6 and 6 Plus testing devices did not have the Apple logo on the back. ;)

I can believe it will be a phablet, but they are being super ballsy by making it bigger than a Note. Posted via Android Central App

Fuck. That. Posted via Android Central App

IMO not good if its this big. Posted via Android Central App

It just occurred to me... maybe this will be the Nexus 6 (at least the size fits the numbering scheme) but there will also be a Moto X Google Play Edition for those that prefer a more easily pocketable device? I don't mind that theory, as long as the Moto X GPE is price competitive. Otherwise the Sony Z3 series is looking real good...

I picked up a G3 yesterday. I thought it was pretty big, perhaps too big, but I could deal with it.
And this makes the G3 look small. I don't think this is intended for most Nexus nuts out there. I hope Google has another story to tell beyond this.

This makes me so sad... Posted via the Android Central App

No way that's the next nexus. Posted via Android Central App

Looking forward to its release. Posted via the Android Central App

Hopefully this large device doesn't bend lmao Posted via Android Central App

I think the question no one is asking is if this is the phone that is the reference device for L how are devs using it? Could it be that there will be major improvements to landscape mode on bigger phones with L? I also have to believe that Samsung has committed a lot of changes back into aosp over the years with the Note for things like multitasking and multi apps at the same time. The phone itself is not interesting to me but it is interesting that google can pay Motorola to engineer a phablet that moto will be able to spin into their own non nexus device down the road and have a Gnote competitor. Posted via Android Central App

i have a oneplus invite....that or shamu?

Re: "There is no Nexus branding on the phone = not the Nexus 6/X" This is a prototype. If it turns out to be a Nexus device, there will be a branding. Maybe. Probably. Surely.
Remember the leaked Nexus 4 and Nexus 5 prototypes? Haven't had the Nexus logo either. So chill.

Makes ya wonder if they ll go the Snapple route and offer two sizes. Can see this being way too big for many. (myself excluded lol) Posted via Android Central App

So glad I stuck with new moto x. . Just too big Posted via Android Central App

I've read it has a 5.2inch screen but the added size could be front facing stereo speakers.

There is no way it is only a 5.2" device being that big beside the G3 which is a 5.5" screen. Posted via Android Central App

 Posted via NSA Spy Van 37...... Free candy??

I don't know if it's truly the new nexus (I really hope so) but the lack of nexus branding on a leaked photo of what is most likely a test/pre production device and not the final product wouldn't be out of the norm! If it were a Moto X+ device I would think they would have at least teased out with the regular 2014 Moto X knowing fully well every leak pointed to two new iPhone device coming out!

It's a moto x lol you can see the m Posted via Android Central App

This might boost nexus 5 sales lol Posted via Android Central App

No way in hell. 6 inches is way to big for a phone! 5.5 inches is to big for that matter. Posted via Android Central App on the Moto X

Hopefully the Base Model is 32GB and at $350 so this way I will buy it to go along with my Note 4. I think it is a bit to big but for $350 for it i would buy it

Yup got the 32 GB Nexus 5, will get the 64 GB Nexus 6, more flash easier resale, store movies, and TV series. My 16 GB Nexus 4 sold for $200 AUD in a New York minute.

lets hope they release a smaller variant.

Why do I have the feeling that there's going to be a smaller one... Actually it's not so much a feeling as a desperate hope that there will be a smaller one. Posted via the Android Central App

Why did you say it's oversized? Posted via the Android Central App with my OnePlus One.

Imagine if they released this on valentines day:
"The all new Nexus X, because everyone woman needs 6 inches or more. Powered by Android, Developed by Google." Posted via the Android Central App

Appears to be a tiny device in my manly hands. Posted via the Android Central App with my OnePlus One.

I'm little disappointed. Google probably went with moto because of the software but the hardware moto seems dated. They should have stayed with LG or went with HTC. If this leak is true then I'll be getting the Z3

If its made by Motorola and its a nexus I'll give it a shot.

whether a nexus or another moto, at least there should be room for a REALLY big battery, eh?

I want! Posted via Android Central App

That is huge curious what price will be Posted via the my Republic Wireless Moto G

Too big. And to be honest i dont like the moto x design. Those speakers are ugly and not stereo:/ Posted via the Android Central App

I am an owner of a Samsung Galaxy S3. This year, I was moving away from Samsung and wanted a Nexus device or the Moto X. However, if this is the new Nexus, I will have to pass. It is too big. It will be my third disappointment. The first was the Moto 360 with the old processor. The second was the Moto X 2014 with its 2300mah (small) battery and now this. Now, I don't know which phone I will get if this is the case. Decisions, decisions, decisions. Posted via Android Central App

I'm in same situation as you. Have a bunch of S3's on my family plan I need to upgrade. Personally using a nexus 5. I wanted to upgrade the lines to either the new moto x or nexus 6 but now think might get the M8 or S5 instead :-/. I don't like the size of this shamu thing and while the moto x seems ok, I don't see the upside verses the S5 which has bigger and replaceable battery and SD slot. I think if there was a 64 GB moto x version though I'd consider it... Posted via the Android Central App

I just hope that there is a Moto X Play Edition => Nexus X?

People have spoken and majority don't like how big it is.

I hope this is like the Moto XL and not a nexus device.... Posted via Android Central App

Another nexus device with a crap camera oh well guess I'll keep waiting. In saying that I own the N5 and find the camera to be pretty good although low light is bad but I just want a nexus device with an amazing camera with long battery life. The camera app is terrible in nexus devices let's hope they revamp it Posted via God

To improve lighting, use HDR post editing in g+.

I'm just not interested in a phablet yet, but I'd like to see the Shamu pictured next to the Flex or a different device. Although it has a 5.5-inch display, the G3 is more comparable in size to phones with 5-inch screens, so maybe the upcoming Nexus wouldn't look quite so massive next to another phablet. Posted via AC App on HTC One

Two things that came to my mind. First, a big Moto dimple / logo on the back of the device? Really? Second, this better have a 3000mah and up battery or some serious battery saving voodoo. Anything less will just spell disaster if this thing is really pushing a 5.92" 2K display. Anyone still wants to argue this point, please read most of the Moto X (2014) reviews. It's the only thing that stopped me from getting a cognac Horween leather X. Posted via the Android Central App

The moto dimple matches the Moto X exactly, so that's no surprise. And yes, every phone this big has a 3000mah+ battery. Posted via Android Central App

Wow! If they decide to release this as the feature nexus model, then I'm gonna be suprised. I think google may be banking on apple making the phablet unbelievably popular, in which case, the nexus 6 has screen size bragging rights. Too big though imo, that should've considered 5.5-5.8 if they really want to go big this time around

I'm disappointed. It is way to big. Posted via Android Central App

I really doubt this is the next Nexus. Think about it... Every Nexus worth mentioning (the 4 and 5) has been a phone aimed at the average part of the phone market. The screen has never been bigger than average and neither have the specs. They have always been up to par with the year's flagships but never did they try to surpass them. They sold Nexux phones based on the fact that they ran Android extremely well.
I'm gonna call that this is a larger Moto X meant to compete with the bigger phones out there.
I may be wrong... If it is the next Nexus, god help Google. Posted via the Android Central App

That's actually not quite true. The Galaxy Nexus at 4.65 inches was one of the biggest phones on the market in 2012. I think the Note 2 was the only phone that was really bigger than it. The rest of the GNex specs were not stellar but the screen was large for the time. Posted via Android Central App

I bet I would barely tether with this beast. Can you imagine the reception? Let's take guesses on battery size. I'm going with 3950mah like nexus 7 2013.

3200mha its in the comments and the leaked info Posted via Android Central App

I hope this means Motomaker Nexus Posted via Android Central App

That would be fantastic. Its unlikely, but I'll keep my fingers crossed. Posted via the Android Central App

Man, what's with the attitudes of the people here lately? The comments used to be filled with helpful & in depth discussion about the topics. Lately, more often then not, its constant back and forth fighting and insults. Do better, people. Posted via the Android Central App

This makes me very glad that I only buy a new Nexus every two years. So far it's been the One, Galaxy and 5. Hopefully this trend doesn't continue for the next Nexus, and they go back to 5 inches next year. If the sequential version number of the phone continues to match the size of the phone screen then the 7th Nexus phone will just be a new version of the Nexus 7 with the required equipment to make cellphone calls. It would be great if they released a new Nexus 5 this year along with the Nexus 6 for people who don't want such a large phone.

I'm actually due for a new phone soon and my 2012 N7 is starting to show its age. I'm actually excited for this to be my first phablet. Posted via Android Central App

I am a cheap skate, so I am waiting on this to drop so I can get the Nexus 5 on a fire sale. Posted via the Android Central App

Oh god, that's hideous. i'm sticking with my Nexus 5.

I like big phones, but I think this one looks a bit ugly. I'm hoping the finished design is nicer than this. Haha.

If this is the Nexus I really am curious to see Android L even more. Google's definitely cocky and they want to show off whatever it is releasing on this behemoth and the HTC tablet. A picture of that needs to leak also. This won't cost $399 that's for sure.

Guessing $550 AUD, resale 32 GB nexus 5 $ 270 AUD, cost to me $280 AUD, worth every penny, as long as they get the reliability back up.

I think you might be right and that's a good price with the specs great price for you.

Cool. I dig it. Size Matters not. Be thankful you weren't around like me when the Motorola 8000 was the flagship device. I even had to sell those when I started in wireless years ago. Posted via Android Central App

Longtime Nexus fan here but I will not be getting this...can't go there...

I noticed there is no LED flash on this device!

Circle around the camera. Same as Moto X. Posted via the Android Central App

I really don't want a 6 in. Nexus. But if that's the case I'm sure I'd grow to love it. Posted via the Android Central App

Another thing to consider. A 6 in. phone would be closer in size to the Nexus 7. Which coincidentally is rumored to make the jump to 9 inches. Posted via the Android Central App

And by coincidentally I mean maybe no coincidence at all. Posted via the Android Central App

i'm a big screen phone user. If it really has a 6" screen, then it could will be my next phone as I have never had a Moto smartphone! I'm currently using a big screen phone, the 5.9"'s LG G Pro 2!

Nexus 4 owner. Keep mine until screen falls off.

I really hope they come out with a second size for it. I hate the fact that they made a 6 inch display phone like that ain't nobody got time for that Posted with my Galaxy S5 via Android Central App

I may just wait for a review of this phone before getting the note 4i always wondered if a larger form factor would fit me. Posted via Android Central App

Think I'll hold on to my Nexus 5, this stretches my pants pockets enough as it is. Posted via the Android Central App

The birth of the $450-$500 Nexus phone.That's my best guess as to what were looking at here. Also I'm betting that raising the price of the devices (incl Nexus 9 tablet) is a concession to OEMs in return for demanding less customization of the ui. Posted via Android Central App

I will buy it if a 64 bit chip is in there!

Rumor says Snapdragon 805, not 64 bit unfortunately.

It's huge! Posted via Android Central App

Too big.. NEXT ! Posed via Nokia 3310 smartphone

Just read the moto X review, and if this is truly is 6". I'll immediately throw my money on the moto X pure version Posed via Nokia 3310 smartphone

Not happy with the size tbh. The G3 is big enough. Won't be getting this one. (I might really once I've seen it demo'd) Posted via Android Central App with my Nexus 5

" Is this 6-inch monster something you're interested in?" No. Posted via Android Central App

The thing is freakin huge. No way I'm buying this. Posted via the Android Central App

Nope Posted via Android Central App

I've had 3 iterations of the Nexus but if it's going 6 inch then I'm out :(

perfect size ... ... ( 0ppo F5) ...

Yeah, I'm a little worried about how huge this thing is. Why don't phone manufacturers understand that we're only buying giant devices because they're the only ones with decent specs? Give us something inbetween massive (Note) and tiny (iPhone 5), and we'll be happy. I love my Nexus 5, and wish they'd have stuck with something around the same size.

I'm looking forward to this phone. I won't judge until my eyes see and my hands hold the device in person.. Posted via Android Central App

Way too big for a phone. I'm sure Galaxy Mega & One Max fans will like it, but the LG G3 is already big enough and this thing dwarfs it.. Smh.. Posted via Android Central App on The Nexus 5

I'll probably be upgrading I've been stuck on a Huawei Prism for almost 3 years now. I've also been looking for a big smartphone because I have Glaucoma, and I can't read anything on small screens.

Even Samsung knows when to stop with the race to the large screen. I don't think I'd like a phone larger than the Note 3 that I have. I have the feeling that the size of this phone is going to be an impediment to a very good sale. Posted via Android Central App

Well seeing as the Galaxy Note 3 is bigger than the LG G3 by a bit and I'm using one of those comfortably, this doesn't look as big as I'd thought. I'd really like to see it next to a Note 3 to be sure though. http://www.phonearena.com/phones/Samsung-Galaxy-Note-3_id7984/size#/phon...

If it has a SD card slot YES! if not nope Posted via Android Central App

No SD card slot if this were a real Nexus device. Posted via the Android Central App

I might be commenting out of ignorance here but we're supposed to think this is the next nexus cuz someone tapped a piece of paper on the back and put shamu on it? I know mototrola is rumored to be making it but still i don't buy it

Is that a Nexus in your pocket or are you just glad to see me? LOL... Yeah, like most others here it's too darn big. My Galaxy S3 is around the best size or just slightly larger, but much brighter, faster and no bloat ware would be good too.

This will be the first Nexus I have ever not wanted. I think my Nexus 5 is the perfect size. Not too big, not too small. However, I remember thinking the HTC Evo was too big when it first came out, so I don't trust my judgement over time. Nonetheless, right now I do not want, and that is what is different about this release of Nexus.

I cannot see this being a nexus. I just can't. Unless Google make two versions, with this being the phablet. Posted via Android Central App on my N5 with Android L
Android Central Newsletter
Get the best of Android Central in in your inbox, every day!
Thank you for signing up to Android Central. You will receive a verification email shortly.
There was a problem. Please refresh the page and try again.