Latest Google Text-to-Speech update enables high quality voices for US and UK English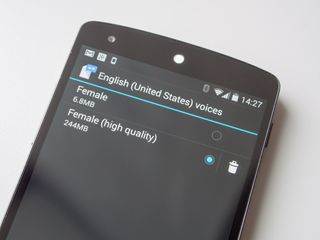 Portuguese and US Spanish added to the offline options, but are still the old low quality versions
Google's Text-to-Speech, the app that powers speech output on Android devices in a whole range of apps, was updated today to include higher-quality voice options for those who speak English. For those who have their phones set to U.S. English, you now have the option to download a "Female (high quality)" voice that takes up a nice 244MB chunk of space on your phone and replaces the standard 6.8MB package. For those using U.K. English, you'll have a new Male option that's just 3.7MB, along with a Female (high quality) 276MB and Male (high quality) that's 100MB.
If you don't mind using up the space, it's a few simple steps to download the new voice data for a better voice output experience. The Text-to-Speech options can be found in Settings > Language & input > Text-to-speech output. You can then tap the settings button and hit "Install voice data" to pull down the voice packages that are useful and relevant to you. The data will only download over Wifi by default, and you can hit the trash can next to each installed voice package to delete it if you don't want it taking up space any longer.
The Text-to-Speech update to version 3.0 also includes both Portuguese and U.S. Spanish as options, but they're still the standard quality voices at 4.5 and 6.8MB, respectively.
Considering that the new high quality voices are dozens of times larger in file size over the default ones, we can't say there's a dramatic improvement in the quality of the speach output in our testing. The voices are quieter and a bit less choppy, and the 200-something megabytes it'll cost you on your phone are probably still worth it. By default the voice packages will be updated automatically as new data becomes available. This is one you'll be glad you installed, but you won't be blown away by the quality just yet.
Andrew was an Executive Editor, U.S. at Android Central between 2012 and 2020.
Doesn't work on the HTC One, running 4.4.2 and Sense 5.5. There's no menu button in Text-to-Speech output. EDIT: correction, you have to tap google text to speech engine. It's a bit misleading, as it seems to be only a radio selection, but it opens up further settings.

I got the APK this morning on AP and I have say that while it "sounds" better than the original, it is NOT a worthy upgrade as it still sounds robotic. SVOX blows chunks on Googles TTS...well...any 3rd party TTS for that matter. I can say I'm disappointed in Googles android team

"I can say I'm disappointed in Googles android team." Because of this? What?

I should have been a little more clear. This new "HD voice" only works on GNow. Us BT users are still stuck with the old robotic voice and they still can't get BT to read out text messages without installing 3rd party apps. At this point in the cell revolution, there's no excuse for this especially when the Moto X and Apple has pretty much nailed it.

Wait, you're complaining that the TTS voice that Google offers to its ~1 billion devices for free is not as good as a TTS voice that you have to pay to use for more than 2 weeks? Honestly, if SVOX's voices WEREN'T better, that is when you should be getting mad... In the mean time, you get what you pay for!

Read my statement just before yours. It explains it a little better.

Just downloaded the UK Male Voice and set it up on the Settings Text to Speech Output. The demo works great. But when I try it on Google Now I've still got the UK lady voice. In the Google Now settings menu there is No (male/female) option only UK/US. What am I doing wrong? :-( Posted via Android Central App

I prefer the British male voice as well (even though I'm in Canada), and I'm having the same issue - Google Now and Google Maps are in the Female voice, even though I've downloaded the high quality male voice and have it selected.

Can anyone help with this? The Google Now voice doesn't change in the UK.

I just downloaded the HQ UK male voice and all I get is the standard UK female one. And reading a book aloud doesn't work at all. Posted via Android Central App

Yeah doesn't work choosing male voices

Google has eliminated ALL male voices from ALL their services in recent months. It's all that feminist man hatred stuff they espouse. We really ought to complain to google about this. Feminism is one thing but this is just ridiculous.

Thank God they include UK English. The spelling mistakes in Microsoft products drive me crazy Posted via Android Central App

Me too. The unnecessary U in words like color are crazy!

They can keep the 244 mb, it's not that much better than the 6.8 mb version. I'm also finding it making mistakes that it didn't before, such as turning wanted into want it. All in all I think this update is crap. Mike

I'm hard pressed to notice any difference, considering the install size. The only real change i noticed right away is that the audio sample is much quieter with the HQ than with regular. This is with US female voice fyi. Edit...I do seem to notice smoother maybe more natural output when using Google Now voice search, such as asking it the current temperature. Subtle difference still but I'll keep it for now to see how well it does longer term.
Posted via Android Central App on my white Nexus 4 with StraightTalk

Sounds better than my Amiga ....

Haha ... Just a bit Posted via Android Central App

You mean the built in speech synthesis from 1985? Posted via Android Central App

I tried the US Female (244MB) version, and was really put off by it. It was clear, but seemed really stern and harsh to my ears. I went back to my favorite - the SVOX, US Female "Grace" voice. I use it/her all of the time for in car navigation and other bluetooth communication via the Klets app on my Galaxy Nexus.

I would like to go back to Grace also but I don't know how to do that. Would you you please help?

I can't tell any difference at all after installing and selecting the "high quality" version. I hit the microphone icon and asked "what is 10 times 10" and it sounds exactly the same as before.

How come the high quality female voice is 176 MB more than the high quality male? Posted via Android Central App

Because women are complicated.

When they ask if those pants make their ass look fat you have to know how to answer correctly.

No, no, your butt makes the pants look faa-ntastic.

IVANA.. for the win baby... she is STILL a SEXY BITCH!! ESPECIALLY the UK English version... OH BEE-HAVE!!!

We will see if the Google U.K. Female high-quality voice is any better than SVOX....

That was interesting. It turns out my Note 3 is set to use Samsung's Text to Speech by default and Samsung also has a high quality US English voice, though it is over 80MB. I have now downloaded both high quality voices and can switch between Google and Samsung's versions. Both are great improvements over the low quality voice.

Seems there is a choice between just a female and a high quality female... :-) Posted via Android Central App

Why doesn't the US get a male voice? Would be nice to hear one on my phone and other devices.

I downloaded the HQ voice and there is no noticeable differance in voice quality, it's just a lot lower then the standard voice...uninstalled

I would also like to have a male voice in the US. There are a lot of women online who would rather have a man speak to us then just a woman. Since other languages have male voices why do we not have one. I feel sort of discriminated against
Android Central Newsletter
Thank you for signing up to Android Central. You will receive a verification email shortly.
There was a problem. Please refresh the page and try again.